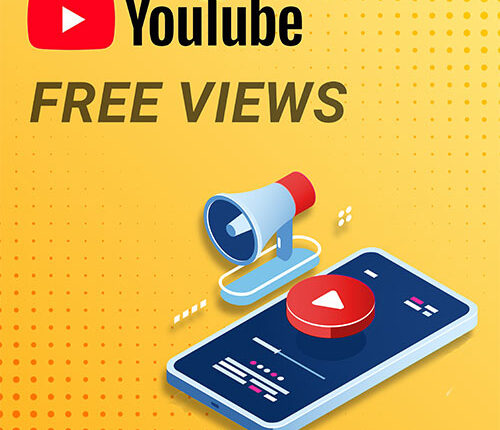 Since its launch in 2005, YouTube has come a long way with its evolving features and updates. It has become a vital marketing hub for marketers. With over 2 billion users and 1 billion hours of videos, YouTube gives creators and marketers an endless opportunity to make it big on the platform. But the one challenge they face constantly is to get free views on their YouTube videos.
This blog will help YouTube creators and marketers to get free views in the most effective way. YouTube recently announced new updates to help YouTubers grow and monetize their channel. It sure is one of the best platforms to earn easy money. Read till the end to know how you can get free views on your YouTube videos. Let's take a look at how to create a video on YouTube. But, if you already have a YouTube channel then you can skip this step and read the tips to get free YouTube views.
How to create a video on YouTube?

Come up with an idea
Before creating any video, you need to know in which direction you want it to go. And for that, you need to have a storyboard that will show the flow and outline of the video itself. The video must convey your message in a straightforward way to your audience and match your YouTube channel's theme.
Writing a script
Now that you know what you want from your video start writing a rough script and keep making changes till you are satisfied with the end result. Make the language and visuals relatable to your audience base. Use terms that suit your niche and keep it short and crisp. Today's audience has a low attention span, which is why your script must make an impact in the first few seconds.
Record the video
After noting down the minor details of every frame, you need to record the video. If you have just started a new channel and don't have the budget to invest in expensive recording equipment, use your smartphone. Try the frame as still as possible and perfect the sound quality of your recording.
If you plan on uploading an animated video or a screen recording, use high-quality software for editing. Invest into customizing an attractive thumbnail to go along with your video.
Upload your YT video
Although uploading a video takes a click on a button, there are a few things you need to do before that. Conduct thorough keyword research and use those keywords in your video's title and description for better SEO ranking. Add an attractive thumbnail along with your social media links and references, and then you are all set to upload your high-quality YouTube video.
Top 6 tips to get free views on YouTube

Create high-quality video content
Your YouTube channel is all about the type of videos you upload. When you upload high-quality video content, it resonates with your audience. But creating compelling content isn't an easy task. Start selecting a niche for your channel and research to understand what your audience is looking for in your video content. Your creativity does play an important role which helps set your content apart from the competition.
If you want to narrow down on the type of video content you want to upload on your YouTube channel, you can take a look at our blog, "Top 9 video content to boost your views on YouTube."
Turn viewers in subscribers
If you have thousands of views on your YouTube videos and around 100 subscribers, this means your conversion rate isn't great. You need to turn your viewers into subscribers and build a strong community. One of the best ways to get free views on your YouTube videos is by increasing your subscriber base.
This will also help you monetize your channel through the YouTube Partner Program. Add call-to-action buttons at the end of your video and phrases that invoke FOMO in your description. When users click on the subscribe button, they receive a notification every time they upload new videos.
For example, remind the viewer to subscribe to your channel at the end of your video but don't stop there. Give them a teaser about your next video by leaving it on a cliffhanger. This will tempt the user to subscribe to your channel and come back to watch the following video.
Create playlists for your YouTube videos
YouTube playlists are collections of videos. On your channel, especially if you have different content types, playlists keep your videos more organized. You can create playlists through the YouTube Studio tool and keep your top-performing videos under one playlist. You can add your new videos to your existing playlists by clicking on the "+" icon that appears under your video.
Remember to increase your video ranking chances by including long-tail and complementary keywords in your video's title and description. Another advantage of having a playlist is when a user plays a video from your playlist, it auto plays the rest of the videos. Create a playlist of your best videos and start promoting them to get free views on your videos.
Include end screens and cards
End screens are tools that can increase your subscriber base and promote your channel on YouTube. The same goes for cards, but you can only access these features after your YouTube account is verified. A verification badge increases your channel's authenticity and reliability. This badge appears next to your YouTube channel name. To learn how to verify your YouTube channel, you can refer to our blog.
A YouTube end screen helps extend your watch time by taking your viewers to your next best video. Through your end screen, you can promote up to four of your top-performing videos in one dedicated frame.
A YouTube card appears on your YouTube video that lets users click and explore the rest of your video content relevant to your current video. Many YouTube creators use this to promote their affiliate or sponsored products.
Promotion on social media
To get free YouTube views, you will have to sometimes step outside the platform and explore other social media handles. Create short teasers of your new video content and promote it by sharing on other social media handles such as Facebook, Twitter, Instagram, etc.
To make this task even easier, you can use social media scheduling tools. Besides sharing your content on social media channels, you can also use email marketing to open your YouTube channel to a whole new audience base. Email marketing is a powerful tool that helps with sales conversions. Use these to your benefit start building a solid audience base.
Invest in online promotional platforms
Finally, to get free views on your YouTube videos, you can invest in online promotional platforms and services. But how is it free if you have to pay for views? Well, many youtube promotion service provider like Veefly give their customers a test and trial run where you can try their services and get free views on your videos.
Once you receive your free views and trust the website, you can put in real money and boost views on your YouTube videos and promote your videos/channel to bring in more subscribers.

Conclusion
And that's how you can get free views on your YouTube videos. I hope these top 6 tips have helped you with your struggle to get more YouTube videos. In conclusion, focus on creating unique content and optimizing your channel for better ranking. Aside from the tips mentioned above, you can also add a few small bits to increase your chances of getting free YT views on your videos.
You can add a customized thumbnail to enhance your channel visuals, use watermarks on your videos, collaborate with fellow YouTubers and influencers to drive their audiences to your channel.
Let us know which of the above tip helped you get more views on YouTube.