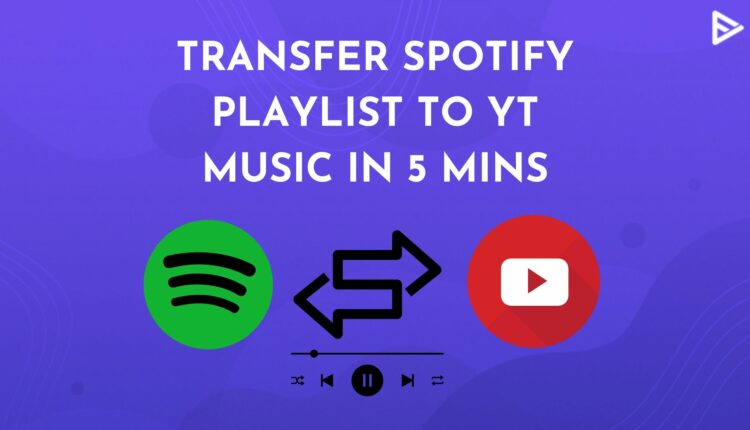 Are you finding ways to switch your preferred music streaming service without leaving behind your favorite playlists? This article will guide you step by step on how you can transfer your Spotify playlists to YouTube Music playlists. These methods are relatively convenient and allow you to quickly shift from Spotify to YouTube playlist.
Quick Methods To Transfer Spotify To YouTube Music Playlists
Spotify doesn't allow you to directly transfer the playlists to other music streaming apps.  However, there are various desktop tools available online that can help you transfer your playlist from Spotify to YT Music. Let's learn about the tools that will make this task easier for you.
Wondershare Mobile Trans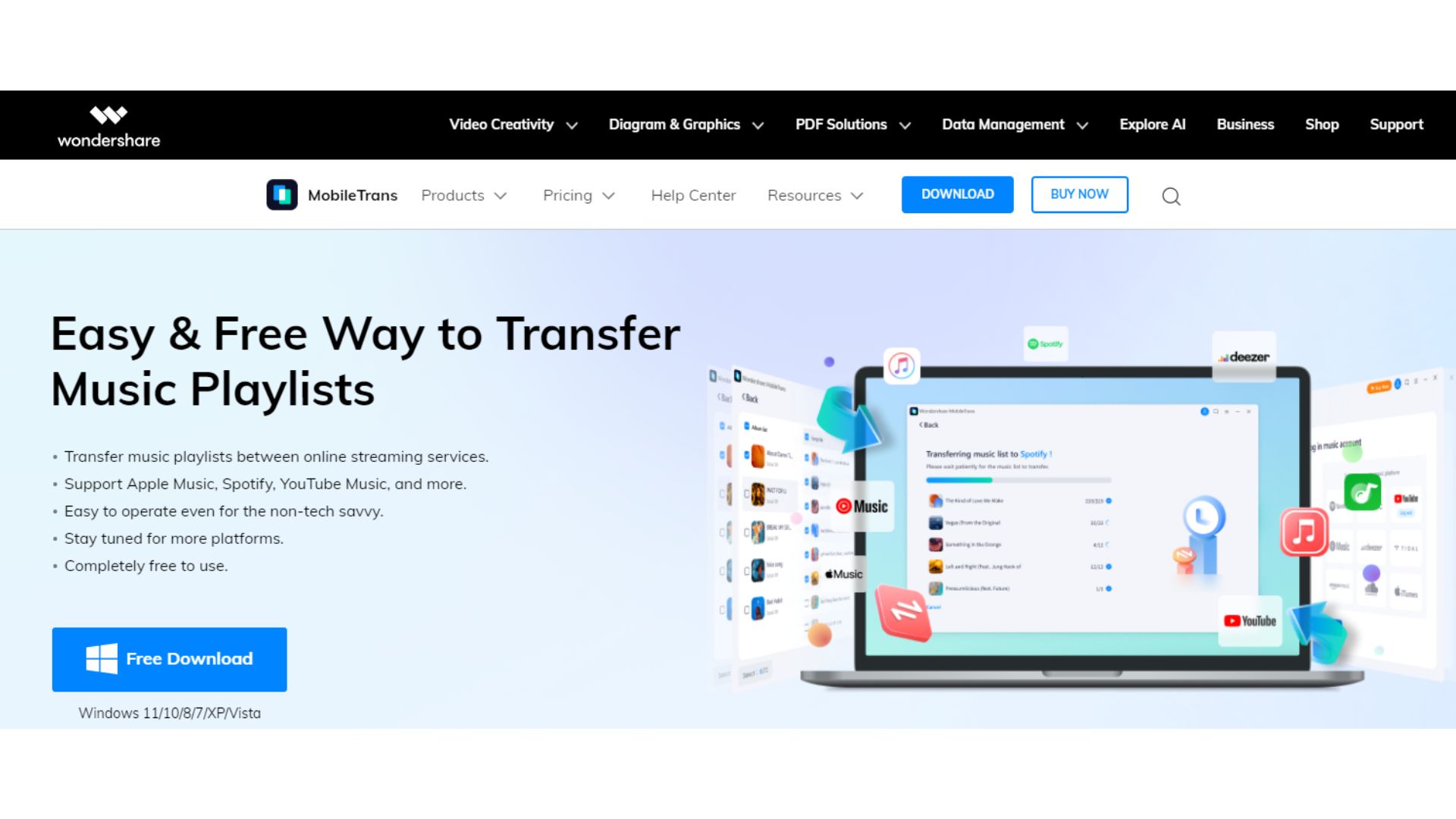 It is one of the most recommended free tools to move your playlist from Spotify to YouTube Music. Follow the steps below to transfer the playlist.
1. Download and install the Wondershare Mobile Trans desktop application. Once completed, launch the application.
2. Go to the 'More' tab and select 'Playlist Transfer.' Click on 'Start' to proceed ahead.
3. Select 'Spotify' as the source and 'YouTube Music' as the destination. You will be required to log in to both the music streaming platforms. Once done, click on 'Start.'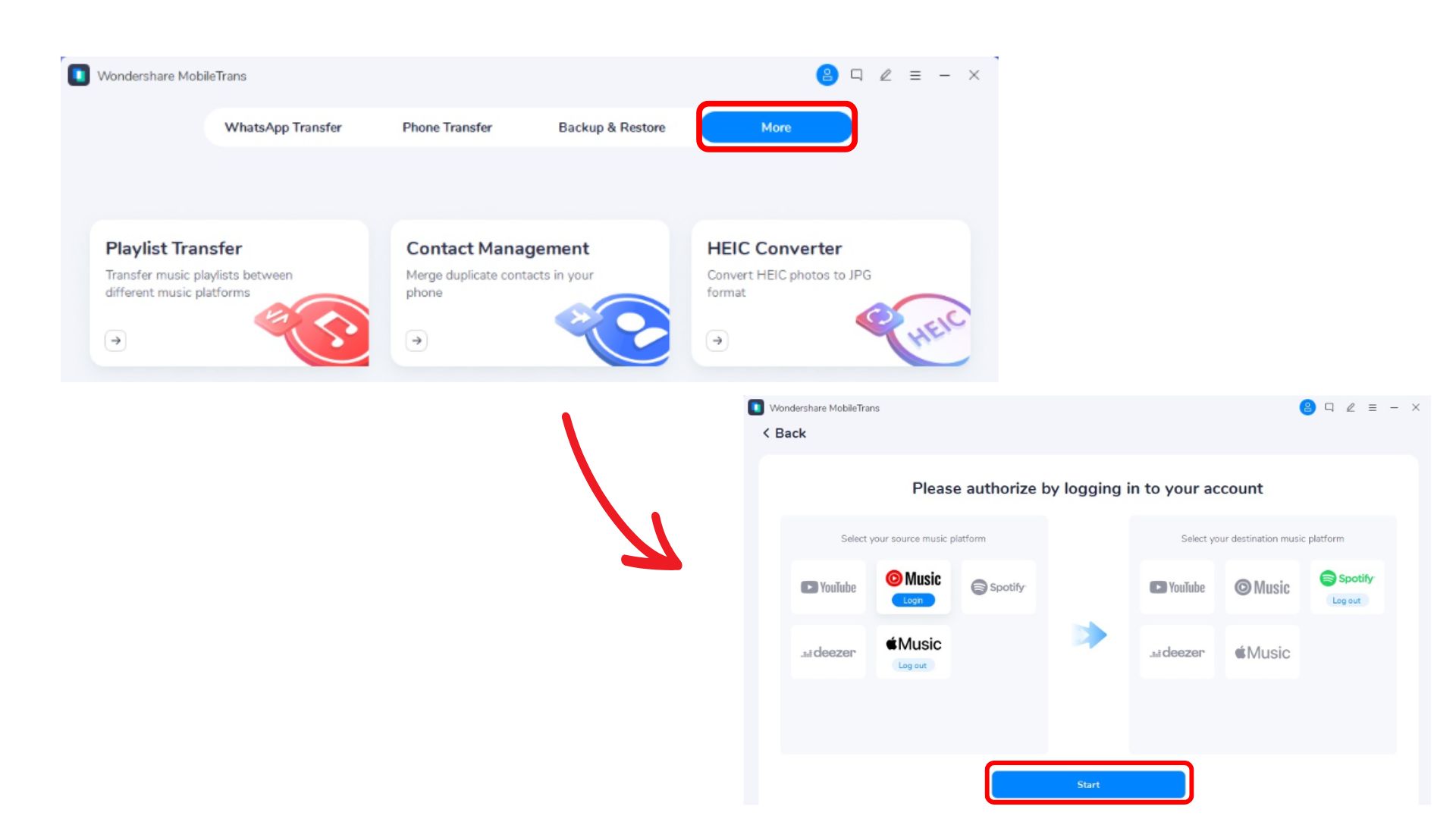 4. Tick the playlist and songs that you want to transfer to YT Music and click on 'Transfer.' In just a few minutes, your favorite Spotify playlist will be transferred to YouTube Music.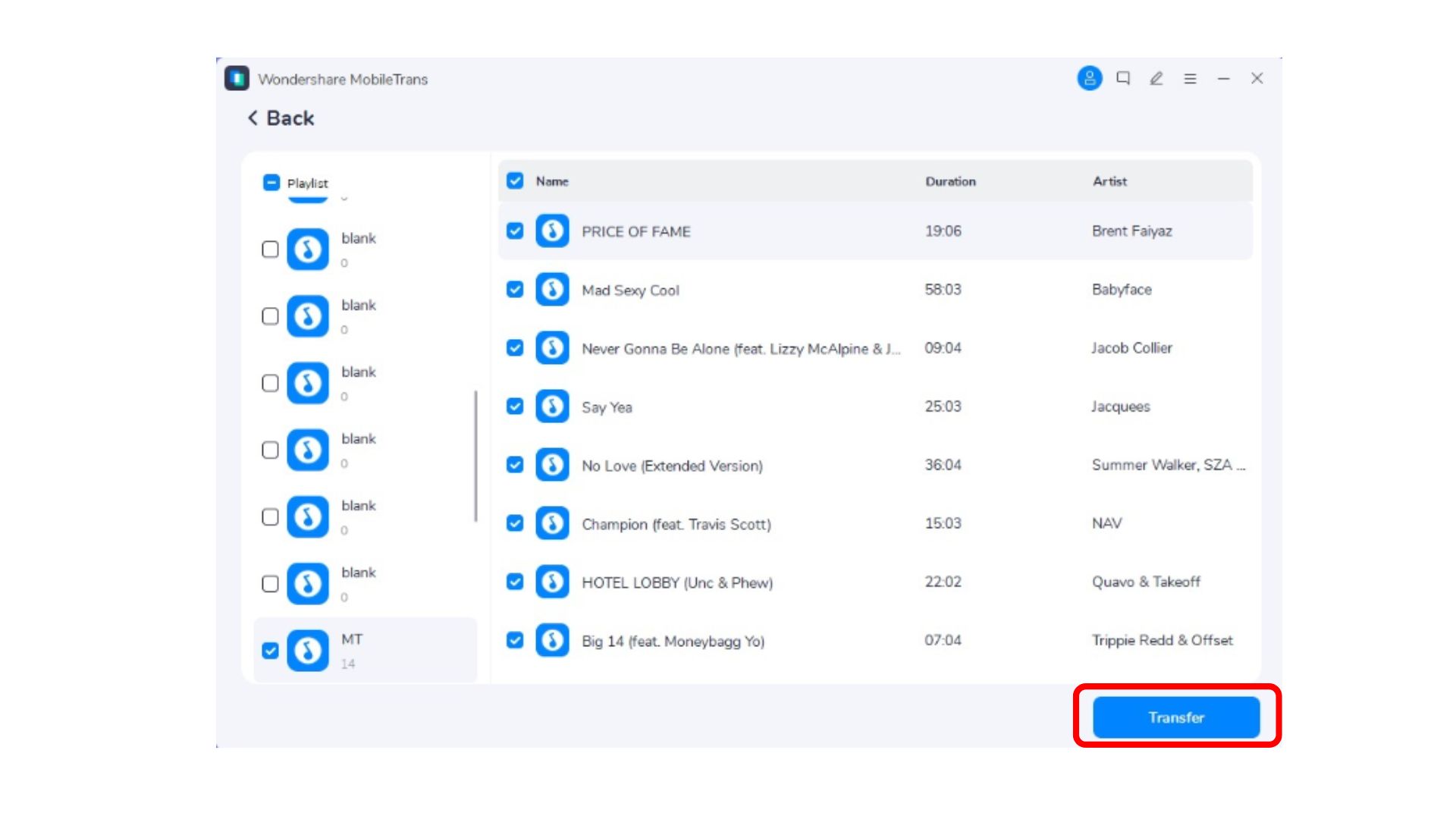 Playlist Buddy
Another third-party tool that helps you to transfer playlists for free in less time. However, the drawback is that you can transfer only one playlist at a time and cannot transfer more than 250 songs. Follow these steps to transfer your music playlists using playlist buddy.
1. Visit the Playlist Buddy website in your favorite browser. Log in to your Spotify account.
2. Then, log in to YouTube Music using your credentials.
3. Select your desired playlists in Spotify that you want to transfer to YouTube Music and click on the 'Convert Playlist' button.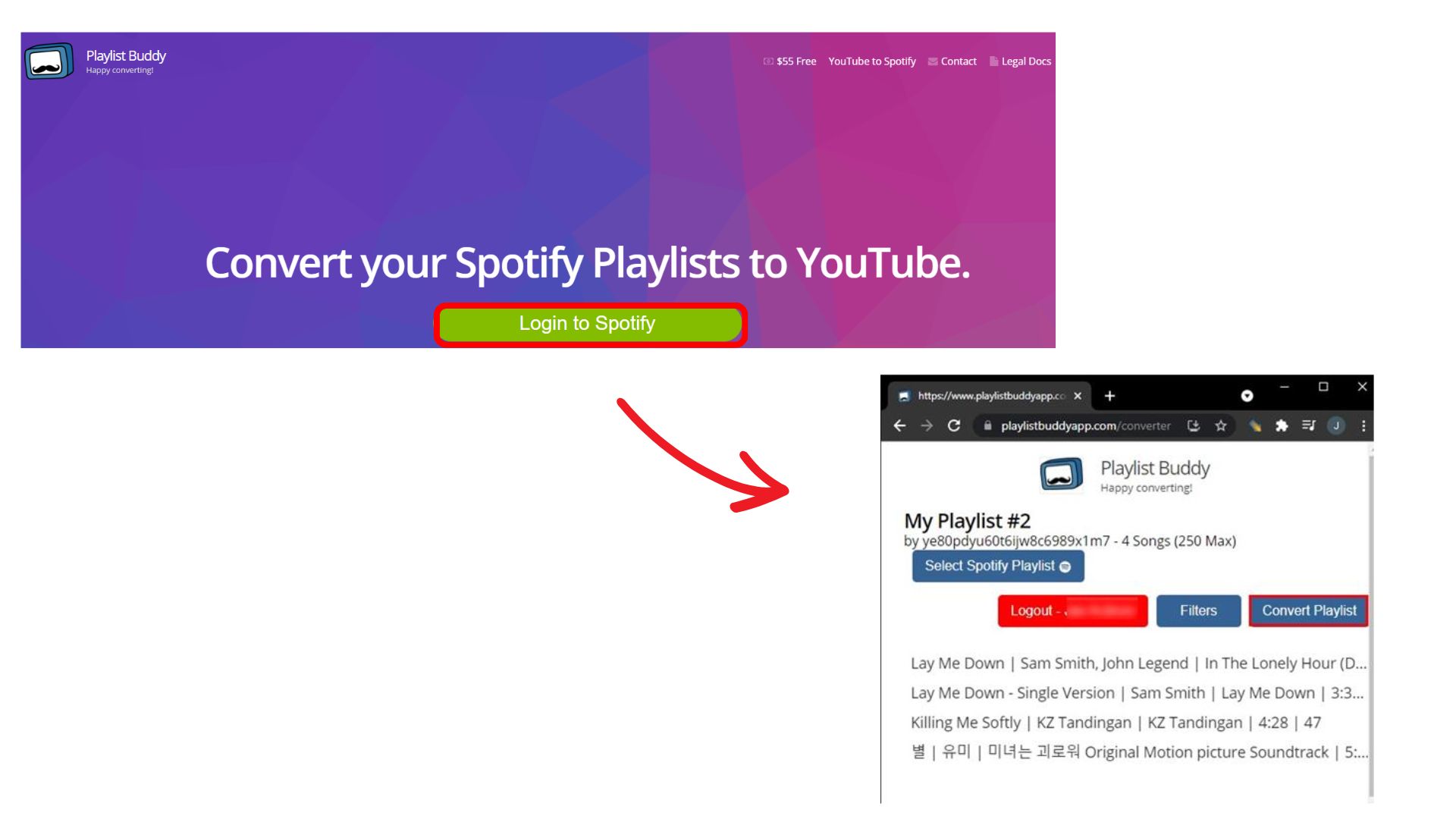 Transfer Spotify To YouTube Playlist Using Soundiiz
Soundiiz is another highly preferred tool that has free and paid plans to transfer your favorite tracks from Spotify to YouTube Music. It involves more steps than the above two choices, but it is compatible with almost all music streaming providers. Besides, you can use it on your smartphone as well. The steps to use Soundiiz is elaborated on below.
1. Go to the Soundizz website on your browser and click on 'Start Now.'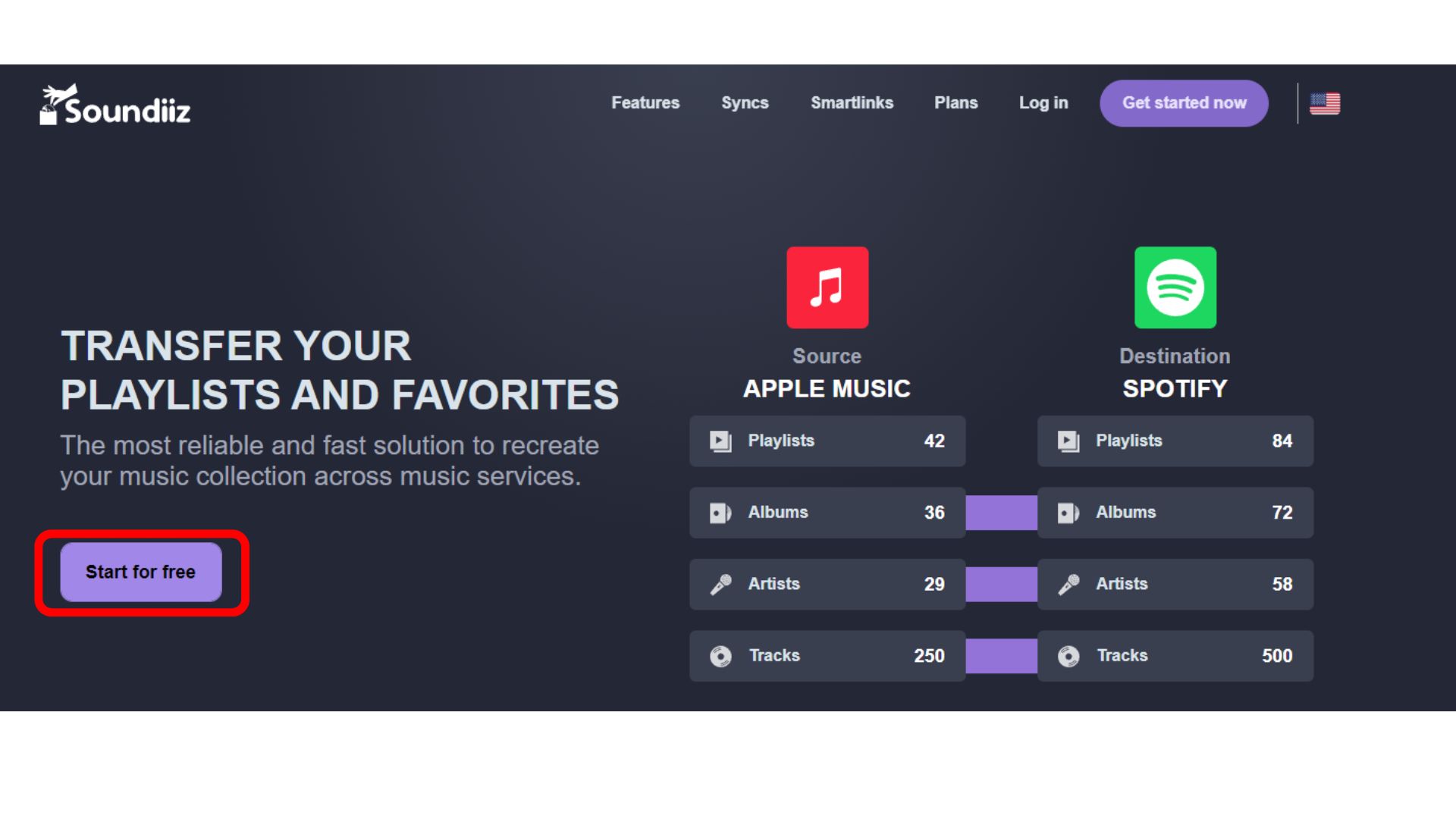 2. Sign in to your Spotify account. Navigate to YouTube Music at the sidebar and click 'Connect'.
3. Click on 'Transfer' and select Spotify as your source. Click on 'Playlists' to select the playlist you wish to transfer, and then click on 'Confirm and Continue.'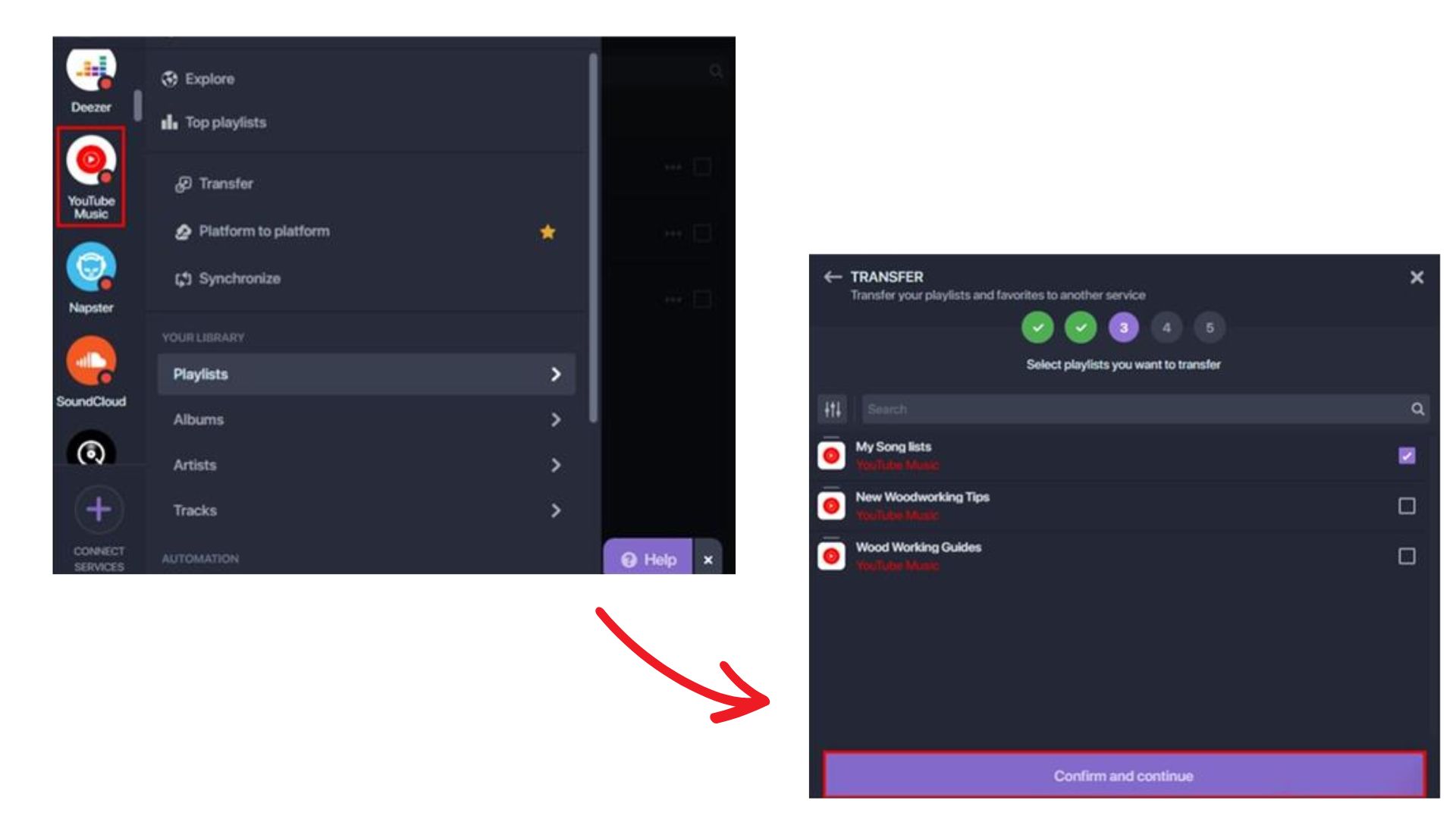 4. Configure your playlist and then click on 'Confirm.' Select YouTube Music to begin transferring your Spotify playlist to YouTube Music.
These are the most preferred tools for converting Spotify playlists to YouTube Music. But what if you want to convert YouTube music playlist to Spotify? Do you think it involves a similar process? Let's explore.
Transfer YouTube Music Playlist To Spotify
To transfer your favorite music tracks from YT music to Spotify, you can use a desktop application called 'FreeYourMusic.' It is compatible with various devices, including Windows, Mac, Android, and iOS. Besides, this app also allows you to store your music library using cloud storage.
Follow the steps below to transfer YouTube Music to Spotify.
1.  Download and install the FreeYourMusic application on your PC. Once done, launch the application.
2. Navigate to the 'Transfer' tab. Select the source as 'YouTube Music.' You will be redirected to a web browser to log in to your YouTube account.
3. Next, select Spotify as your destination and log in with your credentials.
4. Select the playlists you wish to transfer from YouTube to Spotify. Click on 'Begin Transfer' to start transferring your preferred playlists.
The app is easy to use and can suto-sync playlists between different music platforms.
Conclusion
It can be a tough choice to decide between YouTube Music and Spotify. Although there is no direct way to transfer Spotify to YouTube playlist, you can definitely try the methods suggested in this article to shift your music streaming choice. If you have a large library of playlists, recreating that playlist on another platform will consume a lot of your time. Thankfully, the applications mentioned in this article do most of the work for you. All you need to do is kickstart the process by following a few simple steps and sit back and relax as your playlist gets transferred from Spotify to YouTube Music.
Frequently Asked Questions
Q1. Do YouTube Music And Spotify Support Podcasts?
Spotify offers a range of podcasts based on various niches, but YouTube music currently does not support podcasts feature.
Q2. Which Is A Better Music Streaming App, YouTube Music Or Spotify?
Both Spotify and YouTube Music are well-known music streaming service providers. The choice of which is better comes down to your own music preferences.
Q3. Can I Use Other Third-party Apps That Are Not Mentioned In This Blog To Transfer Songs From Spotify To YouTube Playlist?
Yes. You can use other third-party transfer apps to transfer Spotify playlists to YT music. It saves you time in recreating the playlists all over again.
Q4. Does Spotify Allow You To Export A Playlist To Other Streaming Services?
No. You cannot export your favorite playlist from Spotify to other streaming devices. However, you can use plenty of other third-party transfer tools to export your music from Spotify to other devices.