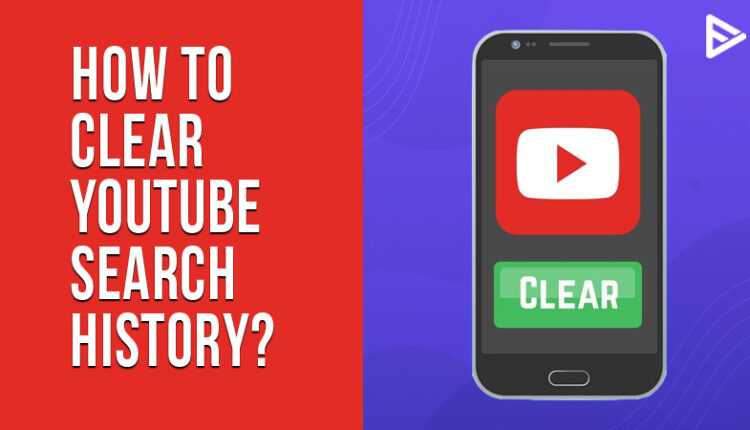 Do you clear YouTube search history on your device? We usually delete the search history from other social media platforms as well. But have you imagined why you need to delete the search history? YouTube has a wide range of videos, from educational to comedies to music to DIYs. You are selective when it comes to watching videos on YouTube.
Also, when you are listening to music, YouTube suggests the next music according to the music video you are currently watching and listening to. Imagine the next song that comes up on the list is something that your friend was listening to while using your phone, and that is not the taste of music you prefer. So in today's blog, we will discuss why we need to delete our search history on YouTube and the steps to delete YouTube search history from our phones or browsers.
Why clear YouTube search history? 
Have you ever noticed that if you search for a product on Google or any other browser, you see the same advertisements on your social media apps or YouTube? Similarly, YouTube stores your search history to recommend and suggest videos based on videos you have watched previously on YouTube.
So there is a possibility that you might see usual content that you are not interested in watching on YouTube. For example, your child has used your phone to watch some educational videos, but now that all you can see in your 'recommended video' and 'suggested video' list is irrelevant to you now. So all you can do is simply delete YouTube's search history. 
How to Delete Search History on YouTube App?
Maximum people access YouTube on their phones and have the YouTube App. To erase your search history on the YouTube app on your android phone, follow the below-mentioned steps:
Steps to Erase Search History on YouTube App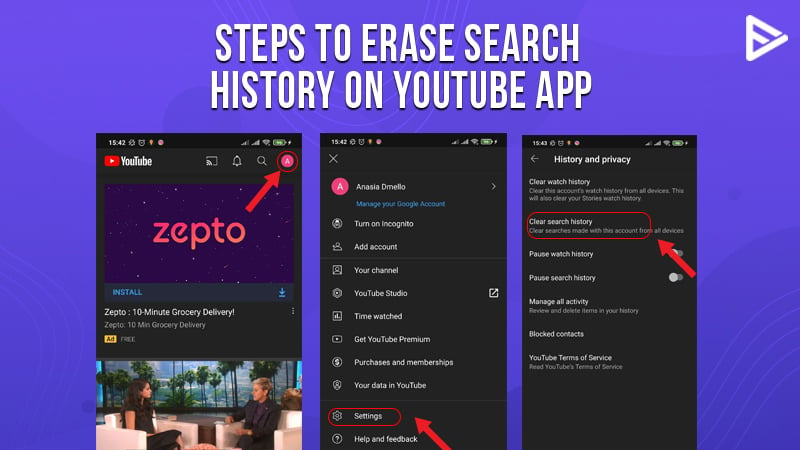 Open the YouTube app on your phone

Click on the profile picture

Select 'Settings'

Click on 'History and privacy.'

Now, click on 'clear search history.'

You can also clear your 'Watch history.'
When you 'clear search history,' you can clear the search history made from the YouTube account you are currently using. And, when you clear 'watch history,' you remove your current account's watch history from all the devices.
Steps Delete YouTube history on Desktop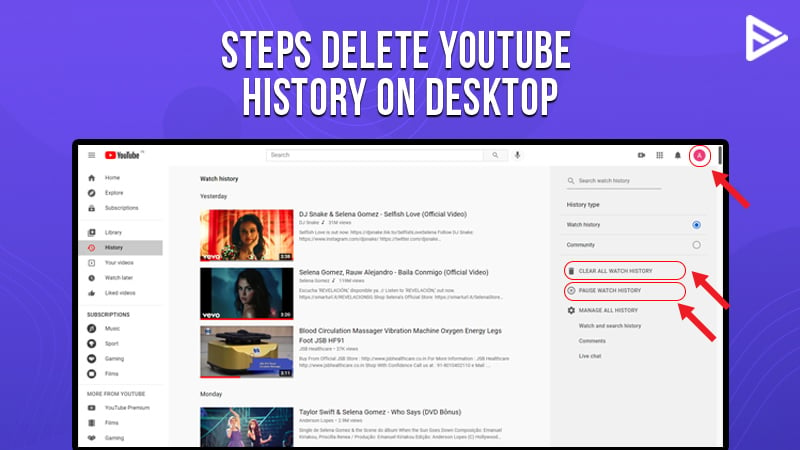 Simply insert 'Youtube.com' in the search bar of the browser that you use.

Sign in to your YouTube account.

On the menu bar on the left side, click on 'history'

Click on 'Clear all watch history' 

You can 'Pause history' too. 
When you click on 'Pause history' your previous search history will not be deleted. You will be able to see very few recommended videos and suggested videos.
Concluding thoughts
Now you know how important it is to disable your YouTube search history. Also, if you want to hide your search history in the future you can watch videos on your YouTube app on your mobile in the Incognito mode. To enable the Incognito mode you can simply follow these steps:
Open the YouTube app on your phone.

Click on your profile picture

Select 'Turn on incognito'
You can turn off the Incognito mode whenever you want to disable it.
If you are a YouTube and want to grow your YouTube channel, we at Veefly are providing you up to 1000 free YouTube views.