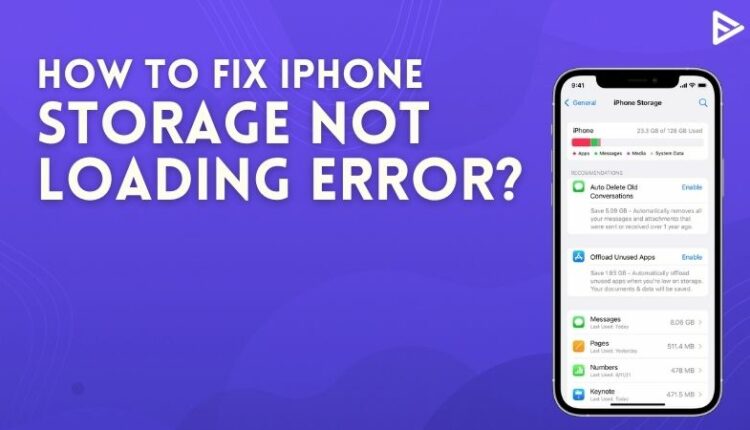 Is your iPhone storage not loading? There might be multiple reasons why this error comes up. Either there might be a bug in your phone or your phone storage could be full. Here are some reasons as to why the iPhone storage not loading error happens. Also, try these fixes to get rid of the error.
Top 5 Ways to Fix iPhone Storage Not Loading Error
You may check if your iPhone's storage is loading by waiting three to four minutes. However, there is no guarantee that waiting will yield the intended results. So, if you don't want to wait, you can go ahead and try the other procedures to see if the iPhone storage problem goes away.
Force close or kill the app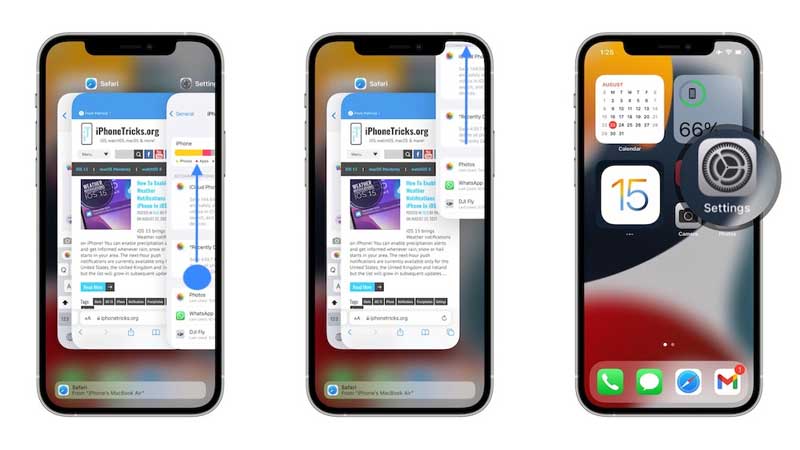 Activate the App Switcher (swipe up from the bottom of the screen or double-click the Home button on older iPhone models).
To force close the app, swipe up and dismiss the Settings card from the screen.
Restart Settings by going back to the Home Screen.
Go to General -> iPhone Storage.
Is it still failing to load?
Reboot your iPhone
Force restarting your device is the next option for resolving iPhone Storage not displaying. Minor issues should be flushed out with a fresh iOS boot, which should resolve this issue.
How to: Press and hold Volume Up, then Volume Down. After then, hold down the Side Button until the Apple logo appears on the screen. Release the iPhone and wait for it to reboot. Check if iPhone Storage loads without any issues after entering your passcode!
Connect your iPhone to the computer
If the problem persists, connect your iPhone to your Mac or Windows computer via a Lightning connector. The iPhone storage fault should be fixed by syncing the phone with a computer. Is that the case? Other problems with your iPhone
A screenshot of the iPhone Storage app indicates Zero KB of space used out of 64 GB available, according to a Reddit user.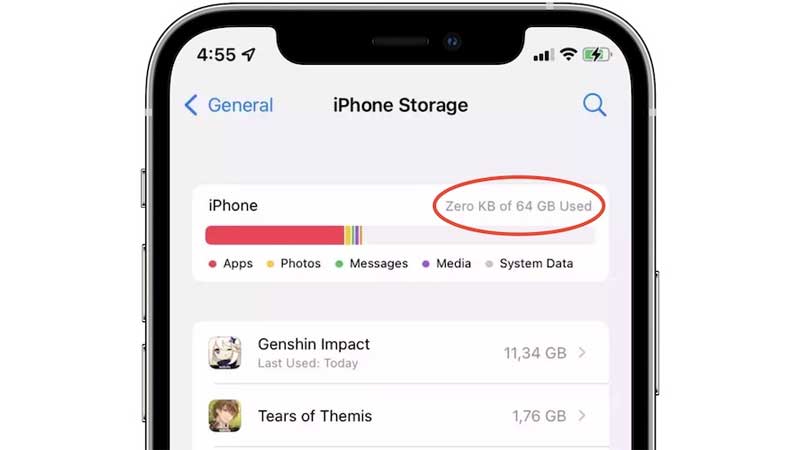 However, the graph appears to be correct, and you can see how much free space is available on the device.
Conclusion
Now that you know the solution to your iPhone storage not loading, try all these solutions to load the storage. Try to delete some files from your iPhone for its smooth functioning
Frequently Asked Questions
Q1. Why does my iPhone storage keep loading?
Ans. You might be having data connectivity issues. Make sure you have a strong internet connection. Other bugs on your phone also might be one of the reasons why iPhone storage keeps loading. Hence you have to be patient. If the issue remains unsolved, force close or kill the app.
Q2. Why does my iPhone storage not add up?
Ans. Your iPhone shows you an incorrect total for available storage because it's maybe it is incorrectly accounting for the deleted files in its memory. Probably, you have already deleted pictures, or other files because you wanted to have sufficient space to store new media.
Q3. Why does my iPhone say zero KB used?
Ans. There is a high possibility that your iPhone is unable to calculate correct storage use due to some network error.
Q4. Why isn't my phone loading anything?
Ans. Simply restart your phone as it might be having storage or network errors.