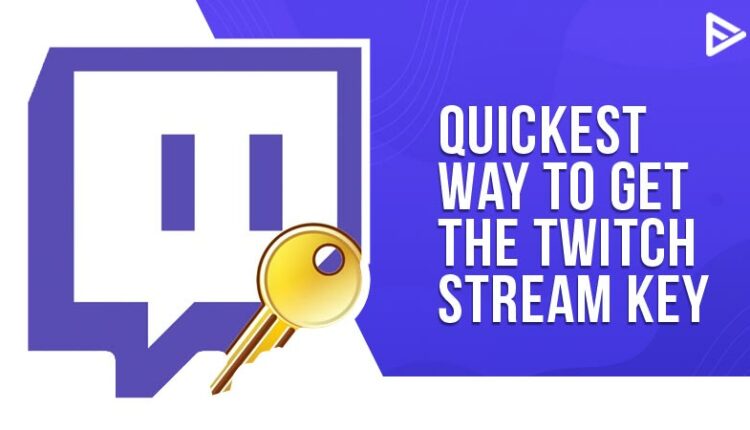 From what is a Twitch stream key to how to find the Twitch Stream key, this article has it all.
It is a very crucial code that helps Twitch creators to live stream through broadcasting software.
As is the norm, you first have to spend some time setting up the software and connecting it to your Twitch account.
Obviously, how would Twitch know which creator's account to live stream on?
The Twitch stream key is that communication link between your twitch account and the streaming software like OBS or Stream Lab.
What is a Twitch Stream Key?
A stream key is a unique code that every account on Twitch gets. You can access it in the Stream settings of the Creator's dashboard on Twitch.
If you wish to integrate your Twitch account with a game, streaming, or broadcasting software, then you will need the Twitch account's stream key.
It's important to keep your Stream Key private. People can use it to stream their content on your Twitch account if it goes public, which is obviously not good for your channel and brand. It's similar to being hacked.
But if your twitch stream code does go public, you can reset it. But first, let's go through the quickest way to find your Twitch stream key location.
How To Find Twitch Stream Key Location?
Step 1: Log in to Twitch
Step 2: Go to Creator Dashboard
Click on the round icon on the upper right corner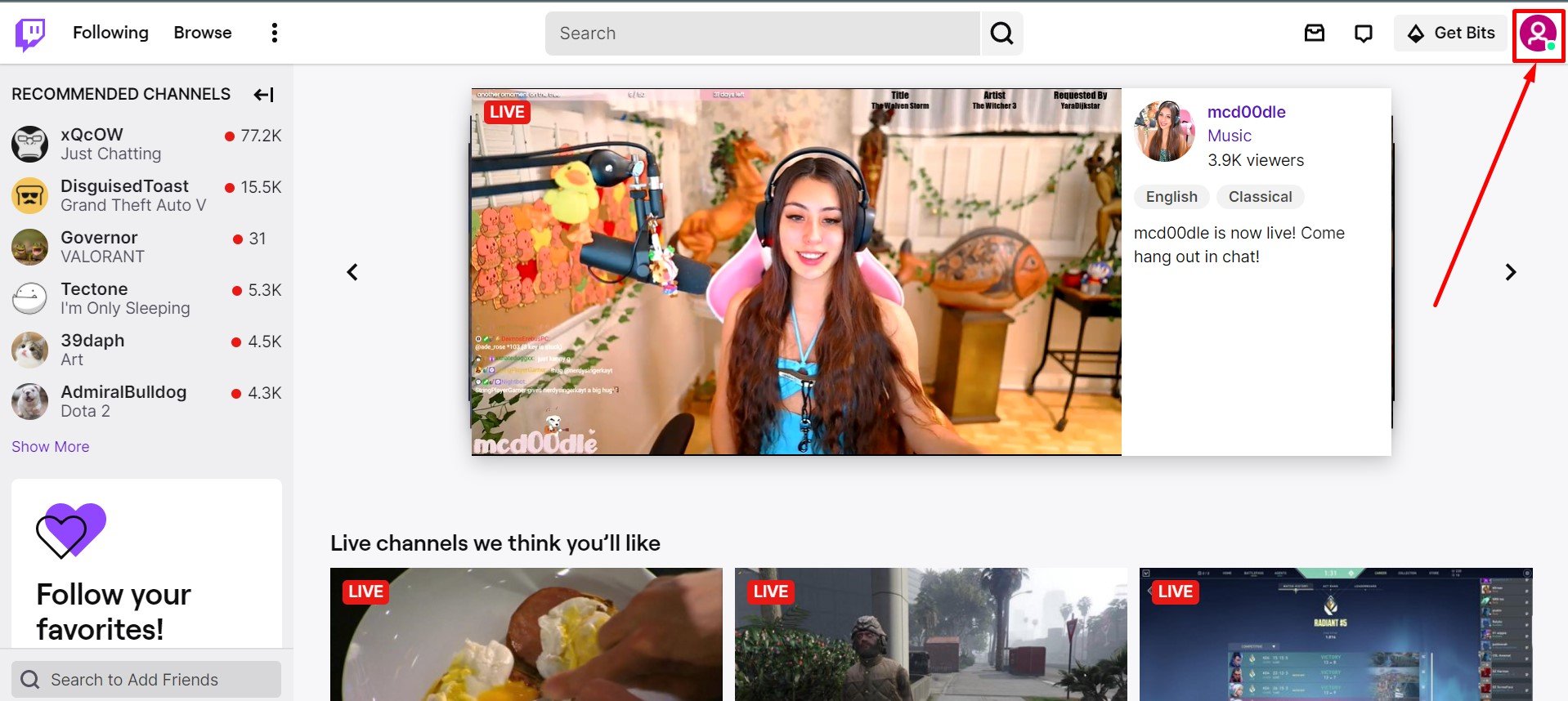 Select Creator Dashboard in the menu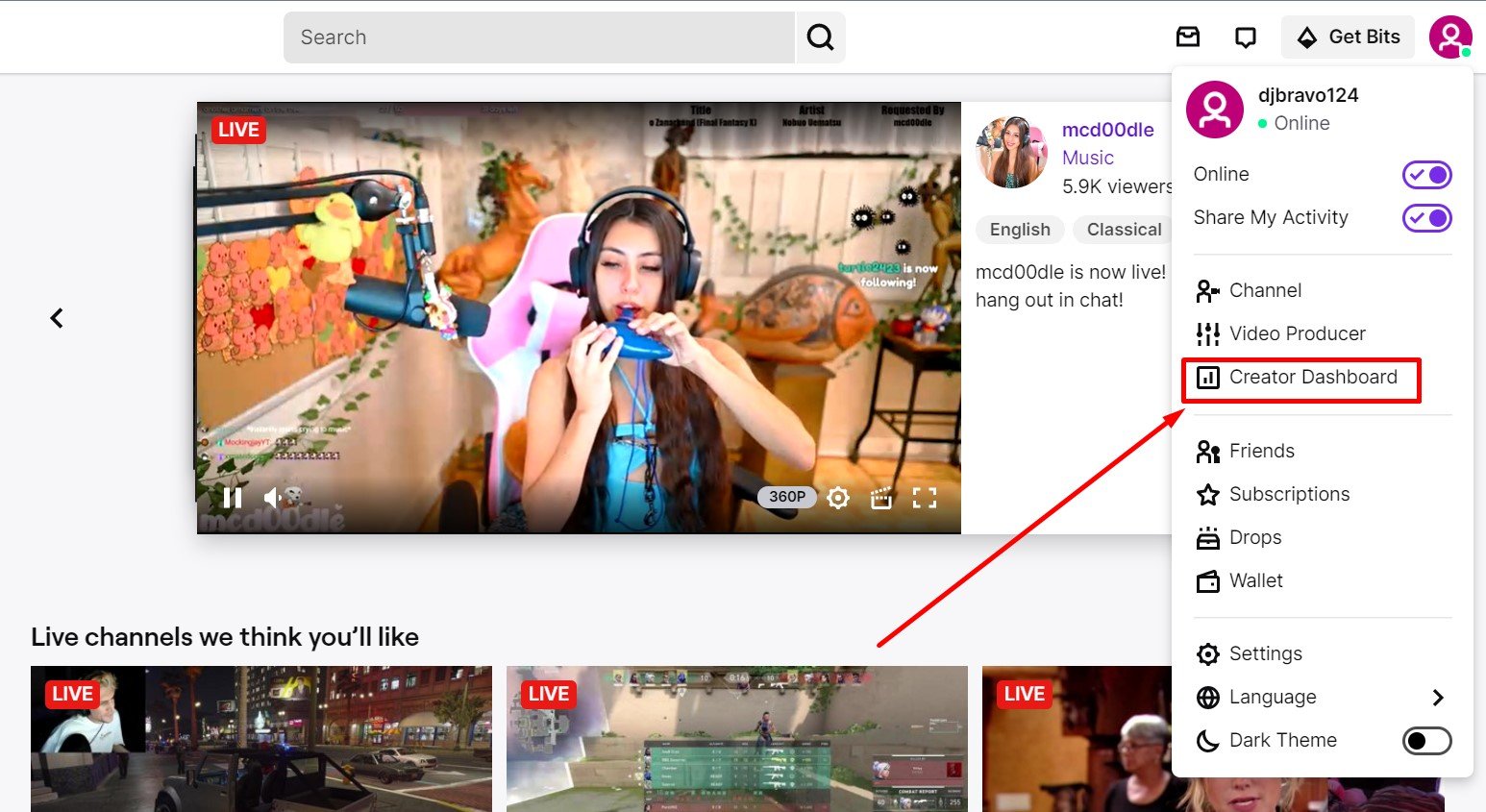 Step 3: Find the Stream settings
Once you are on the Creator dashboard, click on settings on the left-hand menu.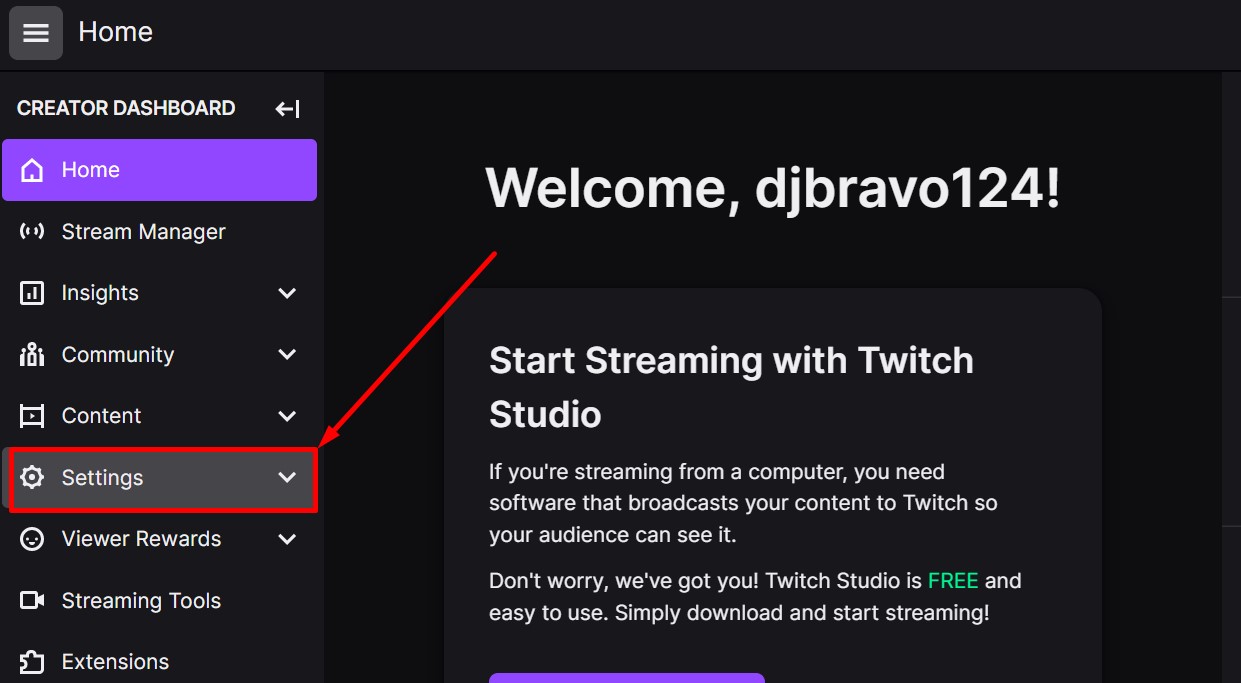 From the drop-down list, click on the stream option below the channel.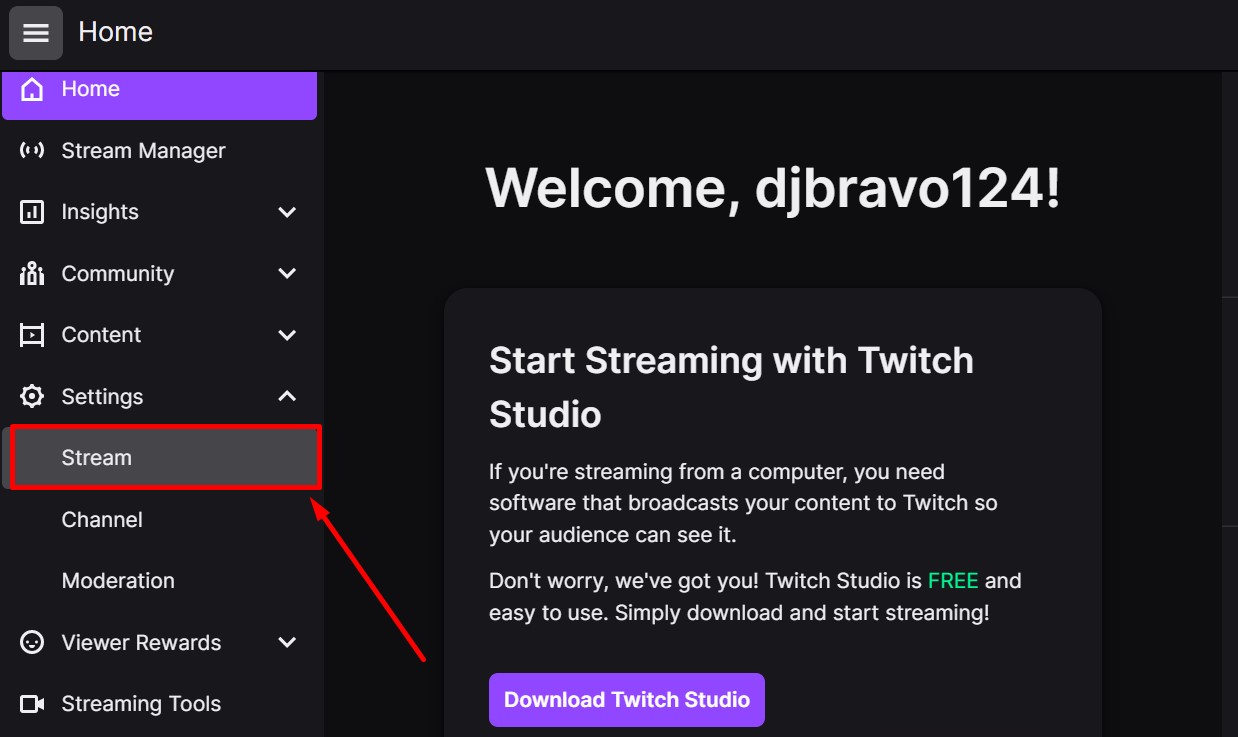 Step 4: Copy the Stream Key
On the Stream Key & Preferences page, you will see a primary stream key; click on the copy button on the right, and copy the stream key to your keyboard.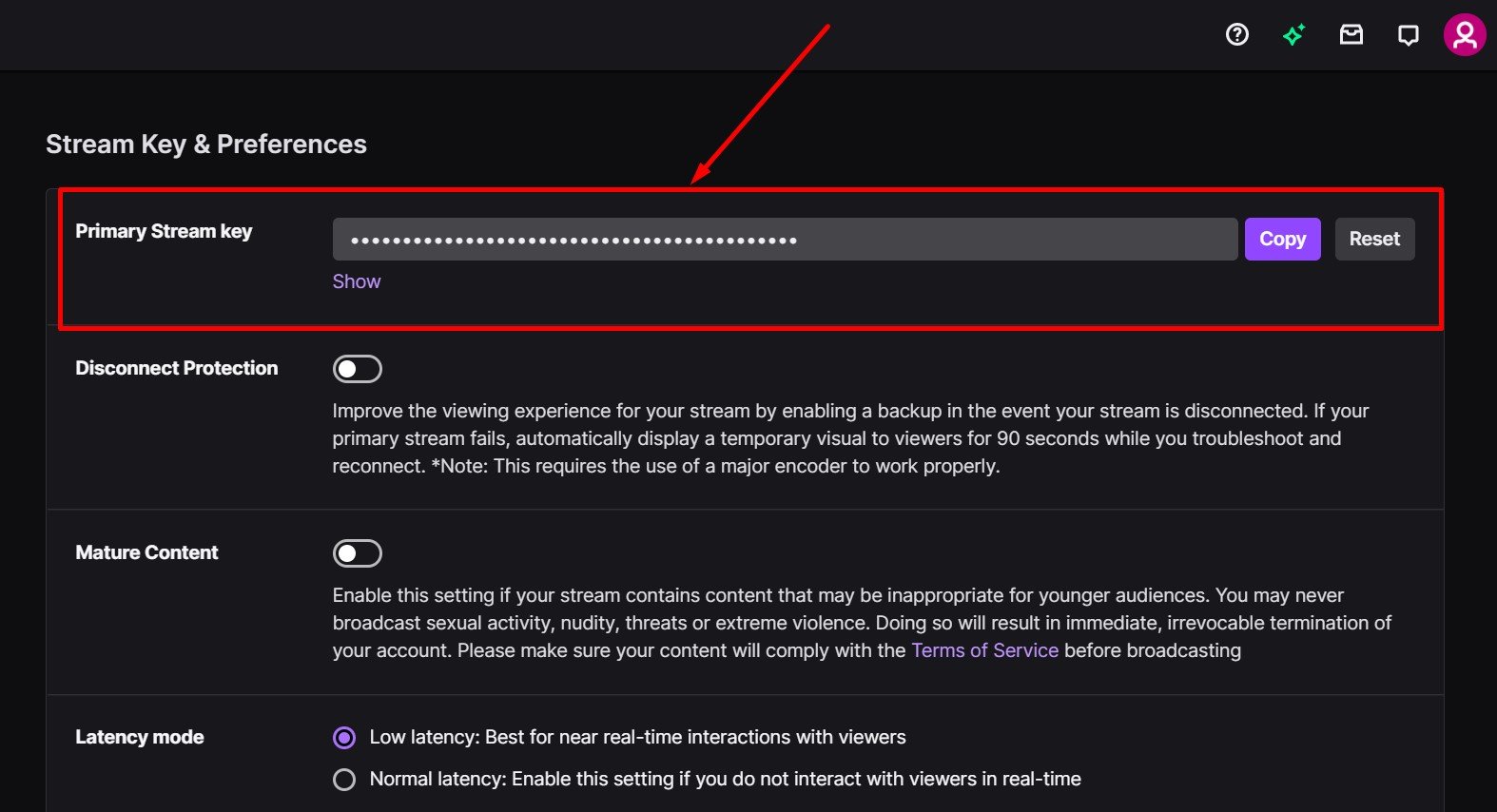 Simply follow the above steps to get your stream key for Twitch in minutes.
Here's a easy to follow guide to help you find the YouTube stream key.
Steps for Twitch Stream Key Reset
As we discussed earlier, sharing your secret twitch stream key is a big NO. But if for some reason, your stream key becomes available to others, you can immediately reset it and leave the older stream key useless.
How to reset your Stream Key?
Follow the steps we discussed above to get to your stream key and preferences page on the Twitch creator's dashboard.
Once you find the primary stream key of your Twitch Account, click on the RESET button placed right next to the COPY button.
Simple!
Conclusion
The Twitch stream key lets you stream games and access other high-level features. Although there are several ways to get the Twitch stream key location, we have shared the quickest route with the fewest step and confusion to help you find your primary stream key on Twitch easily.
Do not share the Stream Key of your Twitch account with anyone for any reason.
Frequently Asked Questions
Q1. How do I get my stream key for OBS?
To get your Twitch Stream key for OBS, follow these steps:
Log in to your Twitch Account
Go to your Creator Dashboard
Click on Settings 
Select Stream
Copy the Primary stream key at the top of the page.
Paste the Twitch stream key on your OBS settings to finish the integration.
Q2. Can I share my Twitch stream code?
No, under no circumstance should you share your twitch stream key with anyone. And if you accidentally do share it, reset it immediately.
Q3. How do I change my Twitch stream code?
You can change your stream key on Twitch by resetting it. The steps to reset your twitch stream key have been mentioned above.
Q4. How do you copy and paste a stream key?
You can copy a stream key to your keyboard by ctrl+C and paste it with ctrl+V. An alternative is simply clicking on the copy button available next to a stream key on YouTube and Twitch.