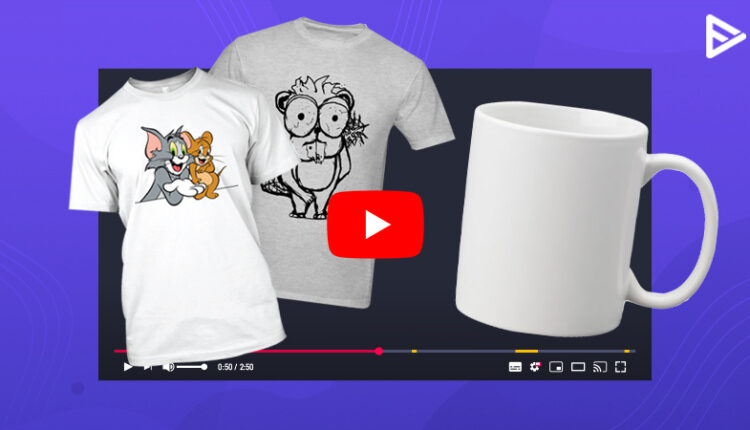 YouTube is a great platform to earn money in 2023. You can be a part of affiliate programs, sponsorship programs, or collaborate with brands. These programs pay you to promote their products on the platform. But what about selling your own merch? Today, many YouTubers earn a lot of money by selling customized YouTube merch.
You must have come across customized T-shirts, hoodies, and products inspired by famous movies or TV series. These products sell well and get the fans rushing to place their order. If you are struggling to understand what kind of merch will sell on YouTube, here are some ideas that will help you make money.
Create products that suit your niche
Many beauty vloggers on YouTube have launched their own beauty brands or makeup palettes. This does make sense since it belongs to their niche and will definitely appeal to their audiences. Although today's audiences are your channel is already related to.
You can start with creating products that complement your YouTube channel. Since you already have a good audience base because of your video content, it won't be challenging to sell your merch to them.
You can take inspiration from YouTube creator Moriah Elizabeth, well-known for her "Squishy Makeover" series that racked up millions of views. This creator is known for painting and decorating her videos and has now launched a book series called "Create This Book" that lets fans paint using any coloring medium.
Sell handcrafted merch
Many YouTube creators craft handmade items at home with their creativity and sell them to their fans. For example, top YouTuber Markiplier has his website that sells tees, hoodies, socks, caps, etc. He started from scratch and now has 29.2 million YouTube subscribers, with half of his earnings donated to charities.
Depending on your expertise, you can create bath bombs and soaps, jewelry, candles, sweets, printed merch, totes, artbooks, etc. You can start with something simple like customized and unique keychains and cards. There's an entire DIY community on YouTube that's making it big with their imagination and innovation. So get inspired and start selling your handcrafted merch on YouTube.
Items inspired by your channel
You don't always have to sell merch with famous quotes or anything related to movies and series. Instead, put your channel out there and grab more eyeballs by selling merch with your logo on it. Start small with mugs and phone cases.
YouTuber Karina Garcia creates DIY slime on her channel and has over 9.38 million subscribers. So, as more sales pour into your channel, you can print your designs on pillow covers, posters, bags, T-shirts, etc. Don't stay consistent with your designs; give them something fresh and unique to up your sales. And this practice will prevent your customers and fans from getting bored.
Clothing merch
If you don't know top YouTuber MrBeast, you aren't doing YouTube right. This YouTube gamer has his merch store that sells a clothing line with his logo on it. Unfortunately, when you start selling clothing merch on YouTube, you will face very high competition since many creators sell hoodies and t-shirts on the platform.
One way to make your merch stand out is to listen to your fans and customers. They can give you better styling and fitting tips. They are more likely to buy items that are designed for them. You can use polls and look through comments to understand their needs, style choices, and fits.