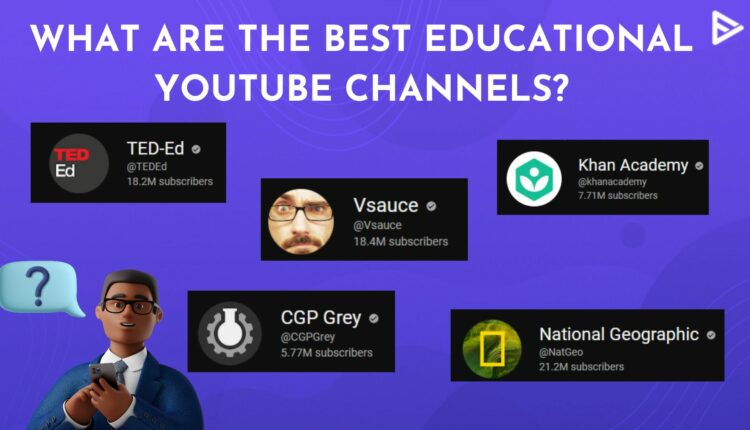 YouTube is not only for entertainment purposes. Many people also use the platform to learn about their niche without paying a single penny. Luckily, several educational channels on YouTube provide free, in-depth knowledge. In addition, parents who prefer to homeschool their kids can also use YouTube as a great medium to provide education.
So if you are still wondering what the best educational channels on YouTube are, here's the list you need.
Top 5 Best Educational Channels On YouTube
First, if you are a student and want a simple understanding of your study-related topics, you should check out these educational channels on YouTube. Also, educational media simplify the topics with many examples. This way, viewers can easily understand them.
In addition, the channels are engaging but not distracting. This makes them more appealing to viewers by simplifying the learning process. Let's look at the 5 best educational channels for adults.
1. Ted-Ed
Starting in March 2011, Ted-Ed seamlessly combined education with technology. Soon it became one of the pioneers of online education. They have many subjects, including mathematics, science, business, history, etc. It should be known that Ted-Ed has 18.2 million subscribers and 3 billion-plus views.
2. CGP Grey
Next, if you are a history and philosophy fanatic, you should check out this YouTube education channel. This channel primarily majors in politics, history, philosophy, and science & technology. Additionally, they have many videos with fun narratives and animation. This makes it easier to understand complex political topics. Also, they have 5.77 million subscribers and 890 million views on their channel.
3. VSauce
VSauce was first started in 2010 by Michael Stevens, Kevin Lieber, and Jake Roper. This is a science-based educational channel on YouTube. This channel mainly solves many rhetorical questions. For example, "What if the sun disappears one day?" or "What if our oceans dry out?". The channel has the best answers for all our what-if questions. We suggest this channel to everyone who has such kinds of intriguing questions. The channel has 18.4 million subscribers and 2 billion-plus views. They have other channels, too, named VSauce 1 and 2.
4. Khan Academy
Khan Academy, which started in 2006, is a nonprofit organization providing free education to millions. They focus on maths, biology, chemistry, physics, history, economics, finance, grammar, etc. Also, they offer free personalized SAT and LSAT practice. This practice is in partnership with the College Board and the Law School Admission Council. They have 7.71 million subscribers and 2 billion-plus views.
5. National Geographic
One of the renowned channels on Television and YouTube is also one of the best educational channels. Professors' videos from national geographic are also used in schools and colleges. Not only do they explain complex geographical concepts, but they are also fun to watch. This is another channel that is great for parents to homeschool their kids from YouTube. They started their YouTube channel in 2006 and currently have 21.2 million subscribers and 5 billion-plus views.
Frequently Asked Questions
Q1. What Are The 5 Best Educational YouTube Channels For Kids?
A regular education channel can get boring for kids. Therefore many educational media also have separate channels for kids. These channels cater to kids mainly between the ages of 4-12. Here's a list of the top 5 kid-friendly YouTube educational channels.
1. Bright Side- 43.9 million subscribers.
2. Ted-ed- 17.4 million subscribers.
3. National Geographic kids- 759k subscribers.
4. Khan Academy Kids- 580k subscribers.
5. Art For Kids Hub- 6.15 million subscribers.
Q2. Do YouTube Educational Channels Make Money?
Yes, educational channels on YT make money just like regular YouTube channels. However, only nonprofit educational channels donate funds from YouTube to different charities.
Q3. What Subject Is Most Popular Among The Educational Channels?
Science, History, Politics, and Mathematics are some of the most popular subjects on YouTube.
Q4. What Are The Best Education Channels For Toddlers?
Here's a list of the best educational channels on YT for toddlers:
Cocomelon
Cool School
Blippi
Little Baby Burn
Lotty Learns
Conclusion
With the availability of the internet and easy accessibility to smart devices, people are turning to YouTube for self-education. Also, since the pandemic hit the world in 2020, YouTube education channels have grown.
Sometimes students and professors can find their school curriculum restrictive. Students can use these channels to become self-educated. Also, professors research their material preparations with these channels. Check the above-listed channels and keep educating yourself and others.