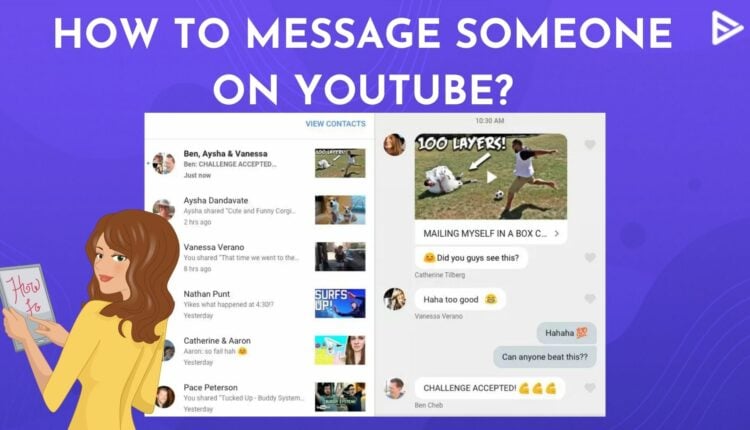 Everyone watches a lot of YouTube content daily, and some YouTubers become their favorite. So you might wonder how to message someone on YouTube and tell them how much you love watching them. But unfortunately, YouTube removed the DM feature as only a few people were using it. Also, the platform wanted that more people use other connecting features like comments, mentions, tags, etc.
But even without the DM feature, it is possible to connect with the video creators using other methods, like emails, social media handles, mentions, etc. So today, we have mentioned 4 easy ways to understand how to message someone on YouTube without a direct messaging feature.
How Can You Message Someone On YouTube?
Since DMs are no longer an option on YouTube, you can use the following alternatives that can help you connect with your favorite YouTubers on the platform. So, let's go through each workaround to know how to message someone on YouTube.
 Use Social Media To Message Someone From YouTube
Even if YouTube does not have a DM feature, you can connect with the creators on the other social media pages. For example, Twitter, Instagram, Facebook, etc. Usually, most YouTubers mention their social handles in their video descriptions. Therefore, you can choose any social media and DM the creators.
Interact On Live Sessions
YouTubers frequently have live sessions on their channel. You can easily comment on their live stream and also send a super chat to get their attention. You can turn on the notifications for the YouTube channel by clicking the bell icon next to the subscribe button. This will ensure that you are notified every time your favorite YouTuber is live.
Use The Comments To Message On YouTube
Commenting on the videos might be the most convenient way to pass your message on YouTube without the DM feature. Also, it is straightforward to comment on a YouTube video. All you have to do is go to the video you want and click on comments. Then enter your comment, and you can also tag the YouTuber using their YouTube handle starting with '@.'
Comment on YouTuber's Story And Shorts
YouTube recently launched the YouTube story and shorts feature. It is now easy to upload short-form content on the platform. These features have separate comment sections that the viewers can comment in the same way as on a regular video.
How To Message Someone On YouTube Via Their Email Address?
Wondering if you can message someone on YouTube through email? Loads of companies and collaborators connect with creators on YouTube via emails. YouTubers often add their business emails so that people can connect with them.
So, if you want to connect with another creator on the app, here's how you can message someone on YouTube via email:
Go to the creator's YouTube channel.
Now go to their "About" section.
Scroll down to Details.
Under Details, you will find For Business Enquiries.
Click on view email address.
Now verify that you're not a robot, and once confirmed, you will see the email address.
That's it! You can now message someone on YouTube via email and connect for collaboration. If emailing someone is too formal for you or you're stressed that they won't reply soon, then you can even text them on social media. 
How To Message A YouTuber Via Their Social Profile?
Without emailing, if you're thinking, can you message someone on YouTube, then no YouTube has no place for messaging someone as we know. However, you can always find their social media page to message them. If you want to collaborate with another YouTuber, simply search for their name on other social media like Instagram, Facebook, Threads, or X (formerly known as Twitter).
Look for a verified account with the most followers. It may also happen that the same creator has fan pages that may look like their original account. So, just make sure you're connecting with the real YouTuber. You can even check the mutuals and the following to see how valid the account is. Once you know for sure it's their account, slide into their DMs and wait for them to respond. It's also essential that your account looks legit, or else they might not choose to respond considering you're spam. That's how you can message someone on YouTube through social media. 
Conclusion
Even though the YouTube DM feature is no longer available, YT is constantly bringing in new features for its users that make the platform well-connected and more accessible. Furthermore, it includes interactive elements like YouTube stories and live sessions to connect the video creators and viewers.
So, it's time to end your YouTube message-related worries because now you know how to message someone on YouTube.
Frequently Asked Questions
Q1. Why Did YouTube Remove The DM Feature?
The YouTube DM feature was removed in 2018. This is because the audience used the part sparingly as there were other more convenient alternatives to message anyone on YouTube.
Q2. Can You Send A Private Message To Someone On YouTube?
No, you cannot send a private message on YouTube. If you want to interact with your viewers, you need to do that through comments or community posts on YouTube.
Q3. How To Private Message People On YouTube?
You can't directly contact the YouTuber through a private message, but some alternative ways will help you with that! For example, email addresses, social media platforms, YouTube stories, live sessions, etc.
Q4. How To Find The YouTuber's Email Address?
To find the email address of a YouTuber, you have to go to their channel and then go to the About section here. They might have mentioned a business email address where you can send them mail. You could also check the descriptions of their videos to see if they mention their email ID there.