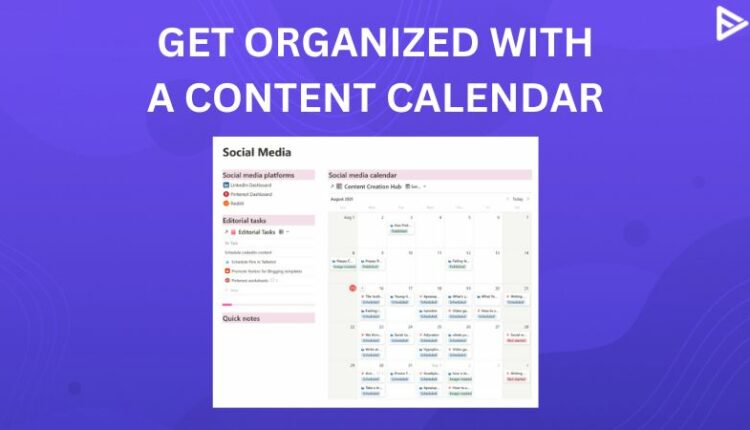 Being a YouTuber constantly putting out content that is engaging and creative can be a task at times. That's when a YouTube content calendar will come to your aid! To continuously produce relevant and trending content, you must plan things in the right direction.
Here's when having a planner or a calendar will help you align your YT business goals. Carefully planning what kind of video you want to post and when will make your channel run smoother and better. So here are some tips you can use to create a YouTube content calendar.
How Can I Create YouTube Content Calendar?
To create a YouTube content calendar template, follow these steps closely and make a content planner for yourself in minutes!
Write down your goals
before starting with the creation of your YouTube content calendar, you must have your goals defined. Ask yourself what are your goals for your channel this month or this year? And start writing them down.
Once you have a layout, you can move ahead with planning the whole calendar. This will make your YouTube content calendar template more efficient as you already know what goals you want to accomplish.
Design a template for your YouTube content calendar
Planned out things but don't know where you can arrange them? YouTubers use tons of different ways to design their YouTube content calendar. From spreadsheets to designing platforms like Canva, you can use any tool to create your calendar's template. But software like Trello or Asana is a go-to choice for many creators.
Remember, design a template that is easy for you to use so that you can conveniently make changes to it.
Plan your upload schedule
When are you thinking of uploading on your channel? Plan out the days that you want to upload on your channel. Having a regular upload schedule will increase your engagement as you're posting content regularly to your viewers. Try to maintain this schedule instead of posting once in a while. Also, look for the days when your viewers are most active.
Plan the type of content you want to post
Search for all the latest trending topics in your niche. See and analyze what most top creators in your competition are making. This way, you can keep up with the trends and make videos that are relevant and watched most by many viewers. Then add this content to your YouTube content calendar template.
Add sponsorships, product launches, or announcements to the calendar
Most importantly, mark the important dates as you do in your normal calendar! Mark dates for new announcements, new sponsorships, or your product launches to keep your following engaged. Start making smaller announcements prior to that so that people know something is coming.
Adding these details to your YouTube content calendar template will help you organize your launches. This way, you can do them more efficiently!
Use the seasonal card
Planning to create special videos for Christmas? Well, with a content calendar for YouTube, you can do that in the easiest way possible! Just plan and add the type of videos you want to put out for each festival and at what date, and you will be able to do that efficiently. 
These are some of the steps that you can use to easily make your YouTube content calendar more adaptable. But you must be wondering why should I do all this? Making a calendar is a task in itself, but there are pros of doing so let's see what they are.
Benefits Of Creating Y
ouTube Content Calendar
Making a content calendar has many benefits of its own. Almost all top YouTubers use a content calendar to plan their channel's upload schedule. This has made their channel grow immensely since they know what they must do to grow and climb the YT ladder.
A YT content calendar will help you be on track with new creative content ideas without worrying about what you must post next. You can also keep track of your journey and analyze the records to see the changes you must make to be more dynamic.
Conclusion
Making creative content constantly can be difficult since the competition on YouTube is tough. But with a YouTube content calendar, you can be on track and less worried about what you should post next. Having a content calendar will allow you to be more organized as a creator. So without wasting time, plan and make your content calendar soon!