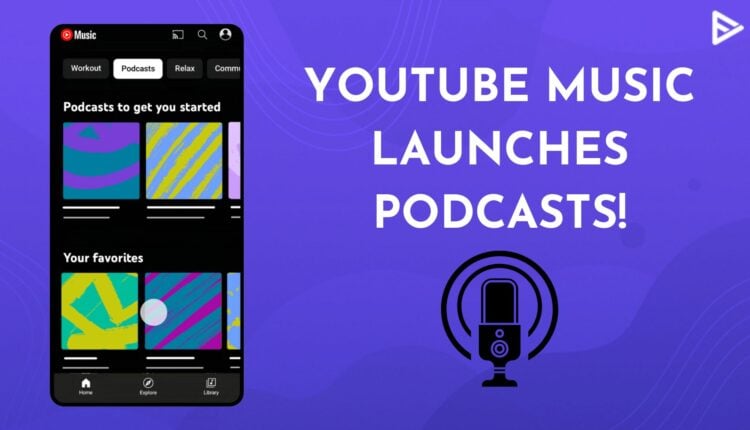 Are you recently interested in listening to podcasts? Then you should not miss out on YouTube Music Podcasts. This platform is gaining popularity among users as it seamlessly allows listeners to switch between audio and music video while listening to their favorite songs. But another reason why this platform is getting popular is the podcasts available on it.
Google has recently announced podcasts on YT Music. In a short span, these podcasts have caught many listeners' attention. Through this blog, learn how you can listen to YouTube Music podcasts and also know the best podcast on the platform. We'll not keep you waiting any longer; let's hop on and see how.
How To Listen To YouTube Music Podcasts? (Mobile App)
Now you can find podcasts on YouTube Music. To listen to podcasts that you love on the app, follow these steps:
Discover Podcasts On Home Tab
Open your YouTube Music app.
Go to the Home tab.
You can see a section named Podcasts on the top.
Tap on it, and all the latest podcasts will be available on the screen.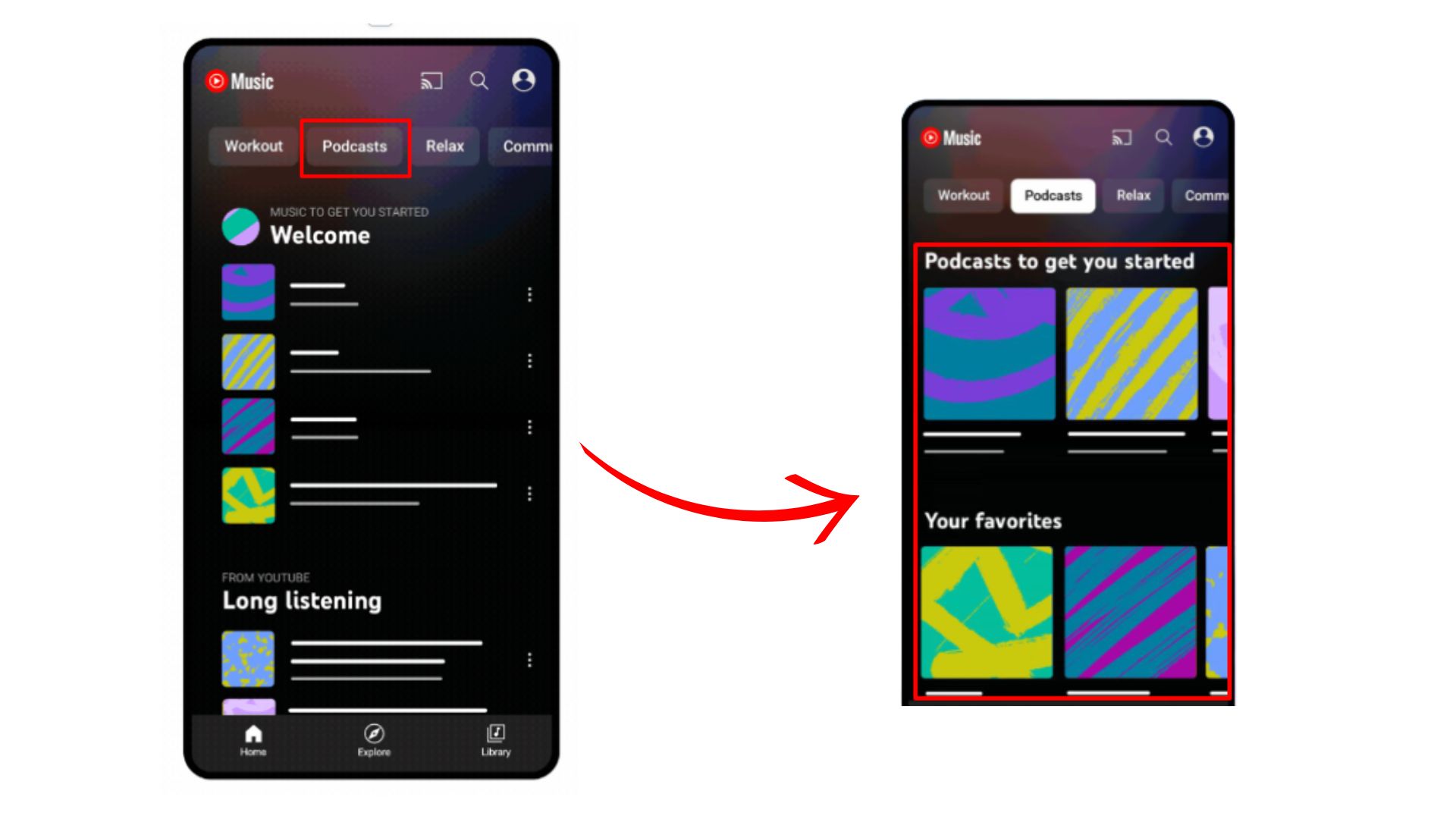 You can even search for your favorite podcasts on YouTube through this app.
Search For Podcasts On YT Music App
Go to the YouTube Music app.
Tap on the Search icon on the top right of the screen.
Search for a podcast you wish to listen to.
You can even search for any particular genre or podcaster you like to listen to. YouTube music also suggests various artists at the end of the page that are popular in the genre.
How To Tune Into
Podcasts On YouTube Music? (Desktop)
Similar to the mobile app, you can even tune into YT Music podcasts on your desktop. You simply need to go to YouTube Music on your web browser and follow these steps:
Go to the home tab of YouTube Music on desktop.
Click on Podcasts on top of your home page.
You will see a list of trending podcasts on the screen.
OR
You can even search for podcasts on the desktop version of YT Music
Click on the search icon at the top of your home page.
Search for podcasts.
All the top picks and latest podcast episodes will be shown to you on the screen.
Following these simple steps, you can start listening to podcasts on YouTube Music. Remember this new feature or podcasts to YT Music is only available in the US. So if you're trying to search from a different country, you might not be able to find it.
Best Podcasts On YouTube Music For Content Creators
Being a content creator, if you're looking for some of the best podcasts on YouTube Music, then you should not miss out on these. All these podcasts from YT Music will help you build a flourishing career in the content industry. So let's check out the top podcasts for content creators:
Think Media Podcast
All young content creators and entrepreneurs must listen to this podcast to kickstart their journey in the world of digital. This podcast is best if you want to grow on social media, as it fills you with all the nitty-gritty of content marketing. Sean Cannell, the host of this podcast, even brings guests and experts on the podcast that help listeners gain valuable insights into the field.
Akimbo Podcast
Seth Godin is not only a great mentor but also a marketing expert, motivational speaker, and author who uses this podcast as a platform to enlighten young minds. Through this podcast, he talks about entrepreneurial, marketing, and self-growth topics that pave the path for young adults. Akimbo itself is derived from old or middle english, which means "to bend". So the host has taken this idea to generate a newer perspective in listeners' minds.
Feisworld Podcast
Fei Wu brings guests on the show that are experts in the fields for her listeners to get inspired by their journey. This YouTube Music podcast will boost your confidence and teach you to grow as a self-made content creator. Topics like developing personal skills and business strategies along with creation and productivity are shed light upon. Being a strategist and entrepreneur herself, Fei is on a journey to help budding content creators grow.
The Nir And Far Podcast
Nir Eyal the host of this podcast, is brilliantly known for merging various niches together. This podcast caters to a beautiful fusion of psychology, tech, marketing, and business to its listeners. Content creators must listen to this podcast as it will help them develop overall skills important for their growth.
You can even start your own podcast on YouTube and expand your horizon as a creator. This is a very blooming field as many individuals tune into podcasts, and their liking is increasing day by day.
Conclusion
So if you're an avid podcast listener, you should not miss YouTube Music podcasts. This new addition to the platform is a great segment for listeners who enjoy listening to talk shows. You can find loads of entertainment and even motivational speaking podcasts that you can tune into while driving or even doing your day-to-day chores.
Frequently Asked Questions
Q1. Can you listen to anything on YouTube Music?
YouTube Music has anything and everything, from the latest hits of all genres to songs of all top as well as indie artists. The platform also launched podcasts in February of 2023 for its users to listen to all things in one place.
Q2. Can you listen to YT music podcasts for free?
Yes, with or without premium, listeners can catch the episodes of all the latest podcasts on YouTube Music for free.
Q3. Does YouTube Music work on iOS?
YouTube Music works on iPhones that have iOS 14 or later. This is the basic requirement for the platform in the iOS operating system.