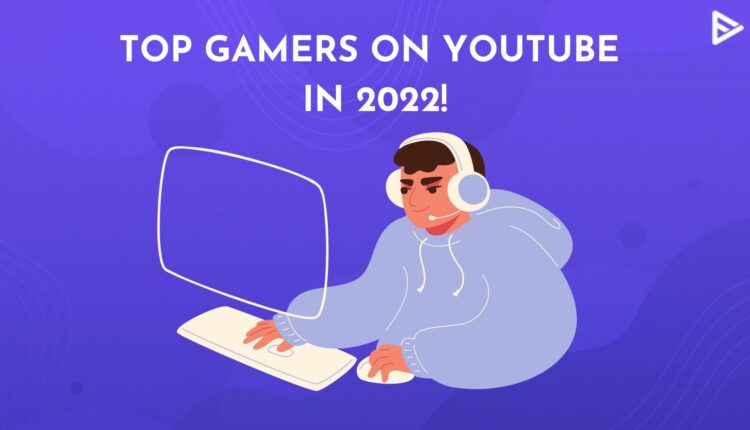 If you think gamers have it easy, you're wrong. Top YouTube gamers had to become masters at all the popular games to even be seen, let alone be at the top. While Twitch is the primary platform for gamers to do live streams while gaming, YouTube is also widely popular among the gaming community.
In this article, we'll see who the best YouTube gamers are.
Top 5 YouTube Gamers In 2023
Many of these YouTubers into gaming have been gaining popularity this year. Most of these names are very well known by even the non-gaming audience.
Here is the list of the top 5 famous gaming YouTubers:
1. Pewdiepie
Pewdiepie, with his 111 million subscribers, has one of the best gaming youtube channels. Originally he is from Sweden, and he has been on YouTube for a long time. This subscriber record of his is only broken by the Indian music YouTube channel T-series, so not only is he the most popular gamer but also one of the most popular YouTubers.
2. MrBeast
Back in 2012, when MrBeast started his YouTube channel, he would've never dreamed of becoming one of the most popular YouTube gamers with 108 million subscribers and the richest YouTuber to exist. But this American YouTuber has done it all. From gaming videos to YouTube challenges, he has made videos that all audiences can enjoy, and he has done this while donating thousands of dollars to good causes.
3. JuegaGerman
After making videos for nearly a decade, JuegaGerman has reached the top 3 spots in this list with 46.5 million subscribers. The journey wasn't easy, but because of his funny personality, he has especially captured the Chilean audience.
4. Fernanfloo
Fernanfloo is a gaming YouTube from El Salvador with 45.3 million subscribers and even more viewers. A lot of the top gaming channels on youtube only have a large following. But when it comes to engagement on all their videos, there are very rare YouTubers who get most of their subscribers watching their videos. Fernanfloo is one of those YouTubers who have at least the 80% of their audience watching almost all their videos.
5. ElrubiusOMG
Elrubius also has been creating YouTube gaming content for a decade now and has a loyal following of 40.4 million subscribers. He is also a very popular Twitch streamer, and he is usually known for collaborating with equally fun and interesting gamers like him.
Frequently Asked Questions
Q1. What Are The Most Popular Games On YouTube?
Here is the list of the most popular games on YouTube in 2023:
Roblox
Fortnight
League of legends
Minecraft
PlayerUnderground's battle
Grand theft Auto V
Q2. Who Are The Top 20 Gaming YouTubers in the US?
Here is the list of the top 20 most popular YouTube gamers in the US:
MrBeast
Dude Perfect
Markiplier
Dream
Jacksepticeye
DanTDM
VanossGaming
Ninja
Jelly
FaZe Rug
Brent Rivera
Preston
SSundee
FGTeeV
LankyBox
Alan Becker
LazerBeam
Infinite
CookieSwirlC
Ali-A
Q3. Who Is The Most Famous YouTube Gamer?
Pewdiepie is one of the top YouTube gamers on a global scale, with 111 million subscribers on his channel. Apart from being the most popular gamer, he is also the most subscribed individual YouTuber right now.
Q4. Who Is The Richest Among Top YouTube Gamers?
MrBeast might be at the top of the list of popular gaming YouTubers in the US, but overall in terms of earnings, MrBeast is the richest YouTuber among all categories. In the past year itself, he managed to earn $54 million, crossing all previous records.
Conclusion
Did all these famous gaming YouTubers get famous because they are talented? Or are they just lucky? The thing is, we'll never know! But seeing as it is a pattern, one might say confidently that reaching that level of success requires a bit of both.
So just to give you a recap, the top YouTube gamers of 2023 are:
MrBeast
JuegaGerman
Fernanfloo
ElrubiusOMG