If you have decided to start a YouTube Channel, You need to be more comfortable with handling your camera. Of course, using a DSLR camera is the first thing that comes to mind when starting a YouTube channel. But If you are just beginning at YouTube, you should consider using smartphones as your YouTube camera.
There are certain advantages to this. For example, it is cost-effective, and smartphones can provide good-quality video. Second, You will get the hang of how and what video making is like on YouTube.   So let's now understand why you use your phone as your YouTube camera.
In this article, we will discuss why you use smartphones as your YouTube camera and the 5 benefits of using smartphones as your recording tool for YouTube videos.
5 Reasons For Using Your Smartphone As Your YouTube Camera
Do you require a dependable camera to launch a YouTube channel? Absolutely. However, this does not make it compulsory for you to go out and buy one. Most of us own a camera capable of recording, editing, and uploading to YouTube.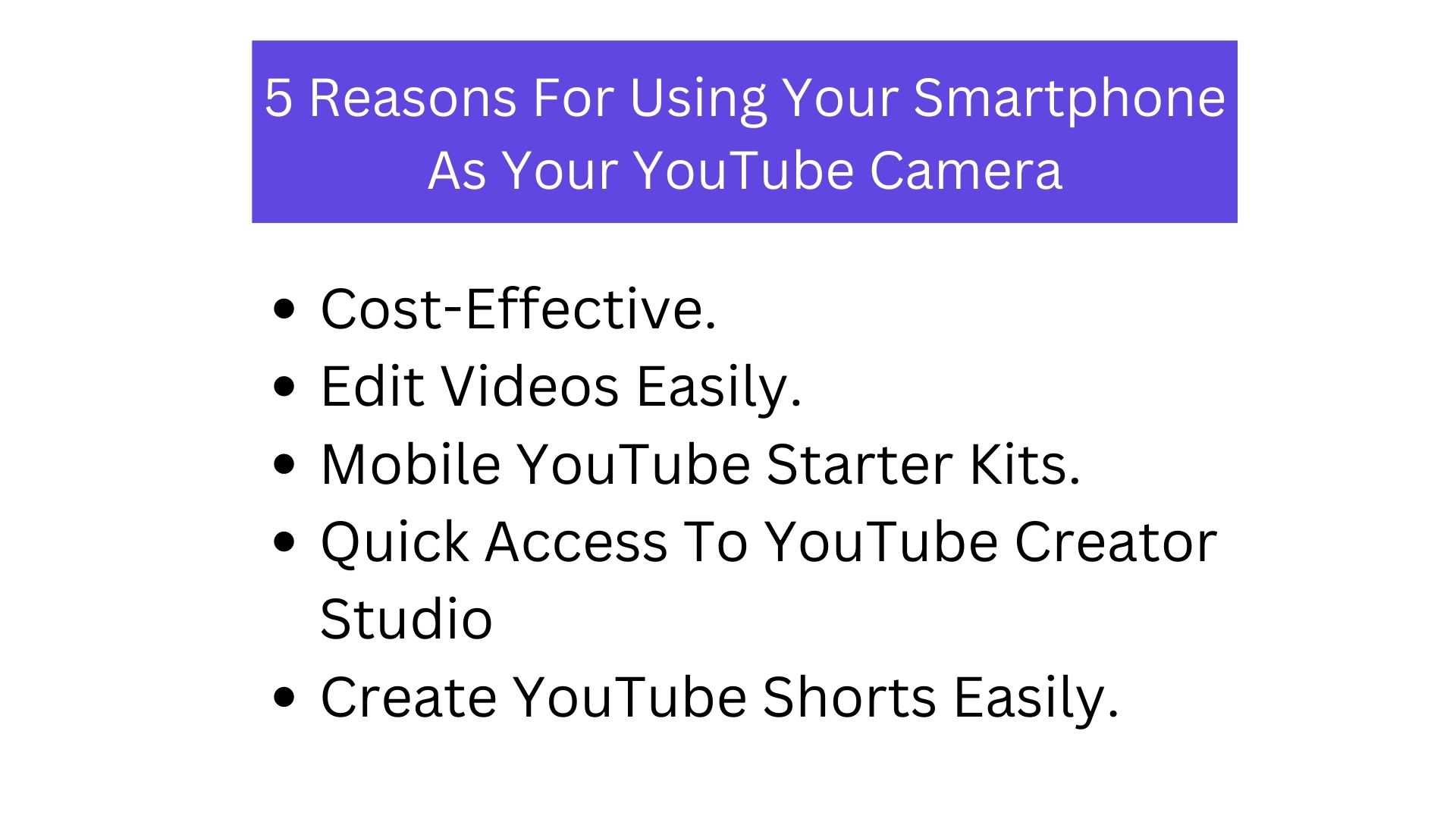 1. It Is Cost-Effective To Use Of Smartphones As Your YouTube Camera
You don't have to shell out hundreds of dollars for a YouTube setup. Numerous cell phones shoot decent footage using high-megapixel cameras. Samsung and the latest iPhone devices are two examples.
Best of all, you most likely already have a smartphone in your pocket or purse. It's either paid in full or on its way to becoming your phone, not your carrier's (when you finish the payments). As a result, it is the most cost-effective camera you will ever own.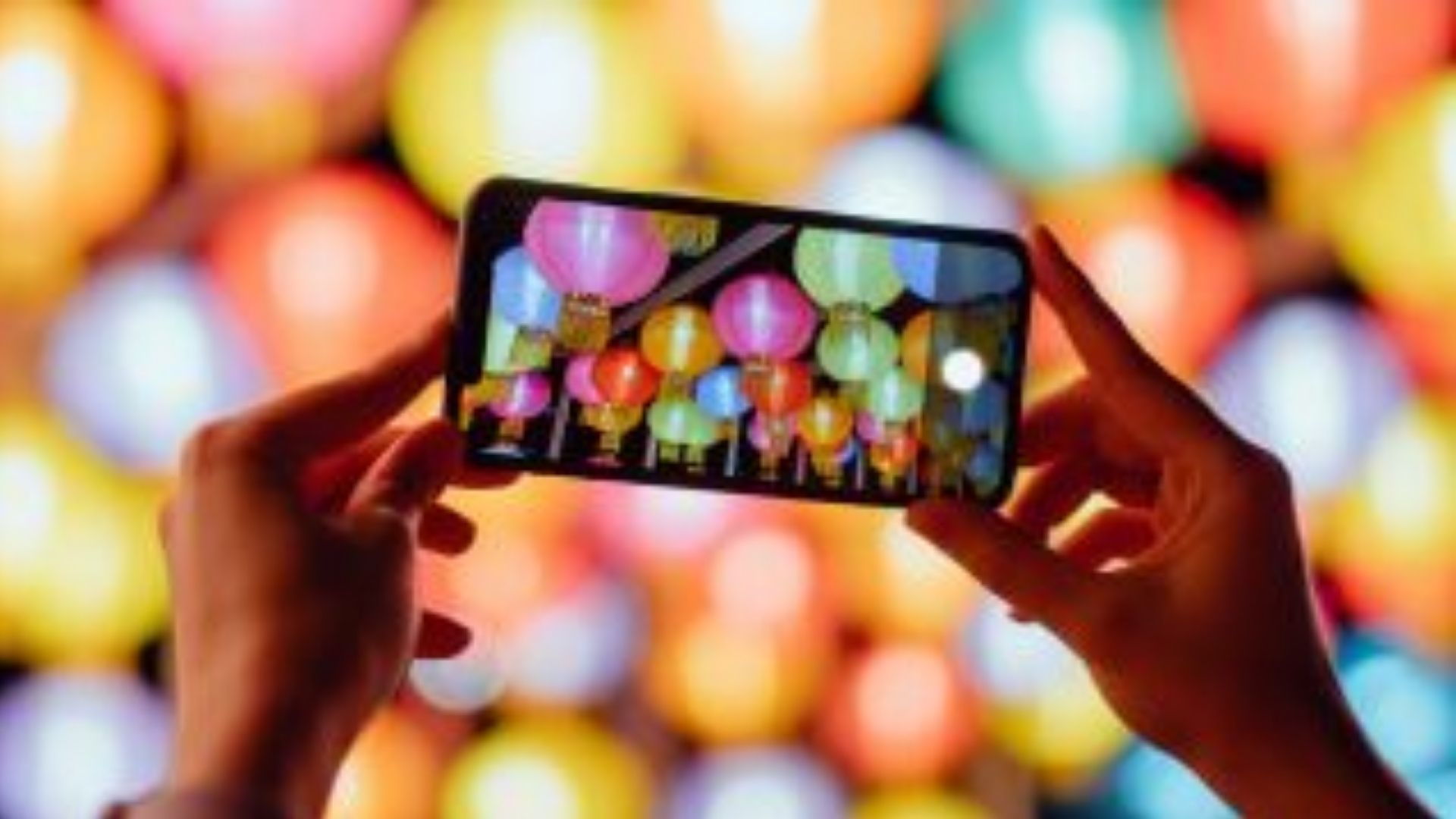 2. Edit Videos Easily
When you create a YouTube channel on your phone, the process is relatively straightforward. You'll just need one device to record the video, edit it, create thumbnails, and submit it to YouTube.
FilmoraGo (iOS, Android)
Premiere Rush (iOS, Android)
InShot (iOS, Android)
3. Mobile YouTube Starter Kits
Have you noticed some of the YouTube beginning kits available on the internet? Unfortunately, the ones with DSLR or mirrorless cameras are not cheap. They can cost anywhere from $600-$1,000, which is a bit hefty for a YouTube passion project.
Mobile kits are less expensive. The accessories are less expensive, and you already have the most costly gear: a phone with a good camera.
And that's why using smartphones as YouTube camera is a better choice over Mobile YouTube starter kits available online.
4. Quickly Access YouTube Creator Studio
YouTube Studio is significantly superior when you log in using a desktop computer rather than a smartphone. However, this does not imply that the mobile app is ineffective or difficult to use.
The YouTube Studio app offers a plethora of data:
Watch Time hours
Click-through rate,
Internal and external Traffic sources
RPM
Playback-based CPM
Top-earning videos
So don't be concerned. The YouTube Studio app has all the information you'll need to keep track of your progress and expand your channel.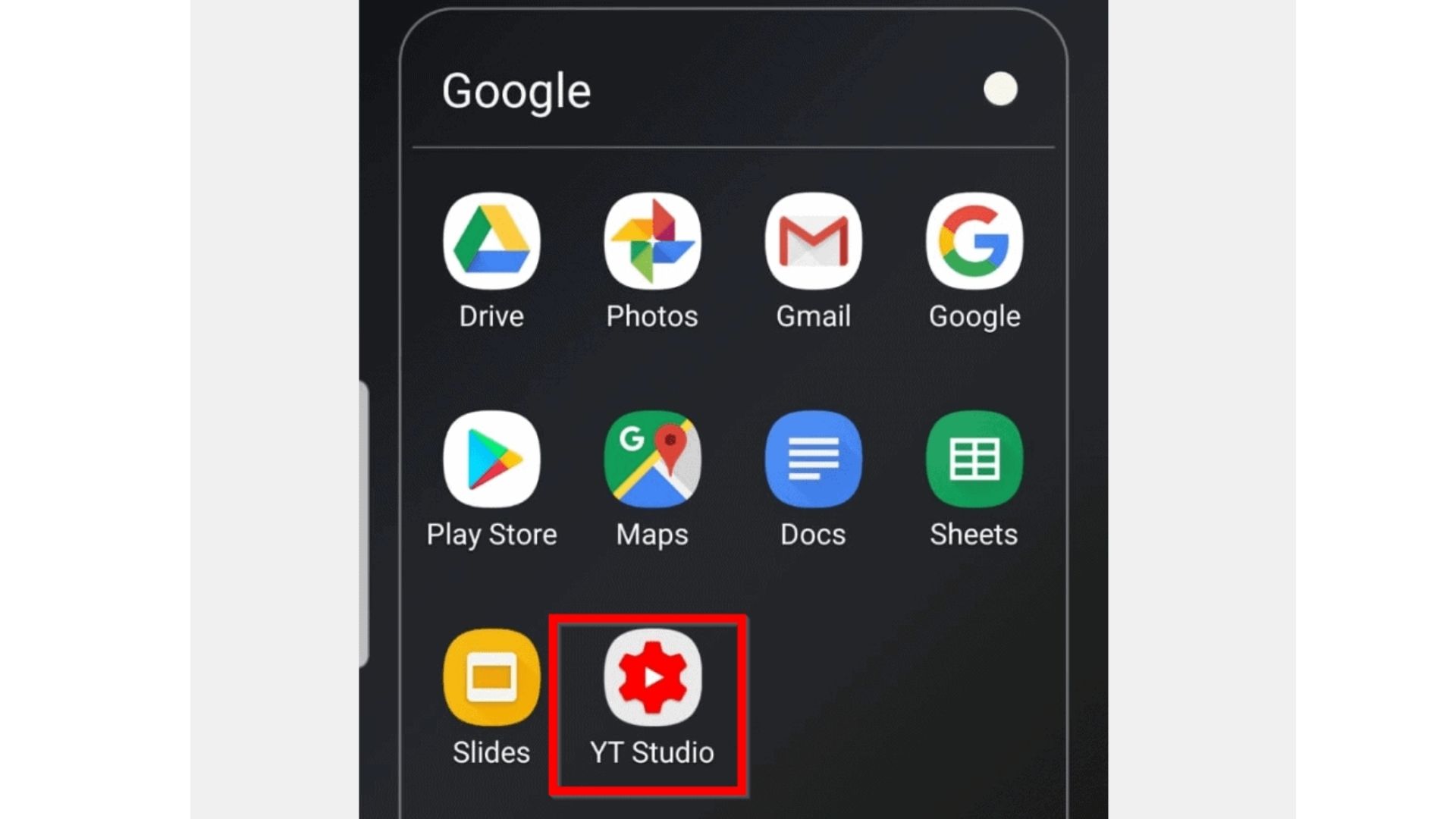 5. Create YouTube Shorts Easily By Using Smartphones As Your YouTube Camera
A YouTube Short can sometimes be more popular than a standard YouTube video. Creators were clearly getting more views with short, vertical films in the early days of Shorts.
Creating vertical videos or YouTube shorts on your phone is better than using a DSLR. You do not have to do much of the work in the editing. All you need is your smartphone and tripod stand. And start recording your video. So You see, it is easier to use smartphones as your YouTube camera for YT shorts.
Frequently Asked Questions
Q1. Is A Smartphone Camera Enough As a YouTube Camera?
Yes, a smartphone camera is enough for recording your YouTube videos. However, if you are a beginner on YouTube, investing in heavy DSLR cameras can be expensive, plus you do not know if your YouTube channel will get the hype it deserves.
Also, even today, many prominent YouTubers use their smartphones to record vlogs and other short-form content as it is proven to be very handy than a DSLR.
Q2. Which Phone Camera Is Best For Shooting YouTube Videos?
Here are the 6 best smartphones with high-quality cameras that can help you record your YouTube videos.
iPhone 13 Pro Max.
Sony Xperia Pro-I.
Google Pixel 6 Pro.
Realme GT 2 Pro.
Samsung Galaxy S22 Ultra.
Oppo Find X5 Pro
Q3. What Camera Do Most YouTubers Use?
DSLR always works the best when it comes to recording a YouTube long-form video. So, here's a list of the 5 best cameras used by YouTubers the most.
Canon EOS 70D.
Next, Canon PowerShot G7 X Mark II.
Canon XA10 Camcorder.
Next, Canon EOS 5D Mark III.
Sony Cybershot DSC-RX100.
Q4. Which Is Better For Vlogging Phone Or A Camera?
DSLRs perform better recording video in low light than phone cameras 99% of the time. This has to do with the sensor's size and the ability to add interchangeable lenses to a DSLR. Another contributing factor is the ISO range, which is relatively limited to phone cameras.
But if you are a beginner and do not want to invest in DSLR cameras early in your YouTube career, you can always use your smartphone to shoot and edit your video for YouTube and slowly upgrade to better DSLR cameras.
Conclusion
We have covered everything you need to know about why you use smartphones as your YouTube camera. The primary reason is filming with a smartphone makes sense for a new creator. In addition, it is inexpensive, convenient, and swift.
In addition, many famous YouTubers still use their smartphones as recording devices for YouTube shorts and vlogging. Also, you can edit and keep track of your YouTube channel via the YouTube studio app.
So here's everything you need to know about why using your smartphone as your YouTube camera is convenient for shooting your YT videos.