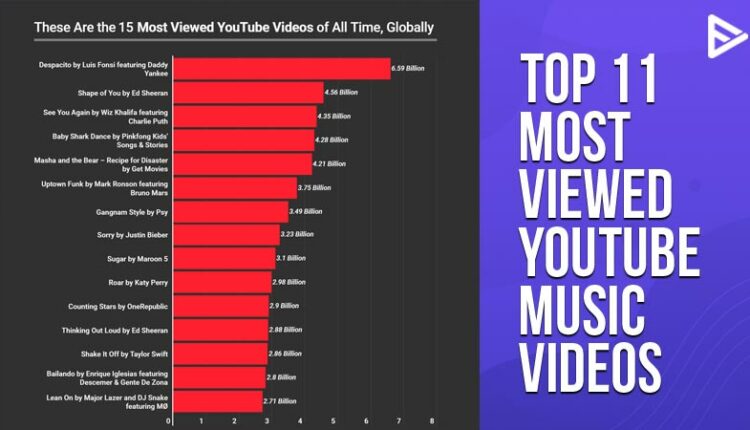 YouTube Music Videos are one of the most viewed genres on YouTube. Millions of people log in to YouTube every day to listen to music and watch YT Music videos. The top music videos on YouTube have billions of views and believe me some have more views than there are people in the world. So we are sure you are curious to know the most viewed YouTube music videos of all time, hence the article, so let's begin the countdown and find out the best music videos on YouTube.
Countdown To The Top 11 YouTube Music Videos
In today's article, we'll countdown to the most-watched music videos on YouTube of all time
11. Thinking Out Loud by Ed Sheeran (3.31 Billion Views)
One of the most beautiful videos made by Ed Sheeran and his team. And we are sure every one of you has watched this YouTube Music video with your loved one and some of you have probably even danced to it. The mesmerizing song lyrics, believe it or not, were written by Ed Sheeran and Amy Wadge in just 20 minutes and captivated YouTube users all over the world.
10. Counting Stars by OneRepublic (3.37 Billion Views)
This is one song we all remember the lyrics to without ever intentionally reading them. You know what I'm talking about. Right, well, this amazing music video came out in 2013, and it skyrocketed, now reaching close to 3.4 billion views. That's more than the entire users on YouTube.
9. Roar by Katy Perry (3.41 Billion Views)
When it was released the YouTube music video was one of the most unique videos where Katy is trying to get used to the jungle life after ending up there because of a plane crash. The video was about women empowerment and with Katy taming a tiger the music video did its trick attracting over 3 billion viewers all over the world.
8. Sorry by Justin Bieber (3.46 Billion Views)
Well, it's Justin Bieber. Of course, his music is going to be on the top 10 most viewed youtube music videos of all time. The music video was released on 23rd October 2015 and quickly reach 2 billion views becoming the 4th fastest youtube video to do so.
7. Dame Tu Cosita by El Chombo (3.530 Billion Views)
Who doesn't remember this trend? We sure do. This video will go back to the time when you were copying the dance steps of the green animated alien to the Dame tu Cosita trend. The video aired on 6th April 2018 and became the seventh most-watched Youtube video in 2018.
6. Sugar by Maroon 5 (3.532 Billion Views)
There is something about the band that every album they release has this one revolutionizing song that makes music lovers everywhere go bananas. Well, this "Wedding Crashers" inspired video was launched on 14th January 2015 and quickly reached Number 2 on the US Billboard 100. For the video, Maroon 5 actually crashed real weddings all around Los Angeles, and well just lit up the weddings with their amazing performances.
5. Gangnam Style by PSY (4.16 Billion Views)
Do you remember how the entire internet was crazy about the Gangnam style bacn in 2012? At that point, it was YouTube's biggest contribution in introducing the world to the unique culture of South Korea. It quickly became the most viewed video of 2021 overtaking Justin Bieber's record on November 24th, 2012. Gangnam Style by PSY was the first YouTube Music Video to reach a billion views.
4. Uptown Funk by Mark Ronson ft. Bruno Mars (4.27 Billion Views)
With two Grammy Awards, Uptown Funk is one of the coolest YouTube Music Videos to have ever existed. With Bruno Mars' idiosyncratic dance moves and Mark Ronson's brilliant music, the video has now reached close to four and a half billion views. The single was the second best-selling single in 2015 ranking Number 1 on the US Billboard 100 and will be documented as one of the most eccentric and unparalleled songs throughout pop culture.
3. See you again by Wiz Khalifa ft. Charlie Puth (5.22 Billion Views)
See You Again was the YouTube Music Video that broke Gangnam style's long-lasting record of the most-watched YouTube Video in July 2017. We know how much all of us have contributed to the success of this beautiful tribute to the late actor Paul Walker and his journey with Vin Diesel throughout the Fast and Furious film series. The video is still close to everyone's hearts and was performed again by Charlie Puth and Wiz Khalifa as a tribute to Kobe Bryant.
2. Shape Of You by Ed Sheeran (5.43 Billion Views)
Shape of You, We remember the time when everybody went crazy about Ed Sheeran. It was the number 1 song on the singles chart in 44 countries. The song was playing in almost every club or bar you went to and so was the YouTube Music Video. Shape of You was released on 30th January 2017 and received a billion views just 97 days after its release.
1.Despacito by Luis Fonsi ft. Daddy Yankee (7.50 Billion Views)
We all remember Despacito and don't tell me you haven't watched the video at least once on youtube. As far as YT music videos go, Despacito surpassed all expectations and overtook See You Again within 6 months of its release. Despacito means slowly but ironically it became the top youtube music video really fast. The song was on the top of charts in 47 countries and became the first Spanish song to top the billboard 100 in 20 years.
These were the top 11 most viewed YouTube Music Videos as of 2021. And we hope you enjoyed knowing all about your favorite music videos. For some of the most disliked youtube videos check out this another fun article.