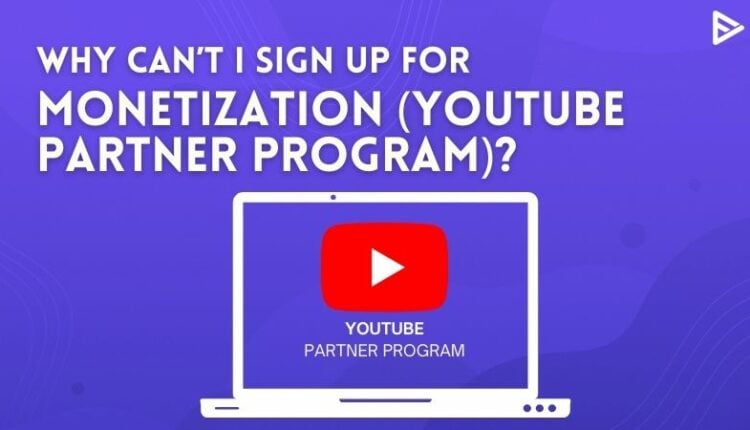 Probably, you've hit your monetization goals but may still wonder about why can't I sign up for monetization despite being eligible for it? Well, there could be many reasons for not being able to monetize your channel even after qualifying for YPP. YouTube has created stringent monetization policies to avoid spammers taking advantage of good creators producing high-quality content. This article will explain the potential reasons about why can't you sign up for monetization on YouTube and how to fix these annoying issues.
Reasons Behind Why Can't I Sign Up For Monetization.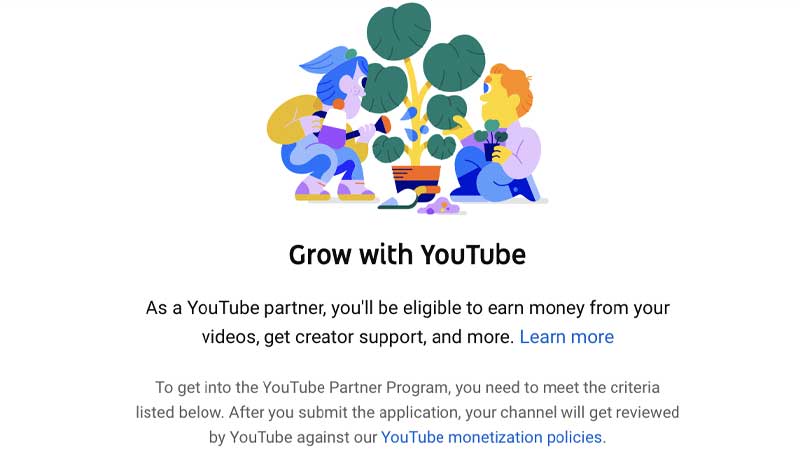 YT will not allow you to monetize your video content if you do not meet its various guidelines. If monetization is disabled for your YouTube channel, it could be because of the following actions.
Not having Advertiser Friendly content
Copyright Violations
Not Meeting the age requirements
Violation Of Community Guidelines
Not eligible according to updated YPP terms
Let's explore in detail the above potential reasons on why can't I sign up for monetization.
1. Not Having Advertiser Friendly Content
Irrespective of what niche you select, the platform will not let you monetize your video if its content is not advertiser-friendly. Publishing inappropriate video content, like content with demeaning language, violence and nudity, that viewers find disturbing can cause the risk of getting your channel banned. YT reserves the right to disable ads on the entire channel in such cases.
We recommend the following to create advertiser-friendly content:
Find a suitable niche that aligns with your interests and expertise.
Create YouTube lists, Vlogs and solution-oriented videos
You can also create DIY videos, how-to videos and short films, depending on your niche.
2. Copyright Violations
If you attempt to monetize videos you don't own, all your efforts will go in vain since YT will disable your channel for monetization. Always ensure to check copyright issues before publishing your videos. In case you wish to include a section of copyrighted content in your video, you must have documented permission to use that content for your benefit. Examples of copyrighted content that you cannot use without prior permission include songs, artwork, movies or TV visuals.
We recommend that you read how to give music credits on YouTube to artists and use their work without attracting any copyright penalties.
3. Not Meeting Age Requirements
If you are not above 18 years of age, YT will consider you as an underage individual and not allow you to monetize your video with Ad sense. You will also receive an email asking you to verify your age. In such instances, you can link your YouTube account to an approved Ad sense account of an individual over 18 years of age.
4. Violation Of Community Guidelines
Your content may not comply with YouTube's terms of service and community guidelines. In such cases, your YT channel cannot be monetized. You can review the community guidelines on YT's website to see if your content infringes upon local, national or international laws. YouTube also reserves the right, at its discretion, to remove monetization from channels if it is inactive for a long time. If you have not uploaded or posted Community posts for 6 months or more, you may also face the risk of not being able to monetize your videos.
We recommend that you go through our entire article on YouTube community guidelines and how it works to avoid making such costly mistakes in future.
5. Ineligible According To Updated YPP Features
YouTube is constantly updating its platform to enhance user experience. With every update, it also makes certain changes in its YouTube partner program and Ad sense program policies. If your channel does not comply with the updated criteria of YPP, there are chances that you may not be able to monetize your content.
We recommend that you stay updated with YouTube's new policy of YPP to become eligible for monetization of your channel.
How Long Does The Review Process Take For YPP Sign-Up?
Well, you need to understand that the reviewing is done by humans. So basically, more than 1 month is taken to review your application. The delays can be because of the below-listed reasons.
Higher-than-usual number of applications
System issues or limited resources
Conclusion
This was all about the potential reasons about why can't I sign up for monetization. You can follow the steps stated here, and still of the problem persists, you can refer to fix the YouTube monetization issue.  
Monetization is the ultimate goal for any content creator looking to make money from YouTube. So, follow the right strategy to sustain your brand on YT and achieve your monetization goals faster.
Frequently Asked Questions
Q1. Why Is Monetization Not Approved?
The most common issue for your channel monetization not getting approved could be your video content not falling in line with YT's terms and policies.
Q2. How Do I Enable Monetization Features?
You can sign up for YouTube monetization by following the below-listed steps
Sign in to YouTube
Go to YouTube Studio
In the left menu, select Content
Select the video that you wish to monetize
In the left menu, select Monetization
Choose the type of ads you want to run
Click Save
Q3. Can I Monetize My YouTube Channel Without 1000 Subscribers?
YouTube doesn't allow creators with less than 1,000 subscribers to monetize their channel.
Q4. What Are The Possible Reasons For Channel Monetization Suspension On YouTube?
Videos that have violated YT's community guidelines, have copyright strikes, and videos with negative visuals may be the prime reasons for the monetization suspension of your channel.