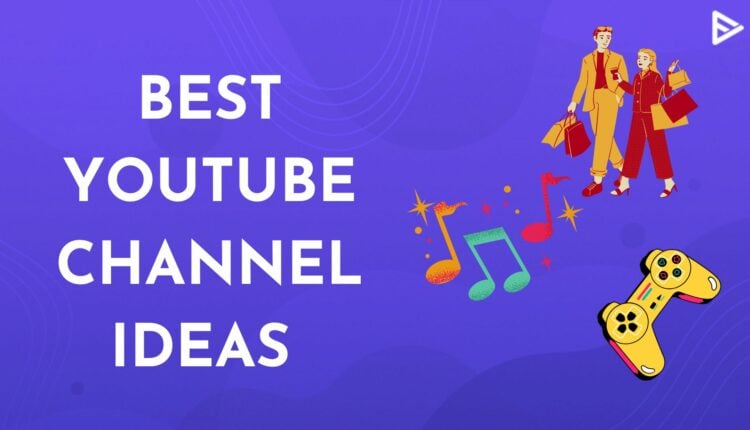 YouTube creators today have turned the platform into a revenue-generating machine through their videos. Are you wondering how they do it? If done right, you can turn your hobby into a side-income and, for some, into a full-time job. But it all starts with one crucial thing – Video Content. Creators usually run out of ideas to create their channel. So here are a few YouTube channel ideas that will help you grow your channel and bring in more views.
Before we get there, make sure you set up a YouTube channel and following these simple steps. Now choose from the below best 10 trending ideas to create the next viral YouTube channel.
10 Best YouTube Channel Trending Ideas
Here is my pick for the top 10 YouTube channels based on trending research. These are evergreen topics with a decent amount of traffic drawn in every month.
Fashion
Fashion works great for creators who enjoy styling. YouTube is the perfect platform to showcase your style, fashion tips, and advice. This is one of the popular channel ideas for creators to use on YouTube. Although many creators are already making a mark on the topic, your skills will have to be unique to beat them.
Pros:
Brand Placement.
Affiliate Earnings.
Free Products.
Cons:
Hard to catch attention.
Must be a Style Freak.
Never ignore the trends.
Gaming
YouTube gaming channels dominate YouTube, and if you are a gamer, this is the place for you. E-Sports is a world of competitive video gaming platforms where global gamers face off against different teams. You can become a part of this billion-dollar industry by starting your YouTube gaming channel today.
Pros:
Money for Playing.
Vibrant Global Audience.
Region Limitation.
Cons:
Technical Content.
High Competition.
Must be a Gamer.
Business
With business channels, you can create an online presence for your company on YouTube. You can start with tutorials and testimonials and then begin with branding and advertising. You can connect with your audience through your videos and take your business to the next level.
Pros:
Smart Audience.
Evergreen Topics.
Affiliates.
Cons:
Writing without Research will fail.
Narrow Audience.
Market Changes.
Sports and Fitness
Right now, sports and fitness are pretty great content ideas. Due to the pandemic, gyms and fitness centers have shut down, allowing you to build an audience online by sharing your routines and training courses.
Pros:
Healthy Lifestyle.
Brand Endorsements.
Affiliates.
Cons:
Must have some grip on Health Sector.
Real Examples works well.
Beware of Fake Products.
Movies and TV
If you are a movie buff and love talking about the details? Share your thoughts with a large audience and find people who share the same interest as you. You can review movies and talk about the interesting facts that viewers might have missed out on while watching the movie.
Pros:
Highly Engaging.
High Volume of Audience.
Interesting.
Cons:
High Competitions.
Advance Editing Skills.
Will not work without powerful social media strategy.
Music
With music as your topic, you could explore an area of things. You could either share your singing videos, give teaching lessons, share your instrumental skills (like playing the guitar), or upload mixes. YouTube gives you the freedom to showcase your talent, many famous singers like Justin Beiber started as YouTube creators.
Pros:
Fame.
Brand Endorsements.
Affiliates.
Cons:
No Talent, No Money.
Hard to Impress Audience.
Small Shelf Life.
Product Review
Product reviews will help you become part of affiliate programs that pay creators to review certain products. It's a simple and easy way to earn money and share the pros and cons of a product with your audience.
Pros:
Unlock Influencer Level.
Brand Endorsements.
Affiliates.
Cons:
Product Knowledge Required.
Biased Reviews fails.
Limited Audience.
Tutorials
Tutorials are very common among YouTube channel ideas, but they are trending. You can create tutorials from make-up, cooking, fitness to gaming. You can teach your audience how to use your hacks and tactics to complete their look, meal, task, routine, or mission, respectively.
Pros:
Create Awesome Content.
Evergreen Traffic.
Long Term Revenue.
Cons:
Does not work without Marketing.
Always stay upgraded.
Advance Editing skills needed.
Vlogs
YouTube vloggers are living off lavishly through YouTube. If you're adventurous, you can try travel vlogging. If you are ok with sharing your personal life routine, you can start personal vlogs. Whatever fits your comfort level, these will give you a kick-start on YouTube and understand what suits your channel the best.
Pros:
Fame.
Travel.
Affiliates.
Cons:
Tough to Grab Attention.
Will take time to become Public Figure.
Competitive.
Educational
With schools and other educational institutions shut during the pandemic, you can start a channel that helps students out with their syllabus and makes learning easy. Choose any subject and create ake simple videos quickly explaining the topic. You can use images, infographics, and animations to make your videos enjoyable and keep the audience hooked.
Pros:
High-income niche.
Long Audience Retention.
Limited Work.
Cons:
Must be a Qualified Pro to gain Trust.
Advance Editing Skills to keep content interesting.
Marketing Skill is a must.
Conclusion
Wow! We have reached the end of this blog, and the above list of trending YouTube channel ideas looks very vibrant. Become a YouTube creator today and start your channel. With more views and subscribers pouring into your channel, you can create plans to monetize your channel and make some money out of it.