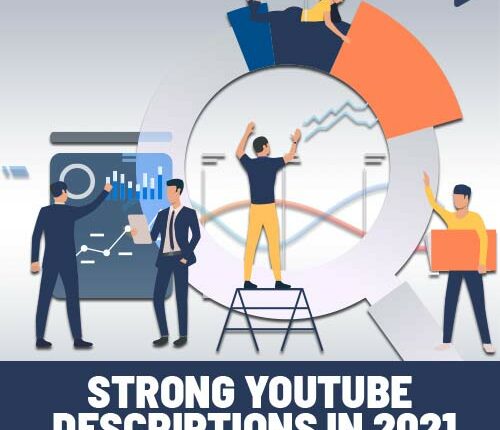 On YouTube, visuals grab more attention than text. To get more views on their YouTube videos and channel, creators focus on customized thumbnails and eye-catching video covers to lure users to their channel. But visuals alone won't let you rank on YouTube. If you are looking to boost your channel's SEO on YouTube, you need to start writing keyword-rich titles and descriptions for your YouTube videos.
In this blog, we will explore what YouTube descriptions are, why they are important, the different types of YouTube descriptions, and a few tips to help you write compelling descriptions.
What are YouTube video description?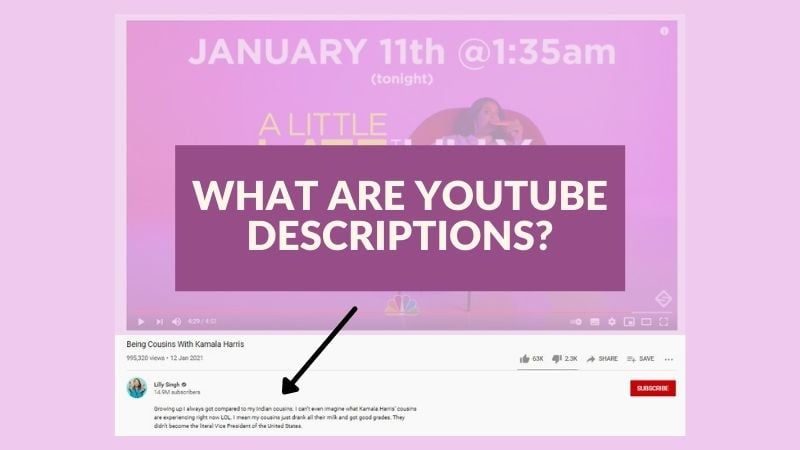 YouTube descriptions are texts that appear either on your YouTube channel's "About" page or below your YouTube video. These descriptions let your viewers understand what your channel and videos are about.
Types of YouTube video description
There are two types of YouTube descriptions. As mentioned above, there's a channel description and video description. You can use relevant keywords and use this space to help your channel rank on YouTube and appear on its search engine page result.
YouTube Channel description
Your channel description speaks about your channel. It describes the type of content users can expect from your channel and should include long-tail keywords for SEO purposes.
YouTube Video description
Your video description should provide users with details regarding the video and show links and specify credits, if any. It is wise to use keywords in your YouTube video description as well for a higher SEO ranking.
Tips for writing best YouTube descriptions in 2021
Use the first 200 characters carefully

If you come across any YouTube video description, you will notice that you can only see the first 200 characters of the description as a user. This is why you need to make an impact on your audience in the first 200 characters or the first line.
Although a YouTube description's word limit is 5000 characters, the displayed description will help you get more clicks on your YouTube videos. You can start with including your essential keywords related to your video and use catchy words to grab your audiences' attention.
Repeat video keywords
Keywords are a vital part of SEO. If you are looking to rank higher on YouTube's search engine result page, you need to understand what keywords suit you the best. To find your strong keywords, you can use tools like Keyword Planner and scatter them across your description.
You can also use complementary keywords to increase your chances of appearing on position zero. Complimentary keywords are synonyms of your keyword. For example, if your primary keyword is "ocean," you can use "blue," "water," and "sea" as complementary keywords. This will help YouTube's algorithm understand your video content better.
Add links and CTA words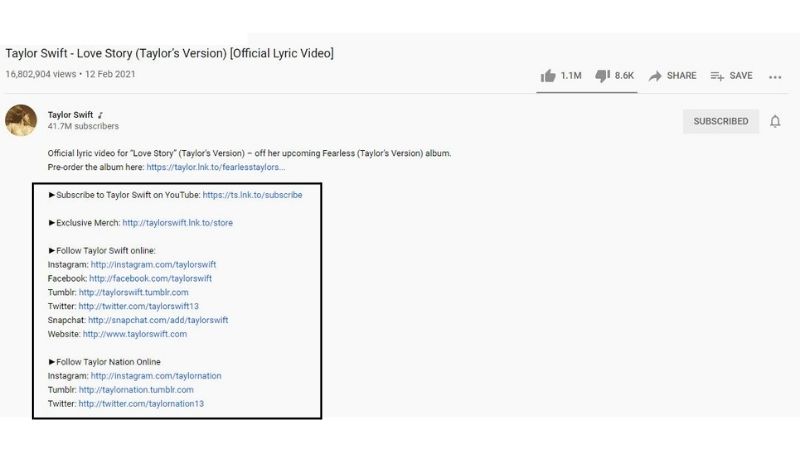 Another best practice to follow while writing descriptions for your YouTube video is, adding links to your other social media handles or your website to it. This will help your audience know you better as a creator or a brand and give them more information about your video content. You can add these links in your description and redirect your viewers to your other handles by using call-to-action words portraying a tone of urgency.
Write easy-to-read descriptions
While writing your YouTube video's description, you need to keep two things in mind. The first thing is to focus on writing in an easy-to-read and understandable language by using simple explanatory words. Try using complementary keywords instead of repeated keywords over and over again.
Next, focus on using the right font size and style that is easy on the user's eyes and readable. Separate the text into paragraphs using dividers and pick a simple format.
Add hashtags to your YouTube video description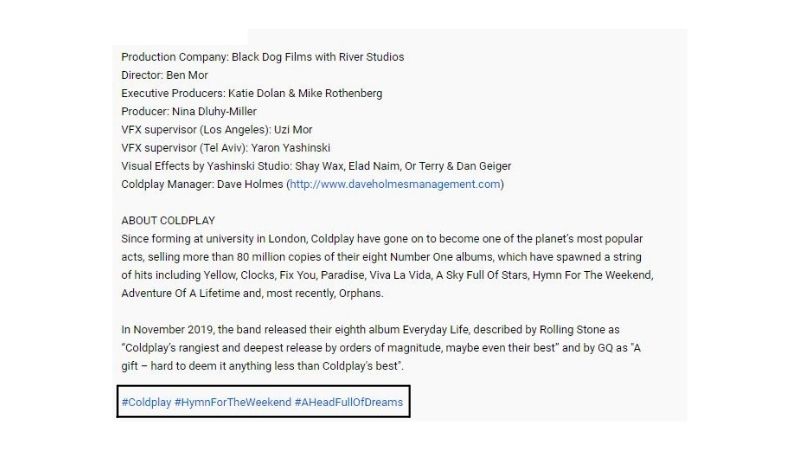 Lately, many users have started using hashtags to look for content on online platforms. Using hashtags in your descriptions increases the chances of your videos appearing in that category. You can add trending and relevant hashtags.
Takeaway
And that's how you write a strong YouTube video description. Make sure to include YouTube descriptions as a part of your marketing strategy to boost your videos on the platform. Video descriptions are an important part of YouTube SEO and help you build a brand voice. Now that you have nailed the description part, let's focus on promoting YouTube videos.