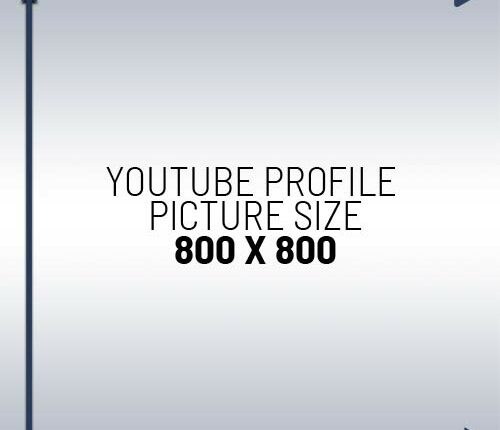 Do you know that your YouTube Profile Picture Size is one of the few things to make your channel the next big thing on the platform? Of course, you can start with choosing a niche and uploading high-quality video content. However, one of the things you need to focus on is creating a unique and appealing perfect YouTube profile picture size. In this guide, we will learn about the importance of a profile picture and how you can create the perfect YT profile picture for your YT channel.
What is a default YouTube profile picture size?
A YouTube profile picture is a tiny thumbnail that appears on all your videos, next to your YouTube channel name. Your YouTube profile picture is also known as your channel icon or avatar. Your profile picture appears next to your YouTube comments as well.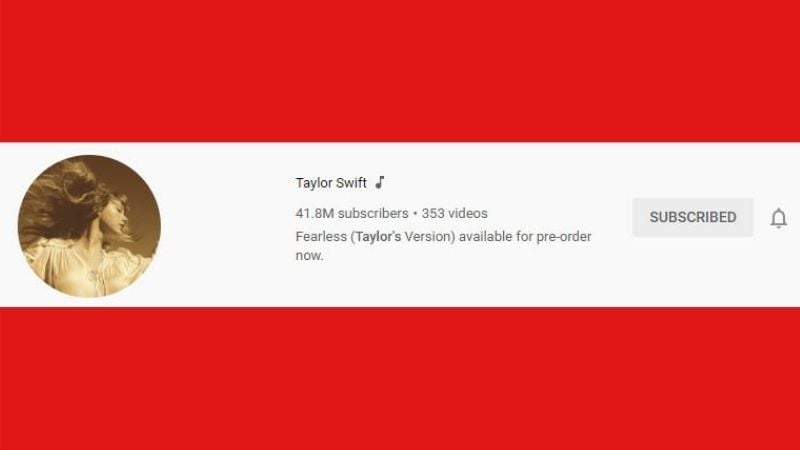 YT profile pictures are different from your YouTube channel or YouTube banner. Hence a YouTube channel art is a banner on your channel homepage, similar to a Facebook cover photo.
Why is a YouTube profile picture important?
Your YouTube profile picture appears every time you upload a video or comment. Many users recognize channels through their channel icons. Your profile picture builds an image for your channel and appears in every engagement you do on the platform. Therefore, the picture you use on your Gmail accounts is the same that appears as your channel icon, so as a creator, it is advised to spend some time and put in some effort, like choosing a picture.
Remember, you need to maintain the YT Profile Picture size too!
What are the ideal dimensions of a YouTube profile picture Size?
Before creating a profile picture or channel icon for your YouTube channel, you need to know the correct dimensions. If the picture doesn't fit the dimensions or size, it might cause a problem like uploading. Hence the image might get distorted and not fit the area properly.
The ideal dimensions of a YouTube profile pictures are 800 x 800 pixels. Twitch and Instagram have the exact dimensions for their profile picture. Since the image is displayed in a circular frame, choosing the right picture to showcase its best features in the given area is essential.
Therefore make sure the corners of your pictures aren't cut, and if there is any text in the picture, it doesn't get cut out.
Best ways to make an impact with your YouTube profile picture
Many YouTuber creators struggle to make an impact with their YouTube channels. Hence this makes it even more difficult for them to get more views and subscribers on their channel. Here are a few tips that will help you make an impact with your YT channel icon.
Stay consistent with your YT profile picture

Remember to stay consistent with your profile picture across all your social media channels. Be it Instagram, Facebook, Twitter, etc., use the same profile picture you use on your YouTube channel across all your other channels. This builds a brand image and gives your channel more visibility.
Use fewer texts in your YouTube channel icon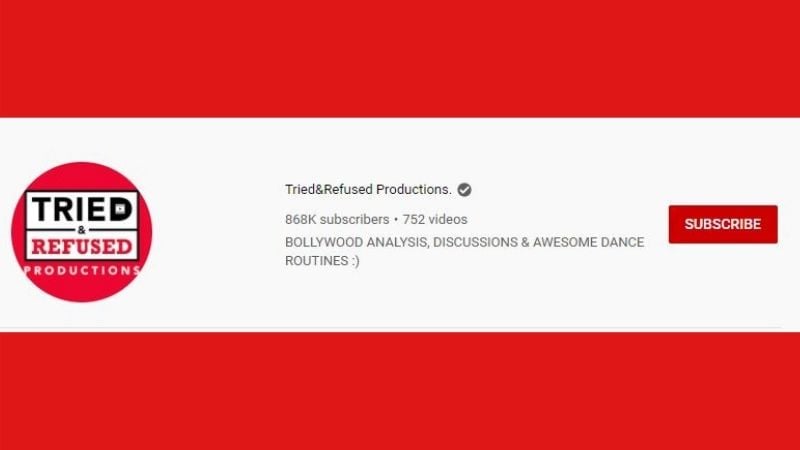 Keeping your profile picture's circular format in mind, there is not much space to play around with. Of course, if your creativity knows no bounds, there is so much more you can do with this small space. But it is advised not to use a lot of text which can get cut off. If there are too many words in your picture, it will be difficult for users to read it and won't be readable on many screens. Keep your YouTube channel icon minimal and less cluttered.
Match your channel art with your channel icon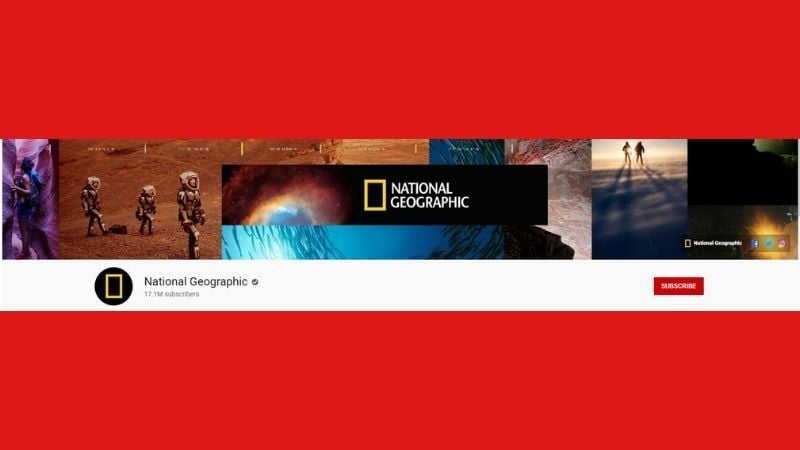 The last tip that will help you bring more life to your YouTube channel homepage is matching your channel icon with your channel art. You can either play around with the color theme or logo to coordinate your icon with the channel art. This gives your page a more consistent look and builds a character for your page. Users enjoy such visuals and are intrigued to subscribe to your channel to know more about your creativity and content.
Steps to upload Profile Picture on YouTube
Follow these simple steps to upload your Profile Picture on YouTube:
Login to YouTube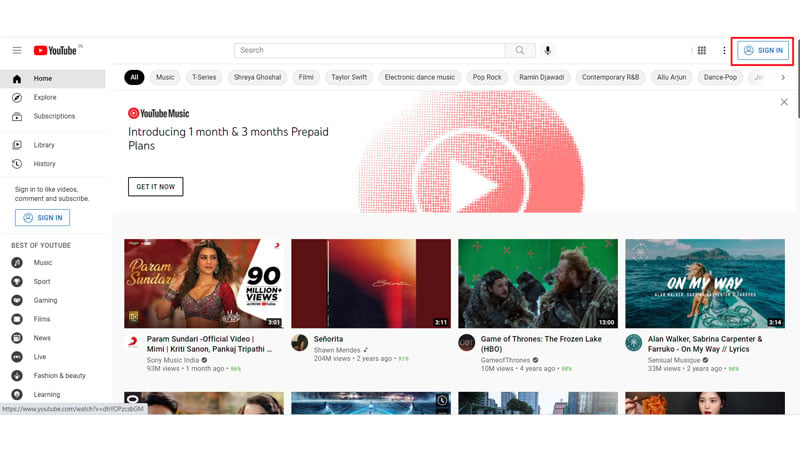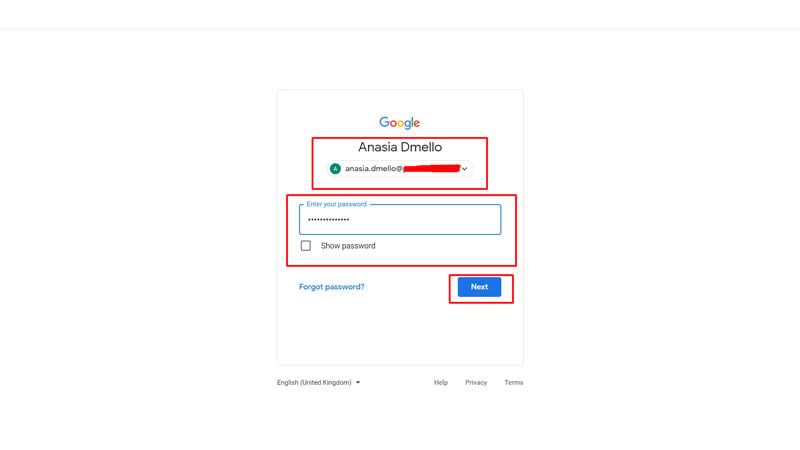 2. On the upper right side, select the 'user icon.'
3. Now click on YouTube studio.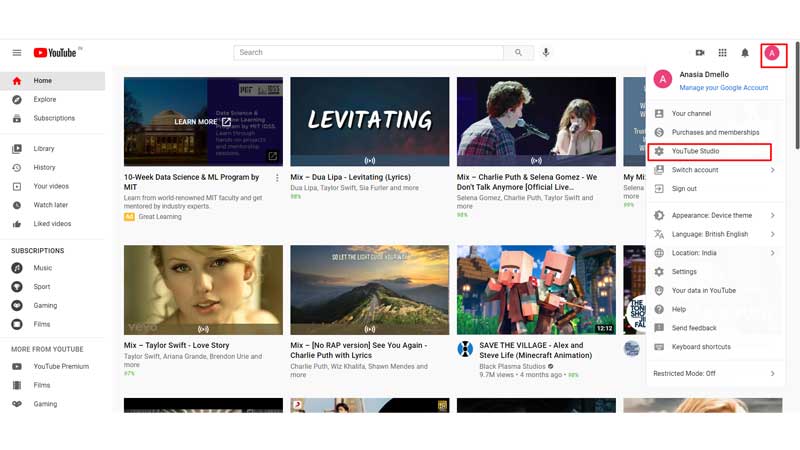 4. Once you log in to YouTube Studio, select' customization' on your left menu bar.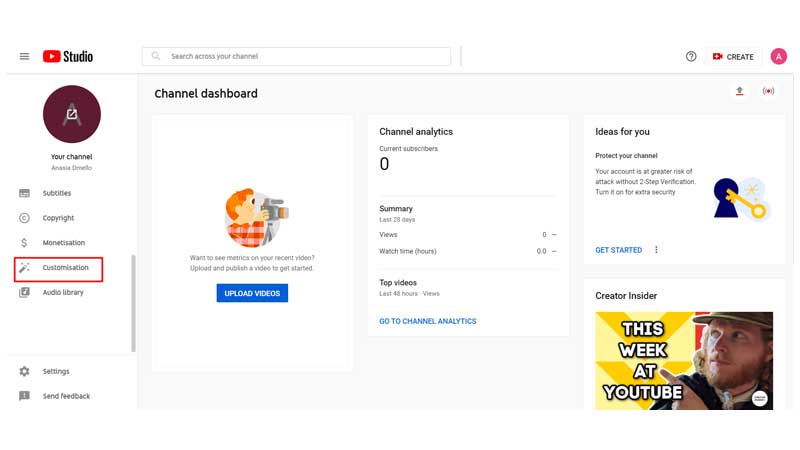 5. There will be four options available 'layout,' 'branding,' and 'basic info.' Out of these options, select 'branding.'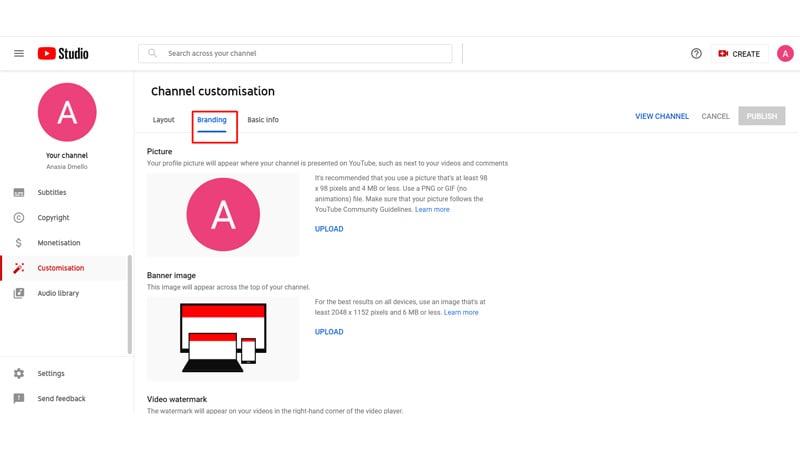 6. It allows you to add your profile picture, YouTube channel banner, and the video mark on the YouTube video.
7. Since you want to upload your profile picture on YT, you need to click on 'upload' under Profile Picture.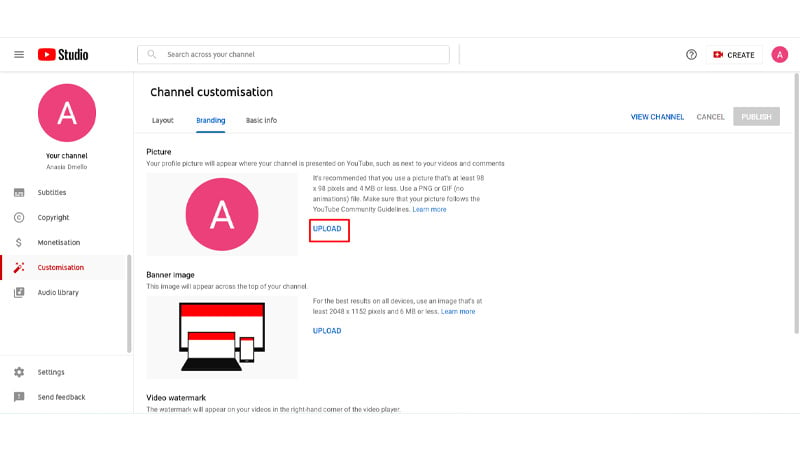 8. Select the image that you want to use as your YT profile picture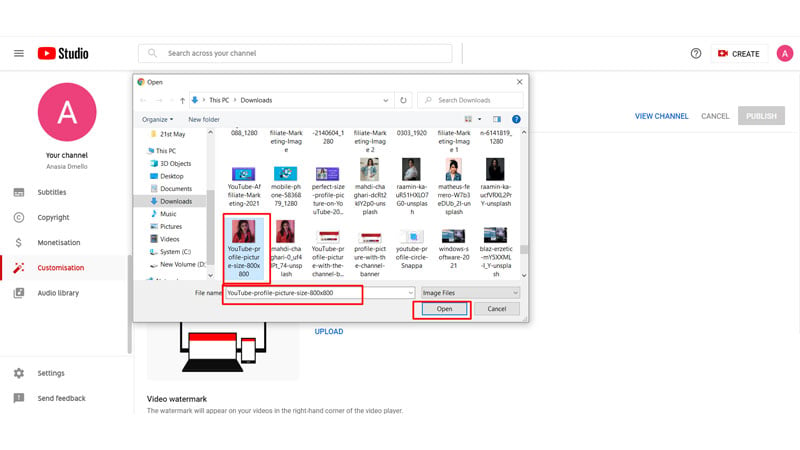 9. Adjust the image appropriately and click on 'Done.'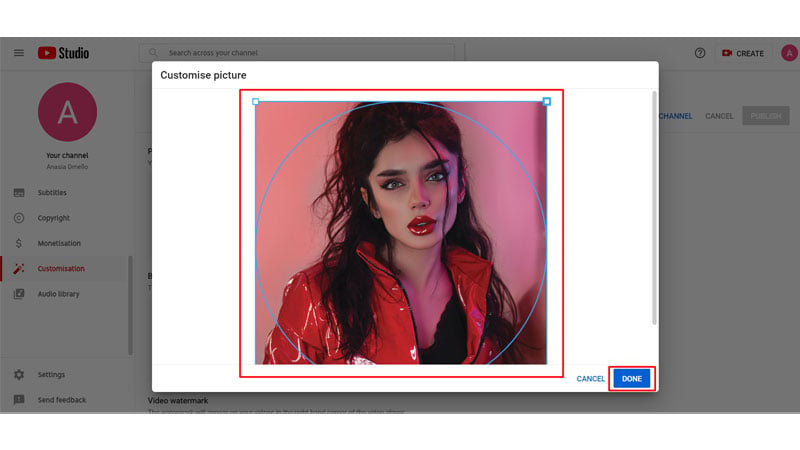 Done… you have successfully uploaded your profile picture!
Conclusion
If you are looking to become the next big YouTuber, this is where you start. Though it might seem small, it is an essential step towards building your YouTube Profile Picture Size. Hence such tiny steps help bring in more views and subscribers. If you have covered this step and are confused about the content you want to post on your channel, here's a blog that will help you with this issue. Read our blog on "Top 9 video content to boost your views on YouTube."