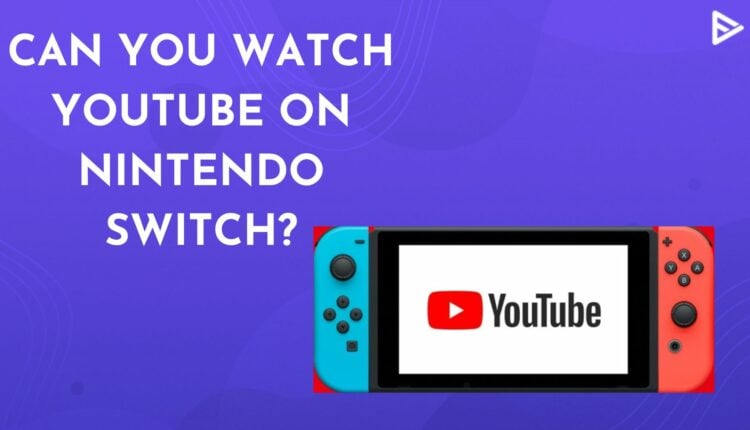 YouTube's popularity has grown immensely in the last 5-6 years. With increasing popularity, YT is almost available on all platforms and devices. One such platform is Nintendo Switch. If you're curious if you can watch YouTube on Nintendo Switch, then yes, you can.
Google has released an app through which users can watch YT on Switch. Through this blog, you'll understand how you can watch YouTube Through Nintendo Switch. So to enjoy watching videos on Switch, stay tuned till the end.
How Can I Watch YouTube On Nintendo Switch?
Now that you know that you can watch YT on Switch, let's know how. Follow the steps, and you'll understand how.
Go to Nintendo eShop.
Scroll down to the bottom of the home screen and click on the orange shopping bag icon named 'Nintendo eShop.'
After the eShop page loads, click on Search on the top-left.

Now, search for

YouTube

. 

Click on "Free Download." Now tap on "Free Download" again on the next page.
The download takes a few minutes. Click on Close once done.
Once done, you'll see the YouTube icon on your home screen.
Then press A to launch the app.
Sign in to your YouTube account. And you are ready to watch videos now.
This way, you can now enjoy watching your favorite YouTubers on Switch anytime you want.
How To Navigate YouTube On Switch?
Okay, so you have successfully downloaded and launched the app but are confused as to how to navigate in the app? Read the below points to understand how to navigate and watch videos:
To browse around in the app, you can use the touchscreen.
If you want to use controller, then use the left joystick or D-pad to move across the app or to select videos.
While watching the video, press Down

to reveal the menu.

You have several options in the menu through which you can control. These are some of the control options you get:

Play and Pause icon: to Start and stop your video.
Channel icon: for visiting YouTuber's Channel.
Caption icon: to get access to subtitles.
More icon: to check out additional options.
These are the important controls one must know while using YT on Switch.
Can You Watch YT On Nintendo Switch Lite?
Now users who own a Nintendo Switch lite might be curious if this works on Switch lite. Well, the answer is yes. YT works on both, so you don't have to worry about it. You simply have to follow the same steps mentioned above.
Frequently Asked Questions
Q1. Why Can't I Use YouTube On Nintendo Switch?
If you're unable to play YT on Nintendo Switch, it might be because parental control is on. So your YouTube app might be locked. To use the app, you have to remove this lock.
Q2. Is YouTube Free On Nintendo Switch?
Yes, You can download YT for free on Nintendo Switch. You simply need to download using the steps as mentioned above.
Q3. Can You Download YT Videos On Nintendo Switch?
Unfortunately, this request is not supported by Nintendo. Users cannot download YouTube videos.
Q4. Is Background Playback Possible On Nintendo Switch?
No, the Nintendo Switch does not support background playback for YouTube videos.
Conclusion
In the end, if you want to watch YouTube on Nintendo Switch, you can easily do that. So when bored playing games, simply enjoy watching videos for a change.