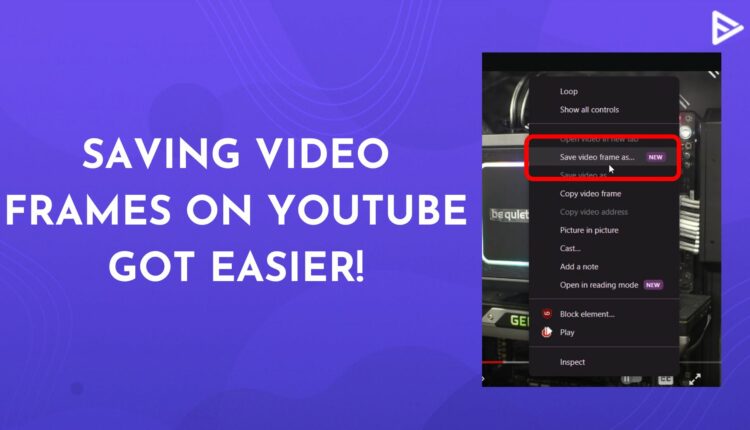 YouTube has been implementing so many changes over the past few months. With the latest improvements now, you can save video frames on YouTube even quicker! Google Chrome had given the option to copy video frames to its users way back. However, the whole process was a little too long.
So in the process of giving users easier accessibility, Google Chrome has made saving YouTube video frames easier. Now by double-clicking on the video, you can directly save the frame. So here's everything to know about the new method to save video frames on YouTube.
New Way To Save Video Frames on YouTube
Google Chrome has now reduced the steps for saving video frames to save viewers from the hassle of following a long process in order to do so. Previously if you wanted to save video frames on YouTube you could only copy the video frame in a few clicks. And then to save it to your computer you had to do some additional steps.
Now when you right-click the video frame twice, you will get the option of "Save video frame as" instead of "Copy video frame". This will allow users to directly download and save the video frame on their computers. Google Chrome is trying to promote this feature and even has highlighted the option in the double right-click menu as "NEW".
Here's a quick guide on how you can save a video frame on YouTube through this latest update:
Play the video of the required video frame.
Double right-click on the YouTube player (you will pass YouTube's own right-click menu).
Click on Save video frame as..
Save As window will open on your computer.
Rename the file.
Click on Save.

source: Leopeva64 on X
That's it! Save video frames on YouTube in just seconds now. Additionally, Google Chrome makes sure that the video saved is in the exact resolution as selected in the video player.
The feature has not been released to all users globally. Currently, it is only rolled out or seen on Google Chrome Canary 120. This may be because of server-side issues that YouTube is facing that are obstructing this rollout more publically. However, in the coming months with all issues solved, this feature might be available for all users on YouTube. In the meanwhile, there are plenty of third-party apps that help you with doing so.
Conclusion
Here is Google's attempt to make things easier for its users. Save video frames on YouTube in just two steps now! For the past few months now YouTube has been releasing new updates like adding community posts, to its very own editing app. The app is also redesigning itself to make it more user-friendly.