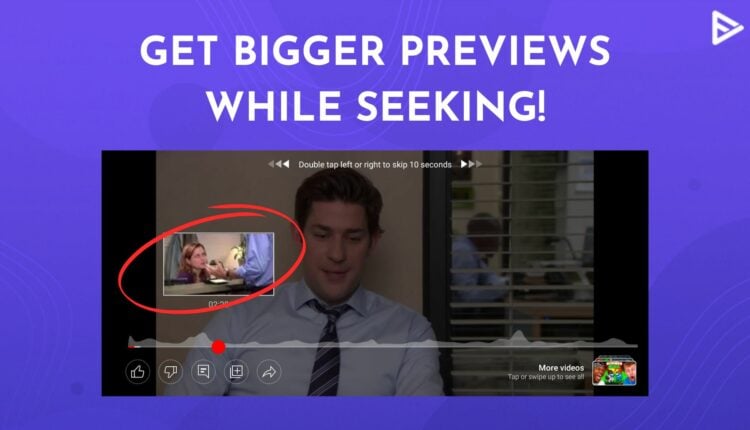 YouTube is constantly changing its features to make it more immersive for Premium users. YouTube Bigger Previews while seeking is another new addition for Premium users that gives them even bigger previews of video thumbnails. Users can now see larger thumbnails while seeking a particular video.
This is one of the latest modifications to the YT Premium that is working towards bettering the viewing experience for its users. However, since it's experimental, it is only available on the platform till 13th August 2023. So before it's gone, how can you enable the YouTube bigger previews feature?
What Is YouTube Bigger Previews While Seeking?
When you're watching a video, you might always seek it forward and backward by dragging the video cursor. While you do that, you see a preview window that pops up above the seeking bar. YouTube bigger previews enable viewers to get a bigger preview thumbnail of the video. This makes it easy for viewers to see the part of the video you're searching for.
This feature allows viewers to seek videos at the exact moment they were looking for without going back and forward multiple times. YouTube is launching all these experimental features to see if these actually make a difference and enhance the viewing experience or not.
How To Enable Bigger Previews Feature On YouTube?
To get access to bigger previews while seeking features, you must be a Premium user. If you're a YouTube Premium user, here's how you can enable this feature:
Go to the YouTube app or website
Now select your Profile picture
Now choose "your Premium benefits" in the menu
Scroll down to "Try new features"
Now tap on the "Try it out" button
When you turn it on, any video you will watch you can access this new feature. When you seek the video forward or backward, the preview thumbnail screen would appear bigger to give a clearer view.
Alongside this beneficial feature, this video viewing giant also offers other additional features like touch gestures for 2x playback speed. YouTube is trying out all the ways to make users enjoy watching videos. The slightly bigger YouTube previews, if turned out to be loved by everyone, might become staple for the normal YouTube platform as well.
Is a bigger preview while seeking available for everyone?
No, this feature is available only for Premium members of YouTube. Premium users can try out this feature till 13th August 2023.
Conclusion
Here's everything you must know about YouTube bigger previews while seeking features. Become a premium member of YT to get all these latest features as they're out!