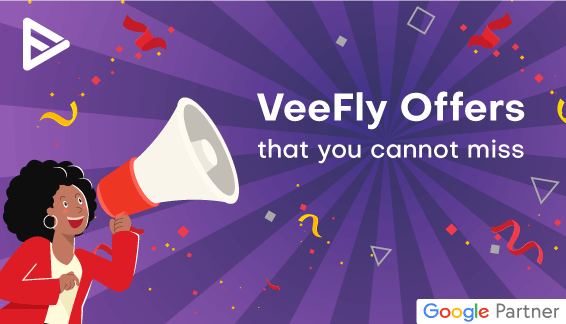 If you have been on the internet, especially on YouTube, long enough, you know that making excellent content is just the start of your career as a YouTuber. You need views and engagement if you want to genuinely expand your channel. But how can you get those views without taking years' worth of videos or potentially breaking the bank?
Your answer not only lies in VeeFly but specifically in the promo codes VeeFly offers. If you haven't heard of us, we are a YouTube promotional service providing views and engagement on your videos without emptying all your wallets.
Let's look at all the exciting promo codes we have launched for you.
The Top 6 Promo Codes You Must Try Out
As we said, Veefly is offering some great discount codes that will help you get even more value for your money. Here are all the codes you need to know about and exactly what they do:
FIRST50
If you're new here, you should not pass up this fantastic deal from VeeFly. This one-time deal gives you the opportunity to receive 50% extra views on your very first campaign with VeeFly. Not only is this a great way to start your journey with us, but it's also an excellent chance to boost your channel's visibility and increase your audience engagement.
The FIRST50 coupon code and the additional views accompanying it are the best way to feel welcomed into the VeeFly community. This exclusive offer is only available for first-time users, so make sure to take advantage of it while you can.
VEE10
You can get 10% more views on every order over $20 using the VEE10 promotional code. That means that for every $20 you spend on VeeFly, you'll receive an additional 10% worth of views. This is a fantastic deal for those looking to increase their views on their YouTube channel without making a huge investment.
VEE15
If you want to make a slightly larger purchase, then the VEE15 promo code might be for you. With this coupon, you will get 15% more views on every order over $50. This is a fantastic choice for those who want to significantly increase their views without spending a fortune.
VEE20
The VEE20 coupon code is the best option for people who want to invest a lot of money in getting their YouTube channel to the top. You spend more to get more, but with this promo code, you get more than you pay. Sounds like a dream, right? Try this promo code now and see how the views on your YouTube videos skyrocket.
VF50
VeeFly's discount code VF50 is the best option to instantly gain 50K views on your YouTube video. With this code, you can get a 20% discount on whichever campaign you choose as long as you spend at least $750.
VF100
Even if VeeFly provides discounts for YouTubers on a tight budget, big spenders can still benefit from some of their own fantastic deals. If you're looking to get 100K views on your next YouTube video spending $1200 on a campaign will get you those views as well as a whopping discount of 20%.
You only need to use the discount code VF100 to get started!
Conclusion
For aspiring YouTubers who wish to boost the number of views and engagement on their videos, VeeFly is your saviour. With a variety of promo codes to choose from, you can get amazing discounts on VeeFly's already affordable prices. From time to time, we also have seasonal discount codes and competitions. So keep your eyes peeled!
Whether you're on a tight budget or looking to make a big investment in your channel, VeeFly has a promo code for you. So why wait? Use these codes right away to see a dramatic increase in the popularity and engagement of your channel that is, of course, very well deserved.