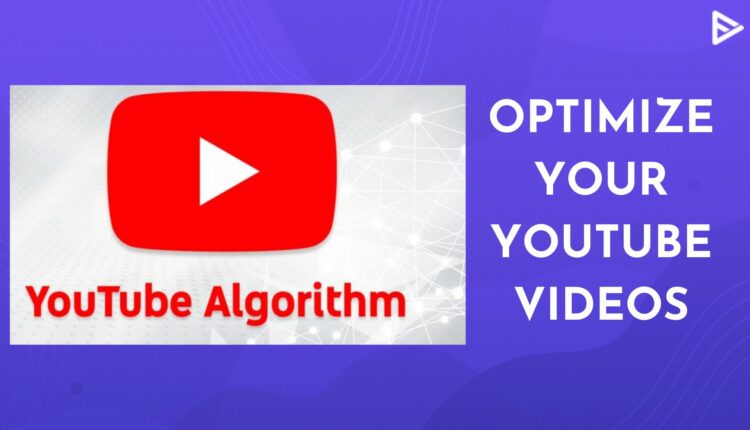 Are your YouTube videos not getting enough engagement? Do you want to maximize the reach of your videos? Then, knowing the YouTube algorithm is necessary to improve your brand's organic growth. It is the core engine that drives the success metrics of powerful YouTube influencers.
According to industry reports, YT has an audience base of more than 2 Billion. However, with increasing competition, it is getting more and more difficult to get engagement on your videos. This blog will explain the key optimization tactics that will have a significant impact on maximizing the reach of your videos.
What Is The YouTube Algorithm?
The YouTube algorithm can potentially build or break your content strategy. However, many content creators believe in the myth that the YouTube algorithm is too difficult to understand. The key is to find ways to work along with the algorithm that results in the growth of your channel.
There are two primary purposes of the YouTube Algorithm:
Suggest video recommendations to viewers according to their interests.
To increase the watch time of every viewer by matching them to the videos they would watch based on their behaviors and watch history.
The core of this algorithm is to reflect more of what viewers like and focus on hooking viewers to addictive but valuable content based on their interests.
Steps To Optimize Your Videos For YT Algorithm
Here are a few ways you can use the algorithm to achieve organic growth for your channel.
1. Refine Your Video Description
Video description is the text you see underneath a video. This description can work as a goldmine if optimized carefully. It should be concise, valuable, and SEO-focused that explain the intention of your video to your potential viewers.
You must perform thorough keyword research and insert those accurate keywords naturally in the description. Follow the best practices to come up with interesting video titles. This allows the YouTube algorithm to rank your videos higher when people search for specific keywords that match your video description.
2. Optimize Your Title And Thumbnail
Using captivating video titles and attractive thumbnail images greatly increases the chances of users clicking on your videos when they appear in their recommended section. Remember, there are numerous other content creators like you who are trying hard to get that click.
You can improve the SEO performance of your videos by including the keywords in your title and thus get better rankings on YouTube's SERPs. Try out a combination of different titles and images in the ideal size before you choose the final one.
3. Create Engaging Content
Viewers will watch more of your videos and share them with their friends only if they love your content. This is one of the most challenging tasks for content creators today. Earlier, with less competition, it was easy to create compelling content that engaged the viewers. But now, it takes smart efforts to hook your audience to your video content for a longer time. Your call to action should feel natural and inviting to your viewers. Use YouTube's features to increase the watch time for your other relevant videos.
When there is higher engagement on your videos, the YouTube algorithm will notice the increasing numbers and show your videos in the people's recommended section. It is advised to group your videos under different categories that make it easy for your potential audience to watch more of your videos.
4. Use Relevancy To Your Advantage
YouTube's algorithm ensures that its audience has a smooth user experience on the platform. If your videos are not relevant to what the viewer needs or what they are looking for, they will look out for other videos. This increases the bounce rate of the videos on your channel.
So, make sure that you include relevant terms, ideas, and suggestions that provide a better value experience to your audience. The goal is to stand out from your competitors and make something better.
5. Be Consistent In Your Content
Once you have chosen your niche for your videos, stick to it. Trying to go broad and addressing a lot of topics from different niches will confuse the YouTube algorithm. Besides, you must increase the engagement on your videos, which is critical for the growth of your channel.
To establish a sustainable growth rate on your videos, it is necessary to increase the watch time of all your videos. If you have a fitness niche, try covering fitness-related topics only rather than branching out to some other topic. It increases the authority of your video content.
Conclusion
Now that you understand the exact steps on how to optimize your videos for YouTube Algorithm, it's time to create some amazing content for your audience and grow your YouTube channel.  Even though the algorithm might change and evolve over the coming years, the prime goal of YouTube will remain the same, which is to keep the viewers engaged with valuable content.
The only quick way to really figure out what's working is to implement and experiment with the strategies stated in this blog. Alternatively, you can partner with a YouTube growth agency to boost the reach of your videos to the right audience. Make these small course corrections consistently see what's working and what isn't, scale the working methodologies, and soon you will witness a huge boost in your channel's growth.
Frequently Asked Questions
Q1. How Does The YouTube Algorithm Affect The Search Results?
Your search results are highly affected by the algorithm. To rank your videos at the top, you must optimize the video's title, keywords, and description to match the users' search query.
Q2. How To Increase Discoverability On YouTube?
One of the sure-shot ways is to create tons of valuable content for your target audience and interact with them more often through engagement features. The algorithm notices these activities on your channel and often looks for your videos in the future.
Q3. What Is View Velocity?
It is a metric that measures the number of subscribers who watch your video right after it is made public. YouTube algorithm uses view velocity to rank your videos higher in the subscription tab of the viewing list.
Q4. How Long Should A Video Be For Best Algorithm Performance?
The length of your videos depends on your niche. Videos with average lengths of 7 to 15 minutes are found to perform well. Remember not to add fluff to your video and make it boring just to make it longer. It will hurt your audience retention rate.