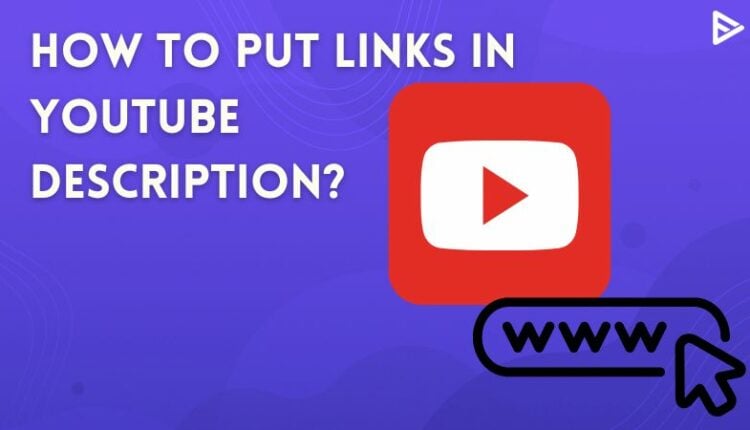 YouTube descriptions are a very important part of a YouTube video. You can add a link to your YouTube video description to promote your other videos or content to your YouTube audience. For example, if you have a blog, you can use your YouTube description to promote that blog. So it is important to learn how to put links in YouTube descriptions to share more content with your audience.
So let's see how to put links in the YouTube description:
How To Add Links In YouTube Description?(Desktop)
Writing a strong description can help your YouTube video immensely. Links in descriptions can help you move your audience from your YouTube video to wherever else you want them. You could increase your blog traffic or encourage people to join your email list like this.
Here are the steps to put links in YouTube description:
Open YouTube Studio and click on Content in the left menu.
Click on the Details icon of the video you want to add a link in the description too.
Paste the link with https:// in your description box and click Save.
The process to add links directly to your YouTube videos is the same. Just add the link in the description before making the video live. Make sure your link has https:// in the beginning because, without it, the link will not be clickable.
How To Add Links To YouTube Description? (Mobile App)
Now, moving on, this section will explain you to add links in YouTube descriptions. Follow the below-mentioned steps:
Open the YouTube app on your mobile
Tap on the Library icon at the bottom of the page.
Tap on Your Videos
Do not open any video to edit and add links to the description.
Instead, tap the vertical dotted line on the far right of each video.
Tap on edit
Here, you will come across a section that will give to access to make edits to the description or add it to the playlist and add tags.
Tap on description
In this section, copy and paste the URL into the description field.
Once you are done with the changes, tap on save at the top right of the page.
What are the benefits of putting links in YouTube Description?
YouTube descriptions are a great place to add more information about the video as well as add keywords, hashtags, and links to your other videos, channels, or platforms. But if you are unsure about why one should add links in the description of their YouTube videos, here are a few benefits:
Drive traffic from YouTube to your website to boost product or service sales.
You can add affiliate links to promote the products or services of your affiliate partner.
If you have a newsletter, you can leave the link to its sign-up page in the description and encourage people to subscribe to it.
You can leave links to your other videos under the video that's performing well and bring up the views of those videos too.
Basically, you can influence your audience to check out other things you are doing, whether related to YouTube or outside of it and boost your earnings in a way.
Conclusion
Clickable links are very useful for redirecting your YouTube audience somewhere else. You can promote your other YouTube videos, and you can reference a different YouTube to give your video context. You can also get your viewers to make a purchase.
Hopefully, you learned how to add links in YouTube Descriptions on the YT mobile app and on the desktop after reading this article. If you have any concerns feel free to ask us in the comments below. In the meanwhile, try promoting your videos on VeeFly!
FAQs
How Can I Add A Long Link?
To add a long link, you just need to copy the entire URL from its source and paste it into the YouTube description box. Once you click Save, the link will automatically be added to your video description.
Can I Put A Link In YouTube Description?
Yes. You can add any relevant links in your YouTube description for your audience to click. You just need to copy the link and paste it into the description box, and the link will become clickable instantly.
How Do I Add Clickable Link To My YouTube Video?
Any link you add in the YouTube description will automatically become a clickable link. You can add long links as they are, or you can choose to convert them into smaller URLs using a URL shortening tool.
What types of links can I include in my YouTube video description?
YouTube's official user policy says that YouTube links in the video description can be of multiple types:
Offsite links
Clickable URLs
URLs in videos or images
Obfuscated URLs
Verbally directing to links in the video
Can I include multiple links in my YouTube video description?
Yes. YouTube lets you add multiple links in your video description. In fact, there is no limit to how many links you add to your video. But it is always better to only add relevant links and not spam your description box with URLs.
How can I track clicks on the links in my YouTube video description?
YouTube doesn't have a way to track the clicks you receive on your links in the description, but if the link leads the user to a website landing page, you check the number of views received from YouTube through Google Analytics.