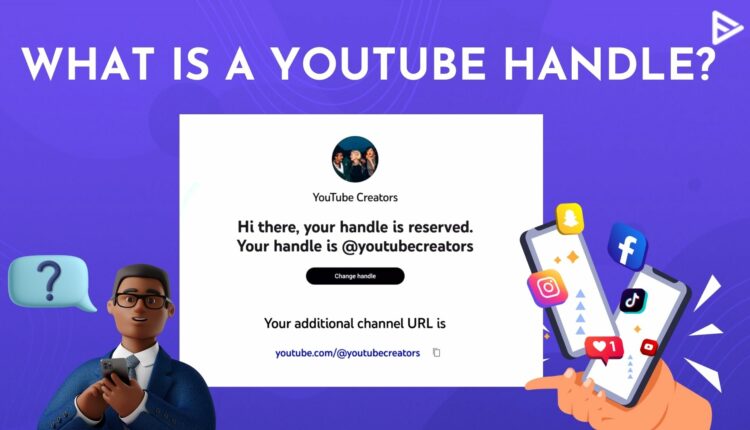 In October 2022, YouTube announced a new way to tag people and channels in comments, posts, etc. YouTube Handles are a way to find creators and quickly contact them. They are like any other social media handle and start with '@.' Soon after YT launched this feature, they emailed all their users, stating that it was time to choose their new handles.
So, in this article, let's see what is a YouTube Handle and how to create and change it.
What Does YouTube Handle Mean?
YouTube handles are unique names for channels that help other users find the YouTuber. These handles are represented with an '@' sign and follow the name the YouTuber has chosen. You can also see the handle in the URL of the YouTube channel.
How To Create A YouTube Handle?
Your YouTube handle is, by default, created by the platform. But if you want to make or change it, you can follow the steps below:
Open YouTube and click on your profile.
Then go to your channel and click on customize channel.
You will be directed to YouTube studio. Select basic info in the customisation tab.
Under the Handle box, type the new handle that you want.
Click save to confirm the change.
If the handle you want is unavailable, you can try adding or changing the letters to special characters or numbers. The unavailable handle can be because another channel is already using the handle or it isn't as per the guidelines.
YouTube Handle Guidelines
Here are specific guidelines you need to follow while creating your YT handle.
A good YouTube handle has the following features:
3-30 character limit
It is made up of alphabets and numeric characters (A–Z, a–z, 0–9)
Your YouTube handle can include: underscores, hyphens, periods
It should not be like a URL or a phone number
It should be unique and not used by another channel on the platform
YouTube handles must adhere to the platform's community guidelines
What is not allowed in the YT handles:
Violent, sexual, or spammy names
You cannot sell or purchase any handles on YouTube
Frequently Asked Questions
Q1. How To Find Your Channel Handle On YT?
You can find your YouTube handle in channel customization under the basic info tab.
Q2. Is The YT handle And Channel Name Different?
Yes, your channel name is your official name on the platform. Whereas your YouTube handle is the unique identification username that anybody can use to tag or mention you using a '@' sign on the platform.
Q3. Can My Instagram And YT Handle Be The Name?
Yes, your Instagram and YT handles can be the same until and unless the Instagram handle name is available on YT.
Q4. What Is Not Allowed In A User Handle?
The platform won't accept any handle containing violent or offensive content. Also, your YT handle should follow all the community guidelines.
Conclusion
Now that is all you need to know about a handle and how to change it. Also, once you change your YouTube handle, you cannot change it back for 14 days, so be wise when choosing a user handle for yourself. Handles offer you a unique identification on YouTube, so keep it original and related to you.