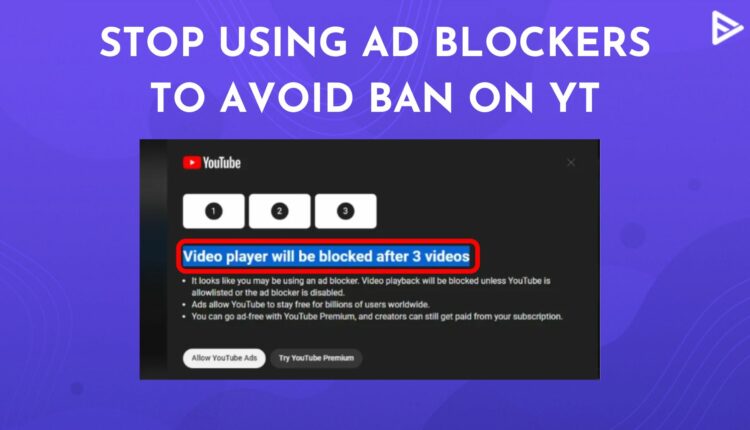 Did you receive a pop-up notification from YouTube about adblockers? If not, you might soon receive one if you use Ad blockers. Google-owned YT is getting aggressive with its YouTube adblocker crackdown drive and testing new methods to block adblockers. If you use Adblockers while streaming YouTube, you will soon face restrictions when you use it repeatedly. But why is YouTube so serious against Ad blockers? What actions are they taking against viewers using Adblockers?
Well, let's dive deeper into the YouTube adblocker crackdown and find answers to all your questions.
What Is YouTube Adblocker Crackdown Strategy?
According to YouTube adblocker crackdown drive, the platform is cracking down on viewers who deploy ad blockers while watching YouTube videos. The company wants you to either enable ads while watching videos or try YouTube Premium. Since YT is free for users globally, it heavily relies on ad revenues to improve the user experience. However, adblockers are hurting the ad revenues of the video-sharing platform.
This news garnered attention when a Reddit user recently posted a screenshot of the pop-up notification sent by YT. It states that the video playback will be blocked unless the adblocker is disabled.
What Happens If You Still Use A Adblocker On YouTube?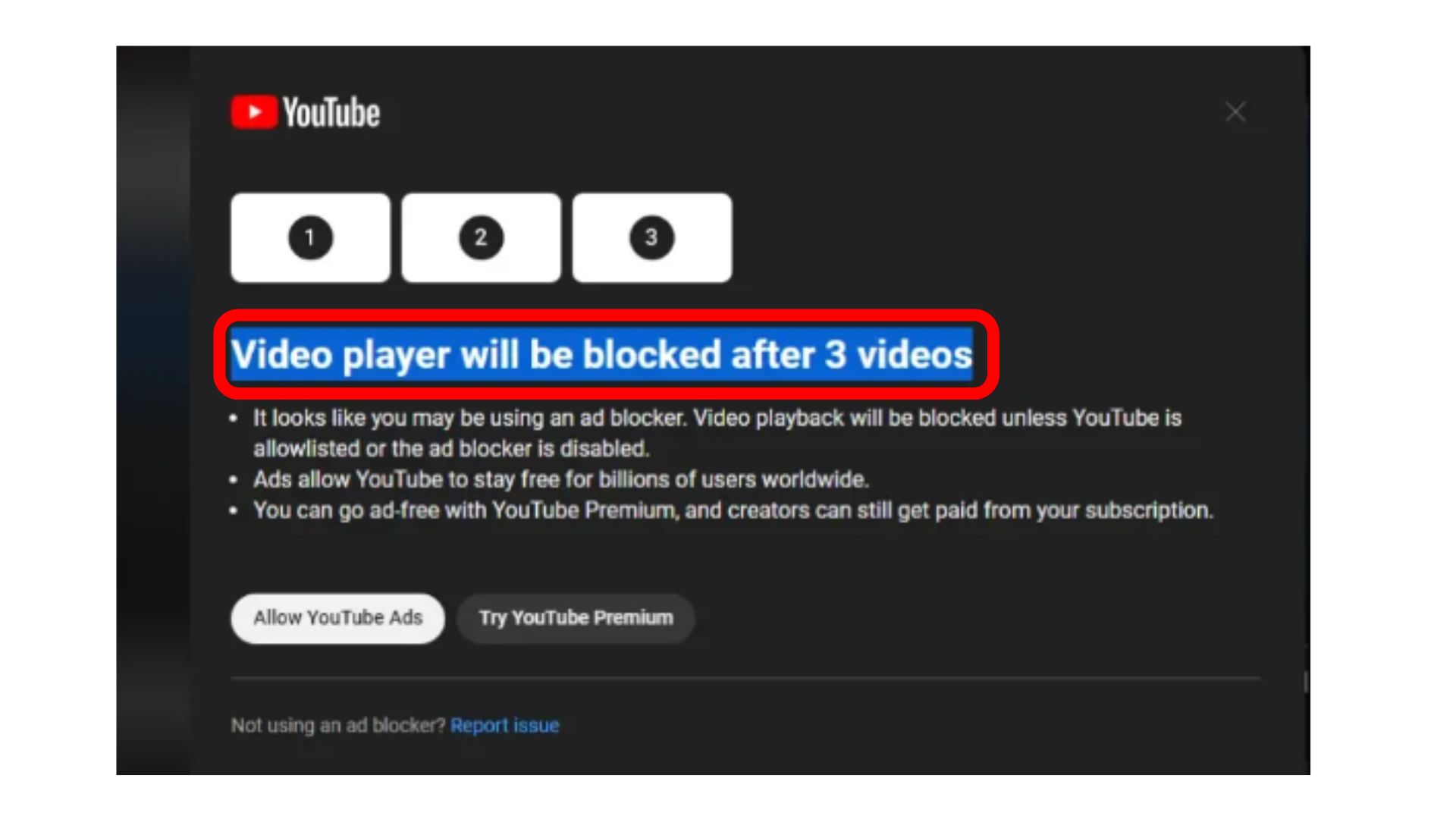 If YouTube detects an ad blocker 3 times while you browse through the videos, it will send a warning notification asking you to disable the ad blocker. If you still try to watch a video using Adblocker, YouTube will temporarily block the video playback. It is unclear for how long the video playback will be disabled. The company states that the action of blocking video playback occurs in "extreme cases" where the user does not disable adblockers even after repeated warnings.
It encourages viewers to go with the YouTube premium option if they wish to have an ad-free video viewing experience. Viewers in the United States are required to pay a subscription fee of $12 per month to access YouTube Premium.
It also emphasizes the significance of ads for the platform to remain free of cost for users worldwide.
Conclusion
Now, you are pretty well aware of the YouTube Adblocker crackdown and how it significantly impacts the user experience on the platform. This new three-video rule isn't public yet. But, it is still unclear whether YouTube will roll out this testing strategy for users across other locations. Apart from the three-video rule, the platform is also testing a new feature that allows you to add multiple YouTube thumbnails for one video.
Frequently Asked Questions
Q1. Will YouTube Follow Through The Ban On Adblockers?
It will largely depend on the audience's reaction to YouTube's new feature of blocking ad blockers after three consecutive warnings.
Q2. Will Turning Off The Ad Blockers Benefit Creators?
YouTube creators relying only on advertising revenue to support their channel may find the adblockers partially beneficial since income from YouTube depends on many factors.
Q3. What Is The Cost Of YouTube Premium In The United States?
If you do not want to be a part of the YouTube Ad block ban, you can opt for YouTube Premium, which costs up to $12 a month.
Q4. Why Is YouTube Running The Adblocker Crackdown Strategy Now?
YT is following a trend where video content platforms are adding subscription plans to incentivize users. Besides, YouTube is also experiencing a consistent fall in ad revenues. The ad block ban is a strategy to boost the falling ad revenues.