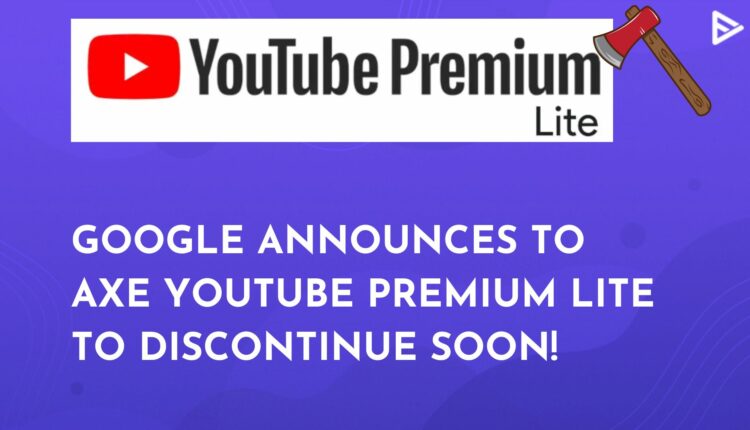 In a disappointing turn of events, Google announced that it would discontinue a beloved feature. Starting October 25th, 2023, users can no longer access YouTube Premium Lite. This decision comes as a blow to many who have enjoyed the benefits of this service. In a recent move, implementing a lower subscription model aimed to address the disparity between Premium customers and ad viewers.
However, this initiative appears to have fallen short in delivering several key Premium benefits, such as offline downloads, access to YouTube Music, and the ability to enjoy background playback options.
Google To Discontinue YouTube Premium Lite
YouTube Premium Lite was launched in 2021 at a monthly price tag of €6.99 in a quest to convert viewers into premium customers. The lower subscription model of YouTube Premium was launched in Belgium, Denmark, Netherlands, Norway, Sweden, and a few other countries. The news was shared with the users via an email stating the current developments regarding YT Premium Lite.
The email quoted, We're writing to let you know that after 25 October 2023, we will no longer be offering your version of Premium Lite," While we understand that this may be disappointing news, we continue to work on different versions of Premium Lite as we incorporate feedback from our users, creators and partners."
Now, the viewers are left with two options: enjoy the ad-free experience by opting for the monthly YT Premium subscription of $13.99 and enjoy all the perks that YouTube Premium Lite did not have access to, or go back to watch YT with ads! YouTube had recently raised the prices of Premium subscription plans in the US in July.
Shutting Down YouTube Premium Lite: How Will Users Be Affected?
The news may have come as a blow to the Lite customers because even if they could not enjoy all the Premium benefits, they could watch videos on YT ad-free. But, shortly, they will have to pay double what they initially paid.
Google has sweetened the pot and softened the blow by offering a free one-month trial of YouTube Premium to everyone, including those who have already signed up for a trial.
Conclusion
Google has eliminated the YouTube Premium Lite feature, so it is currently a waiting game for users who have received an email regarding the axing of the Lite plans, and hopefully, Google will come up with new YT Premium lite plans soon.