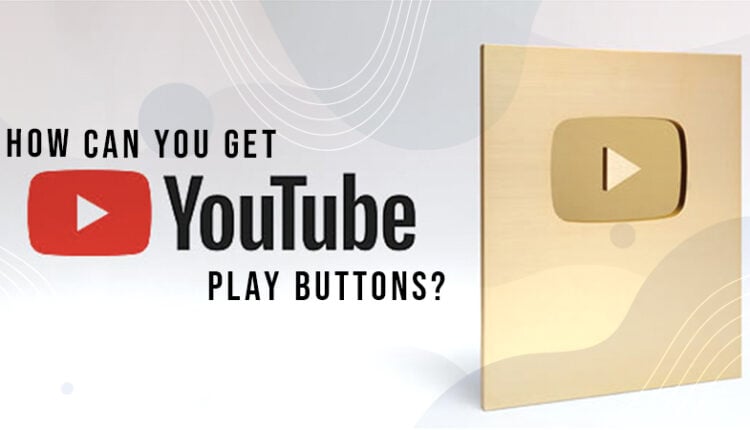 Opening the door to find a package from YouTube containing the coveted YouTube Play button is the dream of every YouTuber.
YouTube awards its creators with different play buttons for every new milestone in their creator journey. It's a token of appreciation and prestige for every YouTube creator. Any level of monetary success pales compared to the feeling creators experience on receiving this appreciation award from YouTube.
It's a way YouTube recognizes the creator's work and motivates them to continue creating content for the platform.
To get a YouTube plaque, you need to have a specific number of subscribers on your YouTube channel. But whether to award a creator or to withhold the play button, it's entirely up to YT. We'll discuss the eligibility to win these creators' awards, but first, let's check out all the YouTube Play Buttons and how to get one of those?
How many YouTube Play Buttons are there?
Depending on the number of subscribers, YouTube has 5 different YouTube Play Button plaques:
YouTube Silver Play Button -100k subscribers
YouTube Gold Play Button – 1M subscribers
YouTube Diamond Play Button – 10M subscribers
YouTube Custom Play Button – 50M subscribers.
YouTube Red Diamond Play Button – 100M subscribers.
The Silver and Gold Play buttons were first presented in 2012 at the VidCon video conference. At the time, Reaching 1M subscribers was a far-fetched dream, but as the audience grew, so did the milestone bar. As a result, YouTube adapted and introduced the Diamond Play Button in 2015.  YouTube star Pewdiepie was the first to win the revered Button.
How to get all the YouTube Play Buttons?
So far, only 4 YouTube channels have been awarded all the YouTube Play Buttons. They are T-Series, PewDiePie, Cocomelon, and SET India. The creators' awards or plaques are a gift from YouTube that helps build brand awareness and stimulates the creators to work harder and achieve more tremendous success.
How to get YouTube Silver Play Button?
The YouTube Silver Play Button is the most special one out of all the YT Creator Awards as it's the first recognition award that the creators receive from the video streaming platform. A creator needs 100k subscribers to be eligible to receive the YouTube Silver Play Button.
How to get YouTube Gold Play Button?
The next in line is the coveted  Gold Play Button awarded to YouTubers with 1M subscribers. Early on, 1M subscribers was a rare milestone, but over time more and more creators passed this milestone as reaching newer audiences became easier and quicker with the help of YouTube promotion and ads. In addition, platforms like VeeFly made it easier for YouTubers to run promotional campaigns and reach these desirable milestones.
If you are wondering if the YouTube Gold Play Button is made of real gold, I'm sorry to break your bubble, but it's created from gilded brass.
How to get YouTube Diamond Play Button?
Winning the Diamond Play Button is a tremendous milestone. You need a whopping 10M subscribers to get the Diamond Play Button. When the award was introduced in 2015, only 35 channels were eligible for this prestigious award.
How to get YouTube Custom Play Button?
This is a remarkable milestone, so the award to commemorate such a milestone is super special. When a YT channel crosses the colossal milestone of 50M subscribers, YT sends them a Custom Play Button. As the name suggests, the plaque is custom-made. In addition, the YouTube channel's logo and other features are highlighted in the award.
The all Play Button receiver Pewdiepie received a red plaque in the shape of a fist as his 50M milestone plaque. Check out his unboxing video as he goes crazy with excitement:
How to get YouTube Red Diamond Play Button?
The most extraordinary of all the Play Buttons, the Red Diamond Play Button, is given to YouTubers with 100M subscribers. Thats more than the population of Germany. It's not an easy feat to conquer, and thus, only 5 YouTube channels have conquered this unbelievable milestone.
Now that we are well acquainted with all the Play Buttons let me tell you about the additional benefits that YouTube provides its creators. These are not eligible for Creator Rewards, but they do offer several primary advantages:
This is for channels with 1 to 999 subscribers. YouTube Channels with 100 subscribers or more can apply for a custom URL.
This one is for channels with 1,000 to 9,999 subscribers. Once you reach Opal, you are eligible for the YouTube Partner Program, which also requires 4000 watch hours in the last 12 months, along with a manual review of the channel's content in compliance with the YouTube content guidelines.
This is for channels with 10,000 to 99,999 subscribers. The YouTube NextUp program is exclusive to channels meeting this milestone and other program criteria.
Eligibility to get Creator's Awards:
Now that we have covered all the milestones and how to get the Creator awards, let's discuss what not to do to ensure winning the coveted different YouTube Play buttons. YouTube inspects the channel to meet specific criteria before issuing a reward.
YouTubers who do not meet the following criteria will not be able to claim the Creator's award:
What Could Prevent You Getting Your YouTube Play Button?
YouTube's play buttons are no longer issued to creators automatically when they hit subscriber milestones. Instead, YouTube will assess each channel before awarding the prize. So, how will you get the YouTube play button:
As a result, creators who do not match the following criteria may not get their YouTube Play button.
There should be no copyright infringements on the account.
The YouTube Terms of Service must be followed by all YouTube accounts.
Original material must be generated by channels.
The account has to follow YouTube's Community Guidelines.
The account must be in "good standing" on YouTube.
Over and above at YouTube's discretion, YouTubers creating horror, negative or far-right commentaries are reportedly not receiving their Play buttons. This is due to the nature of the content produced by some YouTubers.
If it's been more than three weeks after you hit a subscriber milestone and you haven't gotten a message on your creator dashboard, YouTube recommends contacting their creator support team.
In some cases, even if all the above conditions are met, YouTube may still refuse to present the award to the channel. As the whole Creator's Awards is a way to recognize creators valuable to the platform, it's within YouTube's prerogative to deny a specific channel the award if it deems it unworthy.
Conclusion
The only way to get the different YouTube Play Buttons is to reach the specified number of subscribers. However, you can speed up the process by promoting your YouTube videos and getting thousands of views quickly.
You must follow all the YouTube rules and regulations to receive all the YT Play Buttons.
FAQs
Who Has A Ruby Play Button?
Three channels have received the custom Ruby play button from YouTube. A channel needs to have an astronomical 50M subscribers to win this award. The channels that have gotten it are Indian music company T-series, Gamer and Vlogger PewDiePie and 5-minute crafts.
Is The YouTube Play Button Real Diamond?
No, the YouTube diamond play button is not a real diamond. It is made of silver-plated metal and has a crystal in the middle which is shaped like a play button.
Can I buy a YT Play button?
When it comes to the original award, the answer is no, except when the owners of the buttons themselves put them up for sale. Even then, every button has the name of the creator it's awarded to, so it's of no use to you.
Do you get a YouTube Play button for 1000 subs?
No, there is no award for 1000 subs or for 10,000 subs.