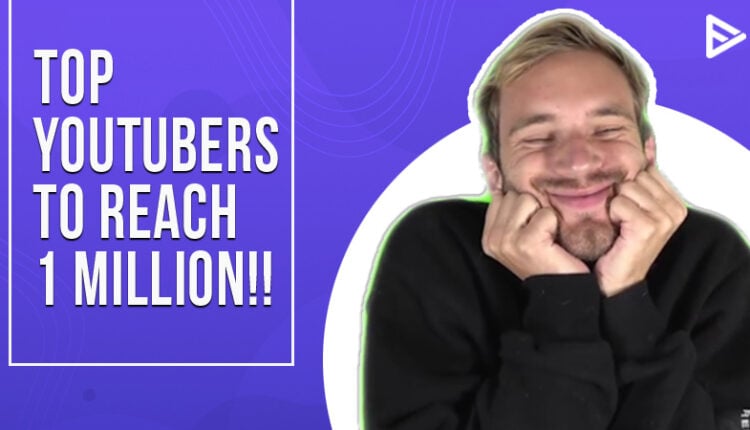 Do you know who the fastest Youtuber to hit 1 million subscriber is? As intriguing as it sounds, let us first know few facts about YouTube. Well, Scroll down to learn more! By the end of 2020, about 37 million YouTube channels are available. Since then, there has been substantial growth in YT channels, with more than 23% last year. People all across the globe create a YouTube channel, and every minute, upload 500 hours of video.
Every day the competition grows on YouTube as more and more new Influencers create content on the platform. Because of the pandemic, YouTube has been the champion of all social media platforms. Regardless of the niche, if a Youtuber creates top quality content, trendy and unique content, you have an excellent chance to boost your YouTube channel.
Here is the list of

fastest Youtubers to hit 1 million

subscriber on YouTube
Jennierubyjane Official
Jennie from Blackpink (the biggest girl group) holds the record to this point, and in less than 7 hours, he has received 1 million subscribers. It has over six million customers in only two months, making her the fastest Youtuber to reach 1 million subscribers. 
Joined Youtube on Jan. 13 2021, and with only four videos on her channel, Jennie has a massive following of 6.9 Million subscribers as of September 2021. The following is the very first video posted on her  YT channel.
   2.PewDiePie
Maybe not the fastest, but definitely, he is the most subscribed Youtuber in the world. He is the number #1 Youtuber in the world. He first started his channel on Apr. 29 2010. The very first video posted on his YT channel was 'Minecraft Multiplayer Fun.' All this began with his passion for gaming, but his funny humour made him stick out among all YouTubers' gamers. Félix Kjellberg headlined his seven million yearly YouTube revenues in 2014, publicly announcing it.
      3. Jacksepticeye 2
Jack septiceye 2 was a second PewDiePie channel established to make fun of his pal Jacksepticeye on Oct. 20 2016. The channel had gained more than 1.5 million subscribers, making it the fastest Youtuber to hit 1 million. 
A video named [DELETING MI CHANNEL AT 50 MILLION] was created by PewDiePie. In the video, he humorously claims that his channel would be deleted after 50 million subs. Naturally, this was taken seriously by media outlets and numerous viewers, which made the video viral. It was one of the best clickbait videos, which earned him the gold button from YouTube.
    4. Flying Beast
A new 98-minute record was created by Gaurav Taneja! An Indian YouTuber recently established a record for 100,000 followers on the channel EVER, making him the fastest Youtuber to hit 1 million subscribers. 
On Dec. 1 2017, he started his channel, and his channel is about fitness. Currently, at 6.39M, he vlogs to make his fans part of his family every day.
     5. Carry Minati
YouTuber became famous for his courageous and ribbed videos, in which he digs into certain celebrities or other areas of pop culture. However, Carryminati did not spare anyone from Tik Tok and the Filmfare awards and the reality program of Bigg Boss, as he took a dig for all of the topics in his videos.
Ajey Nagar in May 2020, in reaction to an Instagram post uploaded by TikTok's user Amir Siddiqui who choked YouTube creators for the roasting of TikTok users, Nagar released a controversial YouTube video, "YouTube Vs Tiktok–The End." As a result, the video mentioned above became popular, and Carry was a sensation for YouTube and earned the fastest 1 million subscribers.
      6. Cocomelon-Nursery Rhymes
A kids educational channel rebranded itself as Cocomelon and shot to fame in 2019, making it the fastest Youtube channel to hit 1 million. As of September 2021, the channel is at 118M subscribers. 
 7. 5 Minute Crafts
The Do-It-Yourself Channel started in 2016. The channel is perfect for all the artists. In 2019, they effectively focused on crafts and prank videos, leading to their 17 million increase in followers. It is always trending among the young crowd as they churn out fantastic hack videos almost every day. 
     8. Like Nastya
At the age of seven, a Russian American girl named Stacy is followed by millions of children worldwide who enjoy her educational and play way content. Her channel is one of the fastest Youtube channels to hit 1 million. The channel was created on Dec. 6 2016, and in just a few years, the followers have increased to 76.9M. 
     9. T- Series
An Indian Record label company turned heads as in 2019 it was at bottleneck competition with PewDiPie, the number one YouTuber in the world. T series surpassed him with 42.9 million followers in just a year; thanks to the growing population of India and internet access, T-series was bound to win. Therefore, T-series is on our list of one the fastest YouTube channels to hit 1 million. 
        10. WWE
Last but not least, on our list of fastest Youtuber channels to hit 1 million is WWE. Formerly known as WWWF is presently the largest subscribed, more than 50 million YouTube sports channel. They upload several times in the day, usually short videos of 1-3 minutes. And have gained more than 14 million followers, reaching up to 81.9 million followers in 2021.
Conclusion 
The above list is a compilation of the fastest Youtubers to hit 1 million subscriber.
For more facts about YouTube Click here.