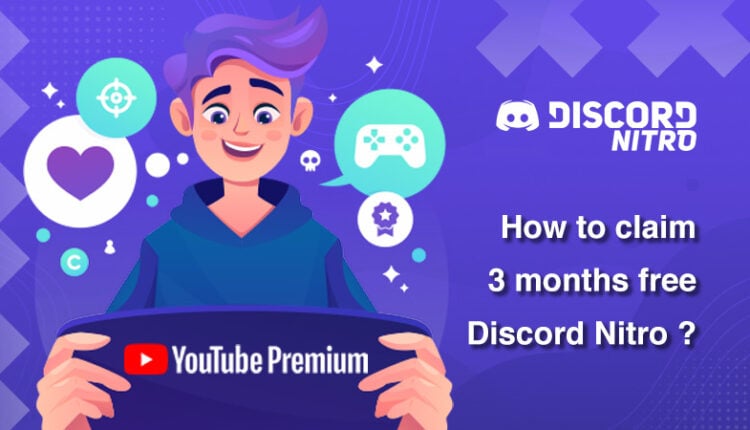 YouTube and the real-time chat platform Discord have partnered to offer a free trial of its premium versions to their users. First, Free discord Nitro users got access to YT Premium for free, and now YT Premium users can claim the free offer to use Discord Nitro for 3 months.
This new partnership comes when more and more YouTube creators flock to Discord to interact with their subscribers. The monumental audience channeling has persuaded the service providers to come together to fully leverage this new development.
The new freebie offer allows paid users of either platform to try the paid version of its partner platform. So if you are a YouTube Premium user, you can get 3 months of Discord Nitro, the paid version of Discord, for free.
The offer is good for current YouTube Premium users who have never had a Discord Nitro account. After the three-month trial, your Discord Nitro subscription will convert to a monthly recurring subscription at $9.99/month until you cancel it.
We will help you understand the process of claiming and redeem the Free Discord Nitro freebie! Also, we'll discuss how Discord grew into a YouTubers' hangout spot. And lastly, we have curated a list of discord servers every Youtuber must join for growing their channel.
Let's get started!
Steps to claim free Discord Nitro for YouTube Premium Users
To get the free Discord Nitro gift, you need to first claim it. If you fail to do so before October 30, you will lose the opportunity to try Discord Nitro for free. Here's how you can claim the gift YT Premium is offering you:
Check Your Email connected to your YouTube Premium account
Open the email account you used to buy the YT subscription. Then, search for an email from YouTube Premium. You can even search for Discord Nitro, and the offer email will show up.
Click on the red "Get 3 Months Free" button.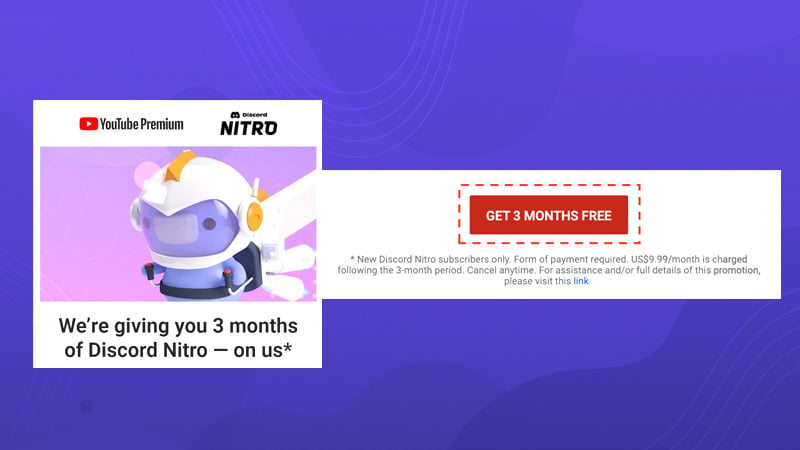 Now that you have claimed the free Discord Nitro gift, it's time to redeem it in your Discord account. Let's get on with it then,
Steps to redeem your Free Discord Nitro promo link
Once you find the email and click on the red "Get 3 Months Free" button. It will automatically redirect you to a browser window where you can redeem the promotion from YouTube Premium.
If you're not logged into Discord in your browser, you will then be redirected to either: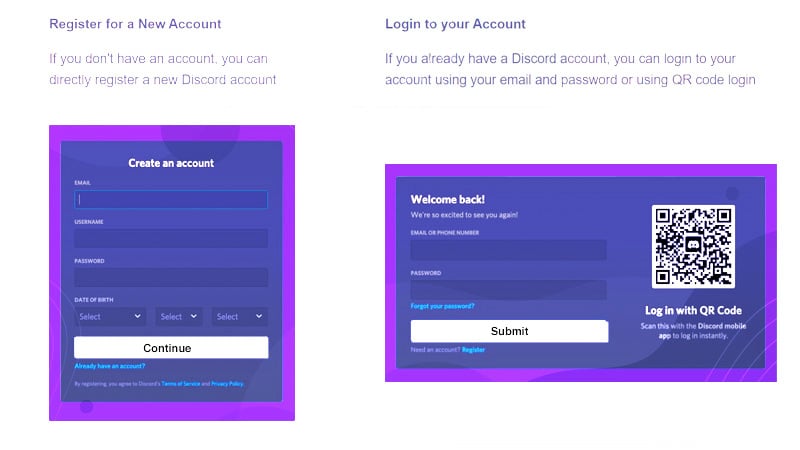 Confirming the Correct Account and Payment Method
1. After logging into your Discord account, you will find a new message asking you to confirm that you accept the Nitro Subscription. And that this is the correct account for using the 3 months free Discord Nitro subscription.
 You'll see a notice saying: "You are accepting this gift as _________" 
2. If you have not linked your payment details with your Discord account, you will be asked to fill in your payment details.
3. Press the "Accept Gift" button.
You will then be redirected to your Subscriptions tab in your User Settings, where you can see your newly activated Nitro subscription.
Who is eligible to claim this 3 months free Discord Nitro promo link?
You must be an active YouTube Premium user.
Note: The YouTube Premium 3-month trial users are not eligible for this offer.
Only Yt premium users from United States, Australia, Brazil, Canada, France, Germany, Great Britain, Japan, Korea, New Zealand, Russia, South Africa, & Turkey are eligible for this offer.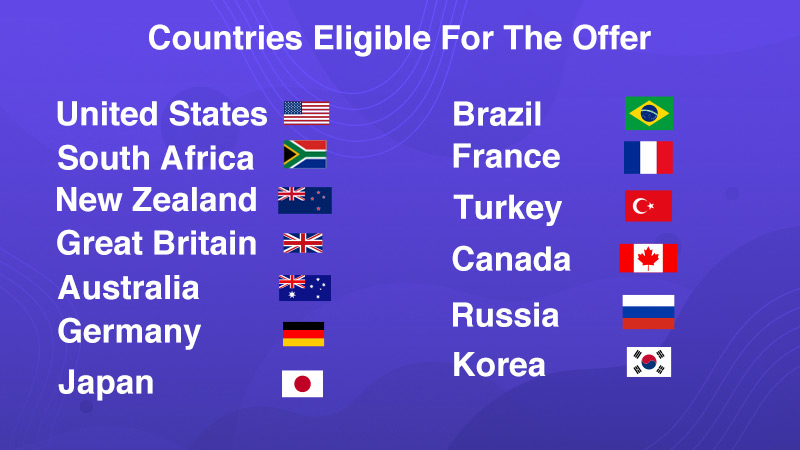 Youtube Premium users who have claimed the gift between August 16, 2021 (9:00am PT) to October 30, 2021 (11:59pm PT).
Users who have never used the Discord Nitro subscription before. You must be a first-time Nitro user.
What's so special about Discord Nitro?
As first-time nitro users, you must be wondering how is the Nitro subscription different from the regular Discord account. Let's introduce you to the features that make Nitro Discord special and worth the hype:
Animated avatars and a custom tag
2 Server Boosts and a 30% off extra Boosts
The ability to collect and make your own emojis
Profile badges to rep your support
Bigger uploads (up to 100MB)
High-resolution video, screen share and Go Live streaming
Discord Nitro enhances your Discord voice, video, and text chat with a range of fantastic perks.
How can Content Creators use Discord to grow their YouTube channel?
Discord is no longer just a platform for gamers to hang out; it has become the default destination for YouTubers, influencers, Instagram meme accounts, and anyone with a following to engage with their community.
The platform has a colossal 200M users, and the number is growing exponentially.
Its astounding success, especially in amassing the YouTuber population, is the opportunity to develop an intimate connection among its community. In addition, features like real-time chat make the conversation much more personal than a comment section.
If you want to grow your community, creating a server on Discord is the first thing you should do. It's like the TikTok phenomena all over again. And we all know who came out on top there. Tiktok not only helped creators find new audiences it also helped them grow their YouTube channel dramatically. The trick with platforms like these is getting there first and leveraging that position optimally.
YouTube A-listers like Philip DeFranco, Grace Helbig, and the Try Guys all have their own servers dedicated to interacting with their communities. But the beauty of this platform is that you don't need a massive following to start your own server. You just need to fire to connect with your audiences and grow your YouTube channel.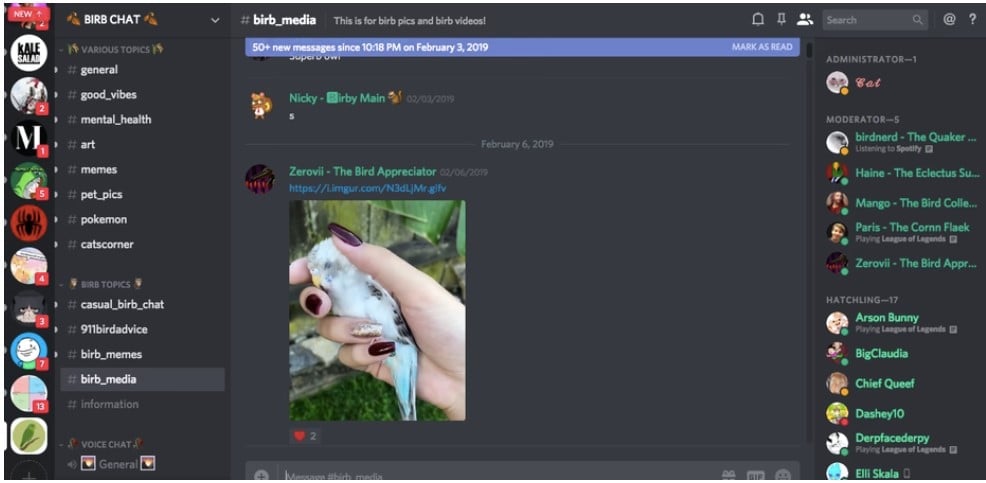 More and more YouTubers are swarming the platform because Discord has a chat rather than a feed. So when you come up with your new video or any other announcements, you don't have to worry about it getting buried in the user feed. In Discord, you are sure that your news has reached your audience. Not just that, you instantly get the feedback and audience reactions.
Top 5 Discord Servers every YouTuber must join!
As content creators, it's vital that you keep learning and growing. Being a part of a community of creators will help you interact with other content creators and grow together. Learn from each other's experiences, it's also a great opportunity to collaborate and create something great together. But finding the right place and community is vital.
Don't worry, we have shortlisted a few discord servers that has turned into a YouTuber's hangout spot: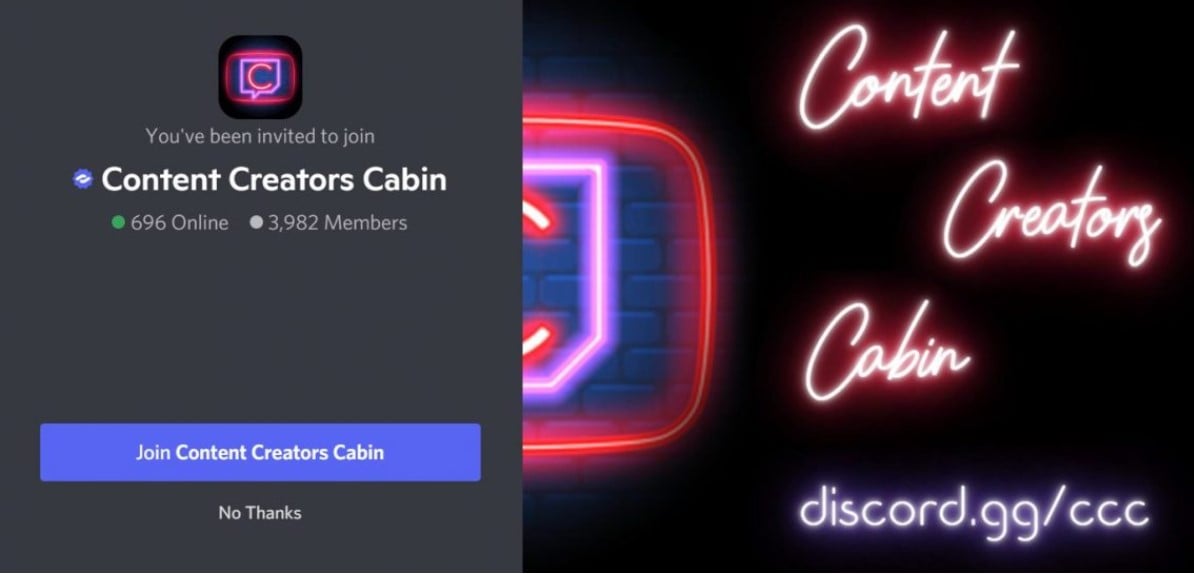 YouTube Squad
Sludge Island

Creators Achievements
Small Creators Community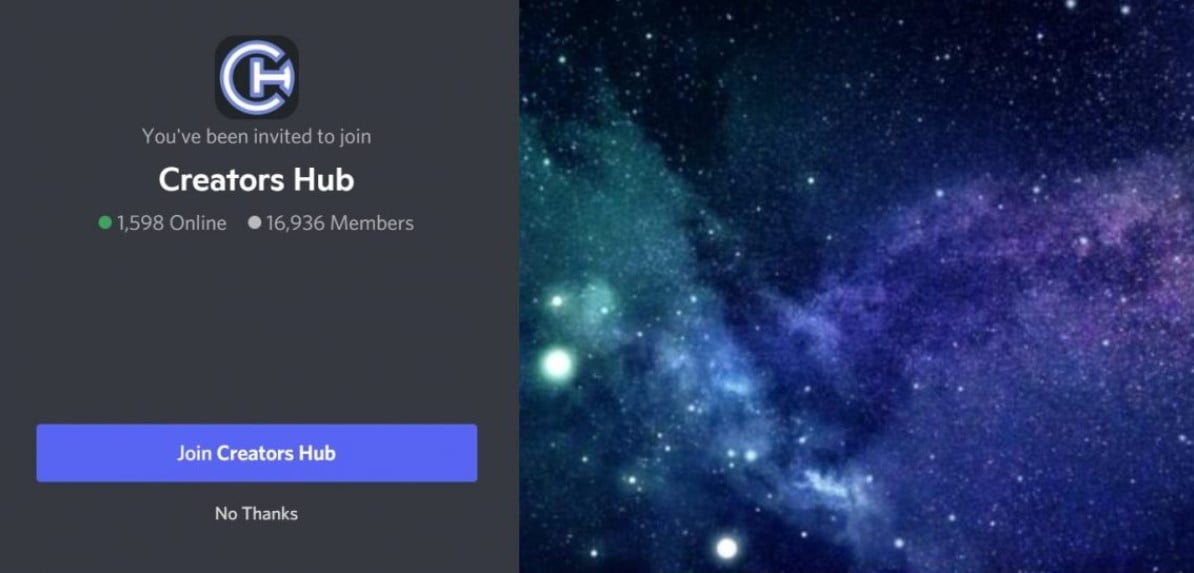 Conclusion
YouTube Premium users can now access Free Discord Nitro for free.
Interestingly, Discord has become the place people go to talk to people and about things they care about. So if you, too, want to grow your audience and interact with your audience, then you must get on Discord immediately.
And if you want to get 1000 free views, then head over to Veefly.com