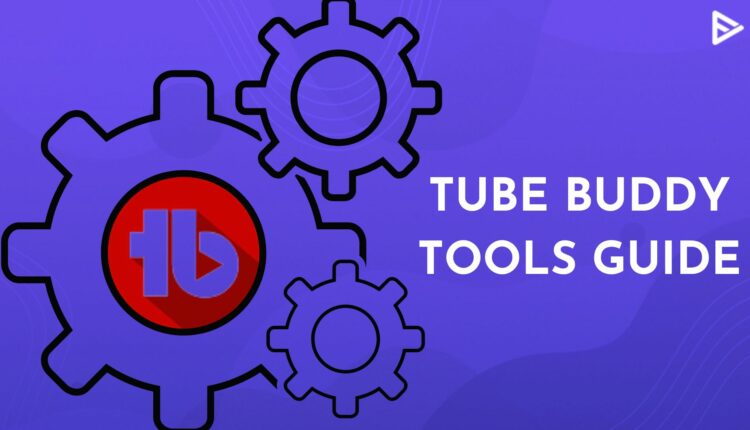 It's the year 2020, and being a YouTuber is the best way to showcase your skills digitally. But wait! The platform is filled with tens of thousands of YouTubers fighting to leave their mark and ranking at the top. How do you get there? How do you start off with the best? Out of the many tools that we have heard of that can help you with creating your own YouTube channel, here's how you can use Tube Buddy to your advantage.
Tube Buddy and its features
It is one of the most reliable tools you can find. One place to do it all. Tube Buddy is a genuine buddy that comes for free as a browser extension. Simply go to the Chrome web store and add it to Chrome. Once you sign in to your account. These are the features that you will be able to see. Let's start with the first tool:
Productivity tools
Imagine uploading a video and forgetting to add descriptive tabs or your info card. We are so busy with our daily schedules that it's easy to forget! With YouTube's Upload Checklist, that problem is now solved. It creates a checklist with everything you need to do before uploading your video. It reminds you to write an amazing title with a complete description of your video. From adding descriptive tags to creating a custom thumbnail to adding a nice trendy song and, of course, sharing it on all your handles, it's like your personal assistance. 
If multi-tasking is your jam, Quick-Edit Toolbar is what you need. This tool helps you jump between videos without having to click on My Videos to edit them every single time.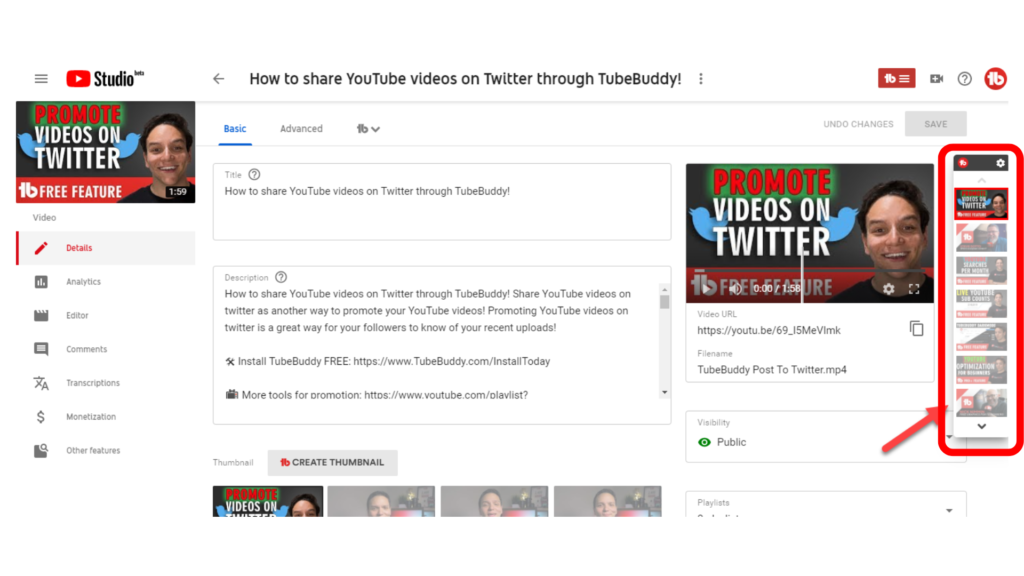 Imagine wanting to get to your most common link without having to click over and over again, isn't that the dream? YouTube Buddy is here to make that dream come true. With the Quick Links Menu, you can easily go to your most commonly used links without having to click on like until you break your mouse.
What shows emotions better than emojis? Having them in your title, description, and tags only makes it more fun! The Emoji Picker adds uniqueness to your written content in the form of emojis, and let's admit it, what looks better?  
When you create your own website and put it on it for viewers to watch, you don't want them to be directed to another site to view it. That's a little annoying! YouTube's Advanced Video Embed will optimize your video and lets you create an embed code. It has other options, too, that can customize how your video looks further.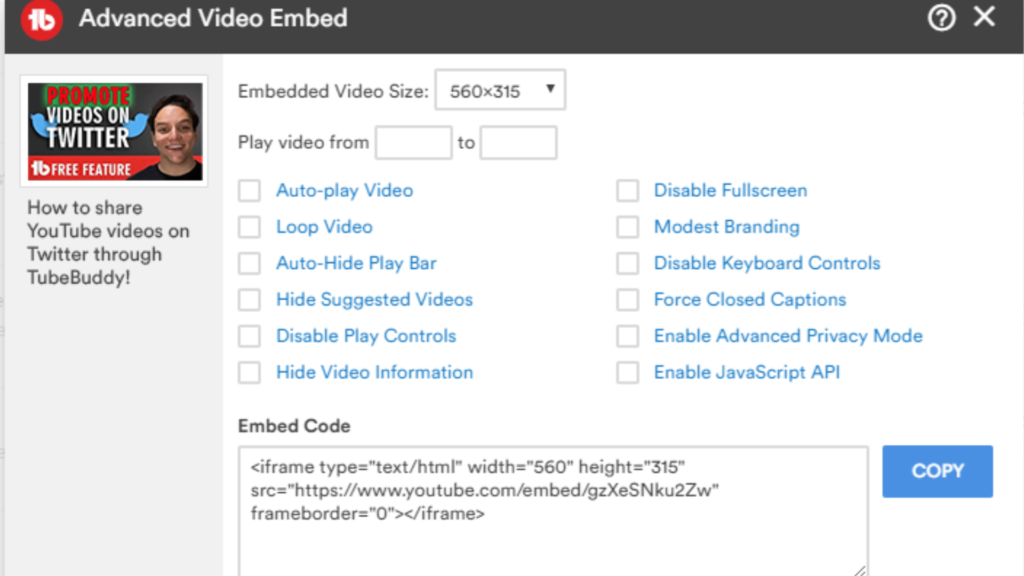 People say the best time to develop creative ideas is either when you have a shower or when you're sleeping. And then we try tracking our steps back, trying to remember that one great idea that would have become the next trendy thing. The Video Topic Planner lets you manage your ideas, and guess what; it also helps you brainstorm ideas that you might have in the future. You can save and track all of your ideas in one place.
Video SEO Tools
Tagging is fun until it's for your own video because you don't know what tags to use. With View and Copy Video Tags, you can view your own and your competitor's tags and copy them for your own use. But simply adding tags that aren't of any use to you makes no sense. So, with this tool, you can review the rankings of those tags as well. Now you'll know which tag you should be using over the others without racking your brains.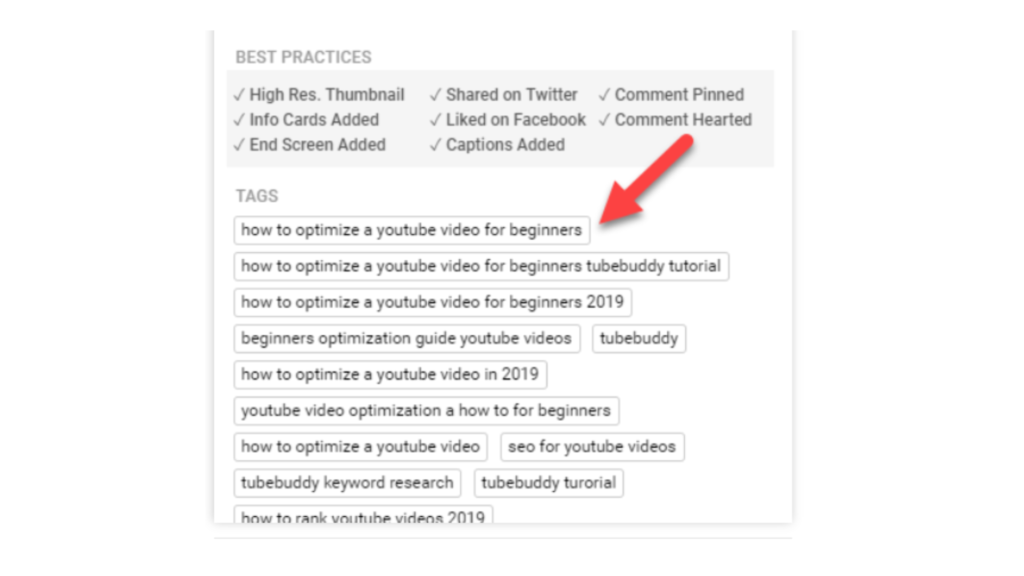 Keywords are a vital part of increasing your views and ranking on YouTube, and the Keyword Explorer is the tool you're looking for. It provides long-tail keywords that are trending and relevant to your content. It will ultimately help you rank on top when users search for your content while also increasing your views.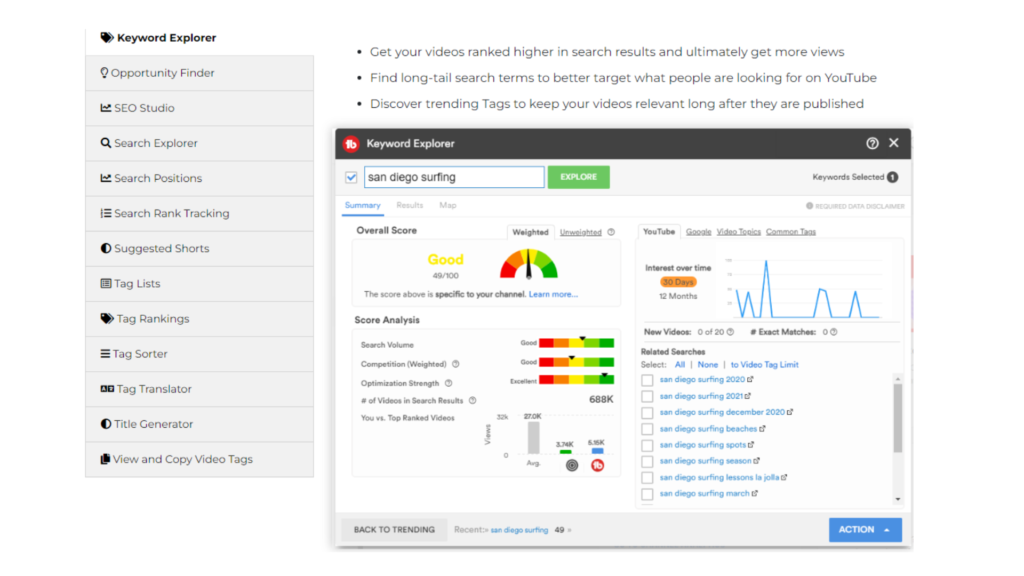 To all the list makers out there, YouTube Buddy gets you! The importance of creating lists is so underrated, but not here. Tag Lists lets you keep track of your favorite and most used tags. Excel sheets are great, but why jump from one window to another when you can find it all in one place. You can sort the tags according to your convenience. Select the tags that suit your content and add it to your video with one click.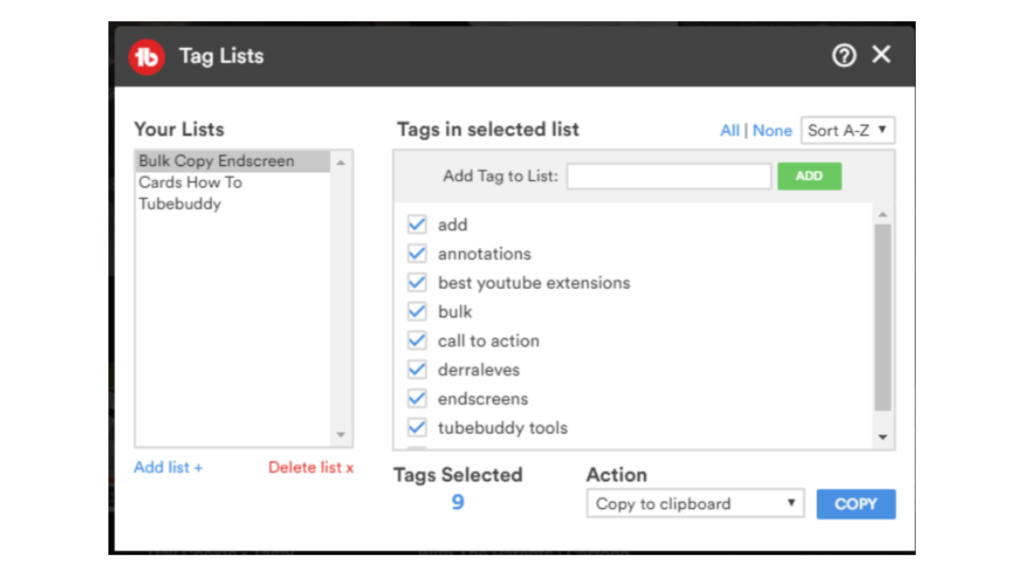 Do you know where your video ranks on YouTube? No? You've got to go to the Search Ranking tool immediately. Each tag that you've uploaded along with your video gets a thorough rank check, and then you can remove those that are not helping your video at all. It is not about the quantity of the tags; it's about the quality and how they help increase your ranking.
Data & Research Tools
When having your own YouTube channel, it becomes essential to track how your channel performs in terms of views, subscribers, and reach. If you are a fan of graphs and data and want to know how your channel performs compared to your competitors, Channelytics is your best bet.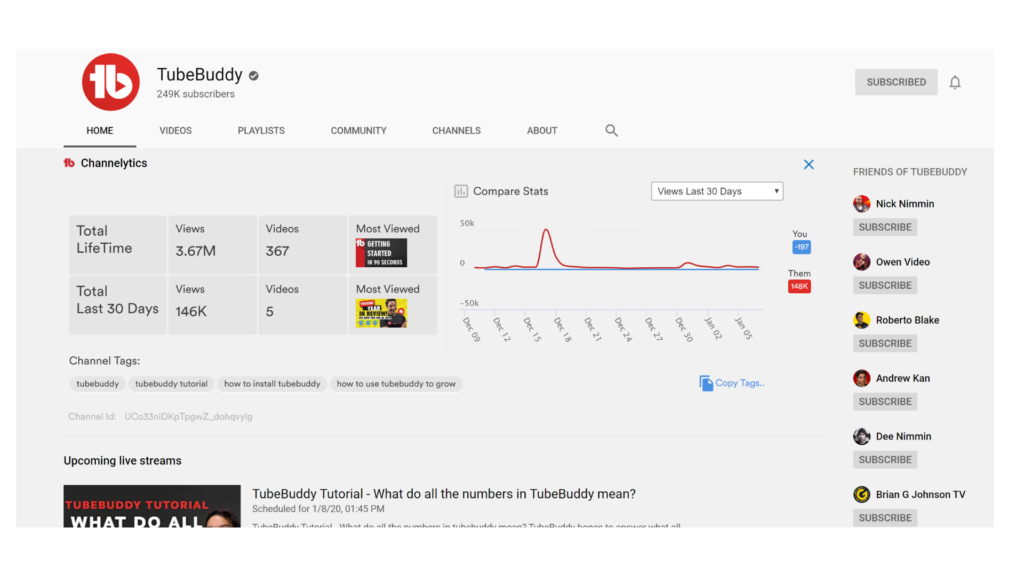 Taking analytics one step further, YouTube Buddy has a feature that helps you attract more subscribers and views to your channel by placing the stats right in front of you. The Click Magnet lets you know which of your videos are best suited for your channel, which thumbnails work best and brings in more Click-Through Rates. It also suggests slight changes to your videos for better clicks. It also allows you to export, group, view, and sort data from your important videos.
We wish we had the next feature in our lives when we go on a shopping spree. The Demonetization Audit warns you about certain tags or words that can cause you to lose money. And you shouldn't be losing money over something that can be easily prevented.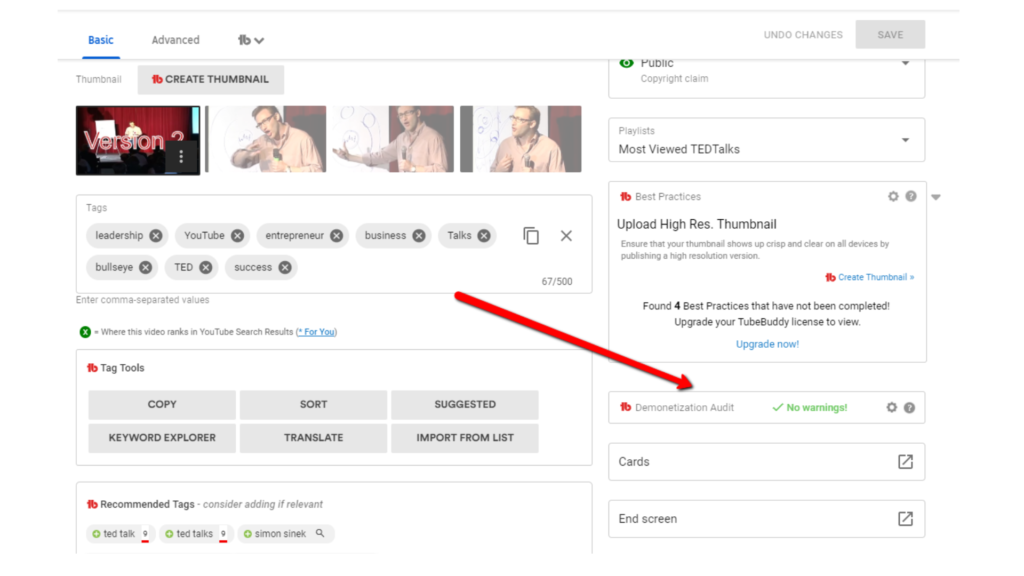 Sometimes most of your audience is from a place that speaks a different language than the one used in your videos. The Language Analysis gives you a breakdown of this data. It helps you connect on a deeper level with your audience and target them by implementing a few phrases from their spoken language in your videos. 
Bulk Processing Tools
For any tasks related to bulk, from copying cards and thumbnail overlays to playlists, you can use the Bulk Processing Tools to easily get your work done in just one click. Why waste time by doing these tasks individually, which is time-consuming and, honestly, takes forever. One wrong selection and you have to start the entire process repeatedly. Here, you select everything at once, and Voila! It's done.
Promotion Tools
Celebrating your milestones is a sign that you're doing great at YouTubing, and you should definitely share it with your loved ones and with your audience. The Milestones tool reminds you of your success and creates a post that you can frame and share on your channel and social media handles.
Did you just upload a new video and want to reach out to that one user who might love your content? The Promotion Materials creates specialized links and codes to promote your videos and your channel, boosting your viewers and subscribers. It lets you add your videos to your email signature and embeds them on your blog or website for better reach.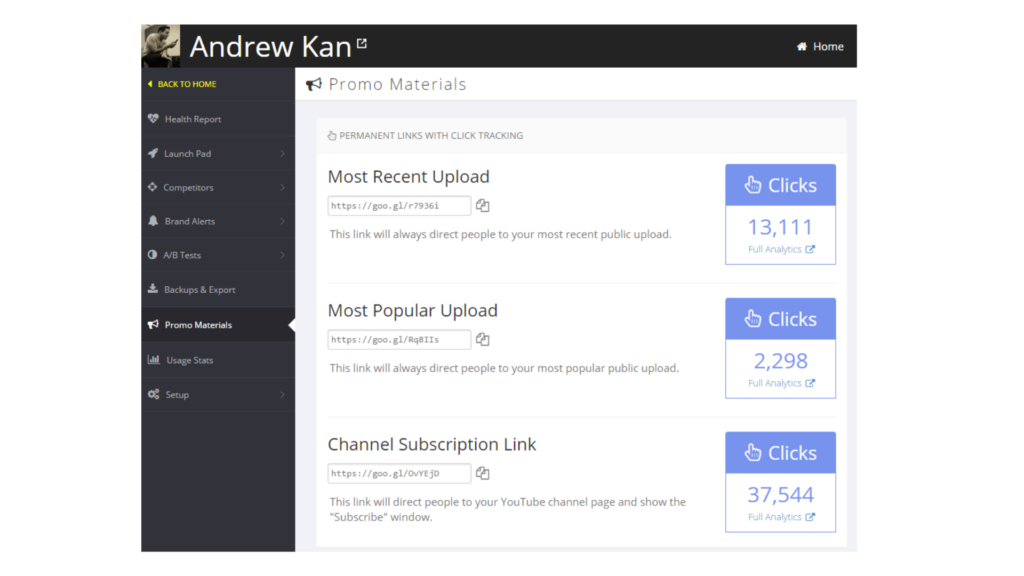 Guess what else lets you promote your videos globally and make them go viral online! Check out Veefly
Did you just have a giveaway but don't know how to choose a winner from the hundreds of subscribers who follow your channel? YouTube Buddy's Pick A Winner lets you choose a winner without feeling guilty about choosing someone over the other. You can also look at your social media profiles to know more about the winner.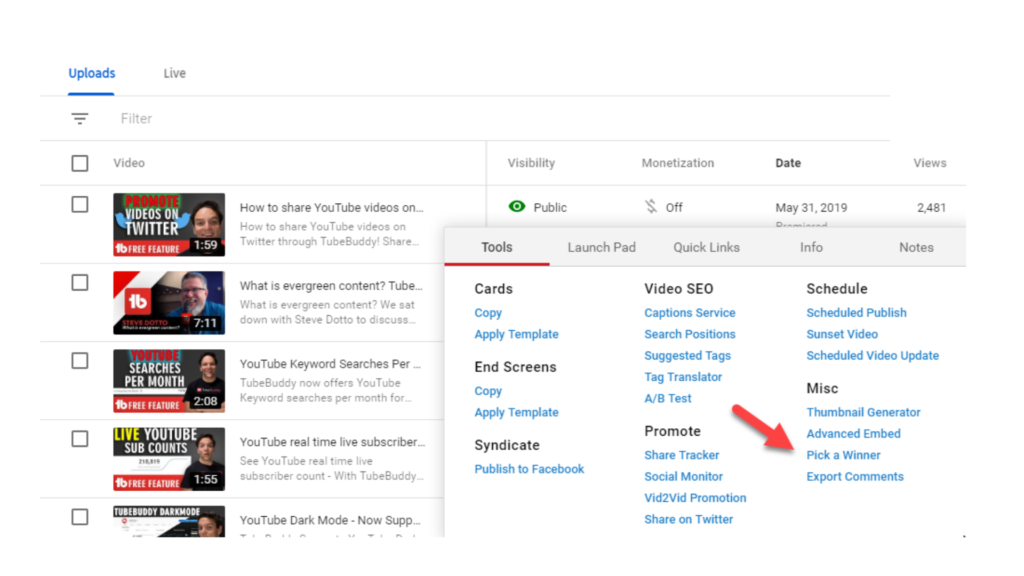 Of course, these are just a few from the long list of available options under each feature mentioned above. There are many more features that YouTube Buddy provides, and they are very simple to understand and use. You can always browse through the features and use what best suits your needs. But always remember, the better you know your tools, the more your creatives stand out.