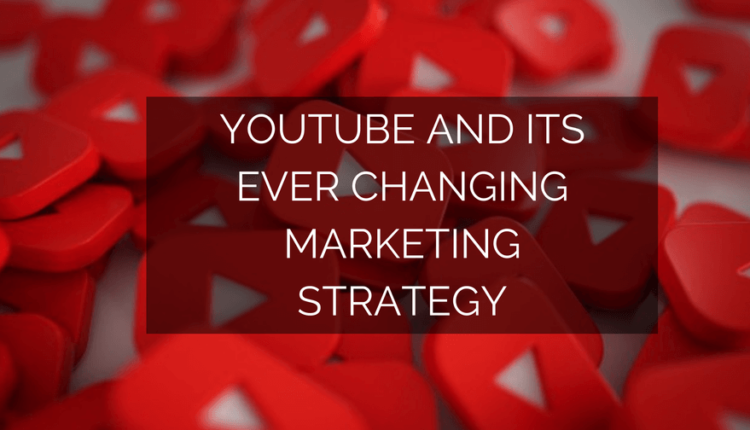 It's the year 2020, every platform has a marketing plan or strategy that can turn it into something that is profitable for you. YouTube is one of them and right now it is flourishing more than ever. While it is the biggest online video-sharing platform, many look at it as a social media platform as well. With the changing algorithms and updates, it is becoming one! 
Now, there are so many marketing opportunities flooding YouTube. YouTube has been around longer than other social media platforms and has more than 2 million users worldwide. Here's how you can get started with a simple yet important YouTube Marketing Strategy to boost your channel and increase viewership and subscribers. 
Create a YouTube Business Channel
You want your business to be on YouTube, you've got to start at the basics. Create a Brand Account on Google. On YouTube you can use your Gmail account to create a channel that will be under your name. What if I want to create a channel using your personal account you might ask? Well, that's ok; you will be allowed to create only one channel that you solely can manage. But having a brand account is better in the long run as your business starts growing. You can create and manage multiple channels while also allowing other users to log in at the same time. 
Your audience = Your champions
Once you have a channel, depending on the type of content you upload and your creativity, it is surely going to attract different kinds of viewers. Some might praise you, some might criticize you for the better but some are simply trolls who only engage with the intention of getting your attention. 
One needs to know how to identify between the three and use them to your channel's benefit. To know the difference, you will have to read the comments carefully and maybe go through their social media profiles to understand their interests and modify your content to meet their needs. When a user relates with your content, they bring in more viewership and clicks which in turn increases your subscribership as well. 
For instance, if users are mostly interested in watching gaming videos, to reach out to those users, you can create a tutorial video of a new game that has been launched or a video showing how to get past a difficult level creatively in a certain game. Users will use what they learn from your video while playing the same game and come back and comment on how helpful it is and what other videos you can create. YouTube now also lets you hold polls to understand what your audience prefers. You can do so by visiting the Community Tab. This YouTuber who choreographs dance videos once held a poll asking users which song she should create a video on next! You can also go to analytics and view more details about your audience under the channel analytics.
Know your competition
The competition on YouTube is crazy and you need to keep up with it using Competitive Analysis. How do you do that?
Identify competitors
You can start by picking out two to five competitors. If you're unsure how to do that, try Google Ads' free Keyword Planner to ascertain which companies rank high for keywords related to your content. Or see what channels appear in searches on YouTube for equivalent keywords. Observe their key metrics such as subscriber counts and viewership stats so that you can use them as a yardstick for your channel. Take a look at the titles and descriptions to determine what keywords they use. Read the comments on these videos to know what people are saying, maybe, their audience will overlap with yours.
SWOT It
A lot of businesses do a SWOT analysis to test their Strengths, Weaknesses, Opportunities and Threats to identify where their competitors stand. In a  YouTube Marketing Strategy you can use this to know about your competitors and to also know what works and doesn't work for your channel. 
Learn and adopt
If you're on YouTube, you must have a favorite brand, channel or YouTuber. You can go through their channel and videos that are trending to know what you can do with your videos. Most viral or trending videos always have something about them that users like the most or stand out of the crowd. Once you identify that unique thing, even if the video is different from your brand, you can always learn and adopt a few tricks from those videos. For instance, things such as what effects do they use? What tags do they use? What does the description look like? What's the length of the video? Create a YouTube Content Strategy.
Optimize your YouTube Videos
What is YouTube if not a video search engine? Video optimization is very important if you want them to appear on the first page of the search engine results page. You can start with adding a strong title that will attract more viewers and show up on YouTube's algorithm. Put relevant keywords to make it catchy. Check what kind of keywords will help you rank higher on SERP or use tools like the Keyword Tool that help you dig deeper and find keywords that go with your video content.
Do not use keywords that have nothing to do with the video; it will only get your ranking down. Always use less than 60 words in your title so that it doesn't get cut off when appearing in the suggested videos list. Remember to stay away from bad grammar, too much punctuation, and vulgar words. People click on what they see, so your thumbnail has to stand out. Creating a unique and attractive thumbnail will get you higher clicks on your video.
The description of your video needs to have relevant details about the content you upload. If it is a tutorial video, you could mention a short description about the tutorial, split the timeline for users to know from which minute the next topic is covered in the video if someone wants to simply skip to the next part. Include hashtags, cards that expand when clicked on – CTA's that take them to your website or playlist, ends screens, bumper ads and watermarks so that no one can copy your content. Most importantly, remind users to like, subscribe and share your videos across their social media platforms.
Create a schedule for your upload
Imagine having a channel without a proper schedule for posting videos. If you want your brand to be noticed and remembered, time and time again, you need to appear on the notification bar of your subscribers as much as possible. There are many tools, YouTube Buddy being one of them, where you can schedule posts that will be uploaded on their own. It is sometimes difficult remembering to do so given your busy schedule. 
Optimize your channel
Make it easier for people to seek out and follow you on YouTube by optimizing your channel. Start with completing your YouTube profile. Add finishing touches to your YouTube profile. Give a keyword-rich summary of what people can expect from your channel when they hit the subscribe button through your channel description. Include links to your website and social media handles too. Upload a high-resolution channel icon where people can know what your brand logo looks like. Use the banner space to welcome viewers to your channel. This area may be a good place to market your channel schedule, or an upcoming launch, or service through channel art. You can also add other featured channels to your profile which will direct people to your other channels or to channels that might peak the user's interests. This way you can also open yourself to the opportunity of collaborating with other channels in the future, by featuring them on your page.
Try YouTube Advertising
Once you have set up your channel and you have a decent number of subscribers and audience, it's time to reach out to those who don't know about you yet through advertising and the world of YouTube advertising knows no bounds. There are so many ways you can reach out to users and make your channel known. One way to do that is by going viral organically. Tools like Veefly help in such cases. Investing is advertising in the right way will only profit your channel by bringing in more clicks and viewership. Regarding YouTube ads, people would rather watch online ads than TV ads. There are many types of YouTube ads such as Skippable in-stream ads, Non-skippable in-stream ads, Video discovery ads, and Non-video ads such as overlays and banners. You can choose from this range a type that suits the tone of your channel and the type of ad you want to run. 
Get some influence
One of the simplest ways to showcase your brand and reach a wider audience on YouTube is by working with an influencer. According to Google, 60% of YouTube subscribers are more likely to follow shopping advice from their favorite YouTuber over their favorite TV movie personality as they are more relatable. With the proper partnership, creators can transfer that reliability and trust to your brand. When it involves these partnerships, let the influencer do the talking. The more controlling you will try to be, the more fake the outcome will be. The words coming out of an influencer's mouth must be natural and out of their own genuine experience. 
Observe and Adapt
With your YouTube channel up and running, it's time to start measuring your success and failures. Getting YouTube marketing right involves testing and experimenting, succeeding and failing. Not everything will work, and that's okay as long as you learn from it. Use YouTube Analytics to watch the growth of your channel and track the performance of your videos. Once you publish a new video, keep an eye out for significant changes in subscriber count, new or changing audience demographics and traffic sources. What you discover should modify your YouTube marketing strategy moving forward. Don't undervalue qualitative metrics, too. Read the comments to find out exactly what people believe about your video. Visit the Community tab often to ascertain what people are talking about.