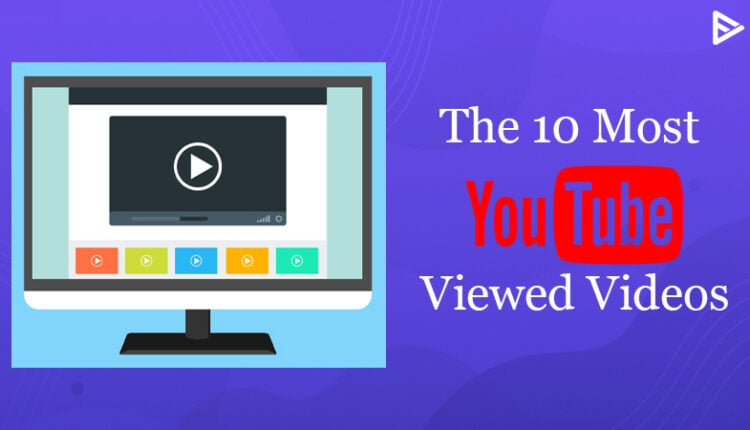 YouTube has more than 500 hours of videos uploaded every day and over 5 billion videos are watched every day. Do you want thousands of views on your videos? As a beginner, you need to know the techniques to get more views on YouTube. You need to be consistent and work hard to earn maximum views on your videos. In this blog, we will discuss the list of YouTube Top Viewed Videos in 2021.
Here's a list of most-viewed YouTube videos
This list includes the popular YouTube videos which are dominated by kids entertainers and the music industry!
Baby Shark Dance
This is a 'children's song' and is a very popular campfire song. A South Korean company 'Pinkfong' made a video and this song became Viral over social media. Pinkfong's version became the most viewed video on YouTube in November 2020.
Despacito
Almost all of us have grooved to this Spanish song by Luis Fonsi and Puerto Rican rapper Daddy Yankee. It is one of the most viewed songs on YouTube since 2017.
Johny Johny Yes Papa
Do you remember this famous nursery rhyme? This takes me back to my kindergarten days! This rhyme was first featured in an Indian commercial. It was recreated many times but on 20th August 2020, this rhyme was a part video by Loo Loo Kids in 2016. It has almost 3.7 billion views on YouTube.
Shape of You
Have you not danced to this Ed Sheeran's number yet? You must have heard this song play in almost all clubs and bars! This song was released in 2017 and was loved worldwide. It stayed up on the number one position in the United States, United Kingdom, and Canada! Later on, it became the best performing song of 2017.
See You Again
I am sure you must have definitely heard of this song composed and sung by American Rapper Wiz Khalifa and Charlie Puth, an American singer as a tribute to Paul Walker. This song was a part of Fast & Furious 7 and the song was released in 2015.
Masha and the Bear – Recipe for Disaster
As kids, we all love watching animated series. This is a Russian kids' entertainment series about a girl named Masha, who is saved from disasters by Bear, her caring friend.
Uptown Funk
Have you heard this disco-pop, rock-funky song by Mark Ronson and Bruno Mars? This song fun-loving and will lift your spirits up. This song was released on 10th November 2014 and just hit on the top of the music list worldwide! It has over 4.2 billion views.
Learning Colors – Colorful Eggs on a Farm
Another kids entertainer on the most-viewed YouTube videos list! This is an animated video about eggs that change colors, change shape, and size! It has over 4.15 billion views.
Bath Song
Kids entertainers act like parents' best friends. If you have observed kids, you know that they need entertainment for all their daily routines including eating and having baths. This song by Cocomelon – Nursery Rhymes has over 4.14 billion views.
Gangnam Style
Did you try dancing like the K-pop megastar Psy? It has over 4.09 billion views and this makes it the eighth most-viewed video on YouTube and the fifth-most liked video!
Concluding thoughts on popular YouTube videos
These are the most popular YouTube videos. Also, read our detailed guide on video content to boost your views on YouTube.