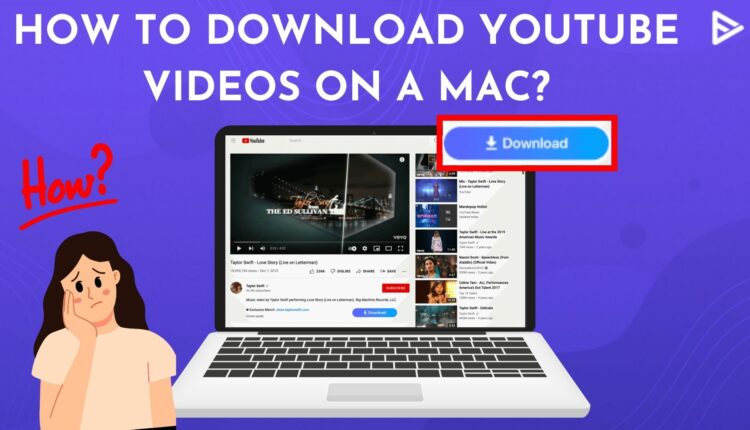 YouTube as a platform has evolved a lot since its launch in 2005. The platform has recently released a premium subscription plan for those who do not want ads constantly popping up on the videos. But if you do not want to buy the subscription and still don't want the ads to interrupt your videos, you can download YouTube videos on a Mac and enjoy the ad-free videos whenever you want.
So, we have listed 5 ways to download YouTube videos on a Mac.
List Of YouTube Video Downloaders For Mac
Before you go ahead with downloading YouTube videos on your Mac, there are a few things you should know. First, for security reasons, Apple or the Mac operating systems do not allow access to third-party websites easily. But below, we have listed a few sites that are easily accessible through your Apple desktop, allowing you to download videos from YT. You can also download music and audio from YouTube.
1. EaseUS YouTube Video Downloader For Mac
EaseUS YouTube video downloader is a web application that you can easily download YouTube videos on Mac. It also provides features like high-quality downloads, bulk downloads, subtitle downloads, etc. All you have to do is:
Open your browser and search for EaseUS YouTube video downloader.
Tap on the download for Mac option on the screen.
Once installed, open the application on your computer and select the YouTube option.
Next, search for the video you want to download.
You will see a blue download button under the video.
Click on the download button and choose the video format you want.
Now again, click on the download button.
2. KeepVid To Download YouTube Videos On A Mac
If you do not want to download software for saving videos from YouTube on your Mac, you can use the KeepVid online YouTube downloader for Mac. Also, you can download the videos in multiple formats, and also the metadata is preserved. Also, the video subtitles remain the same.
3. YouTube Video Downloader
This is an infamous website for downloading videos from YouTube. It works well for both macOS and Windows. You get multiple video formats and also audio formats to download the videos. And it is entirely free of cost. You must copy and paste the video URL from YouTube and click the download button. The video will be saved in your Mac downloads folder.
4. Y2mate Video Downloader
Like YouTube video downloader, this online video-saving website allows you to download YouTube videos on Mac for free. This has multiple formats that you can choose from to download your videos. You can also download videos from other platforms using Y2mate, such as Facebook, Video, Dailymotion, Youku, etc.
5. 4k Video Downloader
4k video downloader is a freeware online website to download videos from YouTube. Like other free video downloaders, you can get the video in formats like MP4, FLV, MKV, MP3, OGG, and M4A. Just copy and paste the URL from the Youtube video and paste it on the 4K video downloader page, and you are good to go!
Frequently Asked Questions
Q1. Where To Find The Link To Download Video From YouTube On A Mac?
You can find the YouTube video link when you click on the share button below the video and then click on Copy URL.
Q2. How Can I Download YouTube Video On Mac Without Any Software?
You can download a YouTube video on Mac without any software using free online websites. For example, Y2mate, YouTube video downloader, etc.
Q3. Which Is The Best YouTube Video Downloader For Mac?
The best YouTube video downloaders for macOS are 4k, Y2mate, YouTube video downloader, EaseUs, and many more.
Q4. Is It Illegal To Download Videos From YouTube?
YouTube videos have a copyright, so technically, yes, it is illegal to download videos from YouTube. But as far as you do not use or publish the video without giving the due credits, you can be safe.
Conclusion
That's all you need to know about how to download YouTube videos on a Mac. But be aware of copyright laws before downloading the videos. If you are saving it only for the watching purpose, you are safe. You can use the free online websites by just copy-pasting the video URL and selecting the video format and quality you want. You can also download YouTube videos on your iPhone using the same websites.