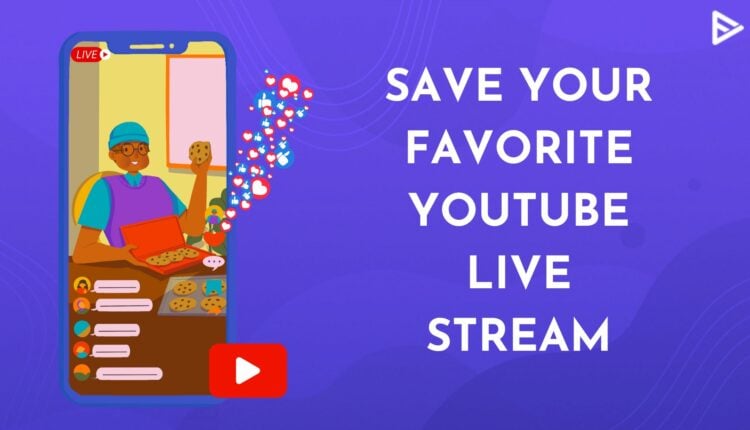 Wondering whether you can watch YouTube Live stream offline? You have landed on the right article that explains the ways to download YouTube live stream videos. You can follow the steps highlighted in this article to save your favorite video content to your device using reliable and secure tools.
What Is YouTube Live Stream?
YouTube allows content creators to start streaming in real-time to engage with their communities and expand the reach of their audience. Explore the effective ways to live stream on YouTube and engage your audience. However, if you are not able to watch the live stream of your favorite YouTuber, you can choose to download their live stream videos and watch them later.
How To Download YouTube Live Stream Videos Using Third-Party Apps On A Desktop?
YouTube doesn't offer its own solution to download live streaming videos. Fortunately, there are many third-party tools available online that will help you download these videos. In order to download your favorite videos from YT, you need a YouTube Downloader. It is a tool that can download videos and audio from YouTube. These tools can be classified into two types, namely, Desktop YouTube downloaders and online YouTube downloaders.
Use the following Desktop YouTube downloader tools to save your live streams and view them in your free time.
1. MiniTool uTube Downloader
It is one of the most popular tools to download YouTube live stream videos. It is completely free to use, with a user-friendly interface that allows you to download streaming videos without degrading their quality. Follow these steps to save a live stream.
1. Launch the MiniTool uTube Downloader application on your desktop.
2. Navigate to the YouTube Downloader section.
3. Go to YouTube, copy the live streaming video's URL address, and paste it into the search bar. Click Enter.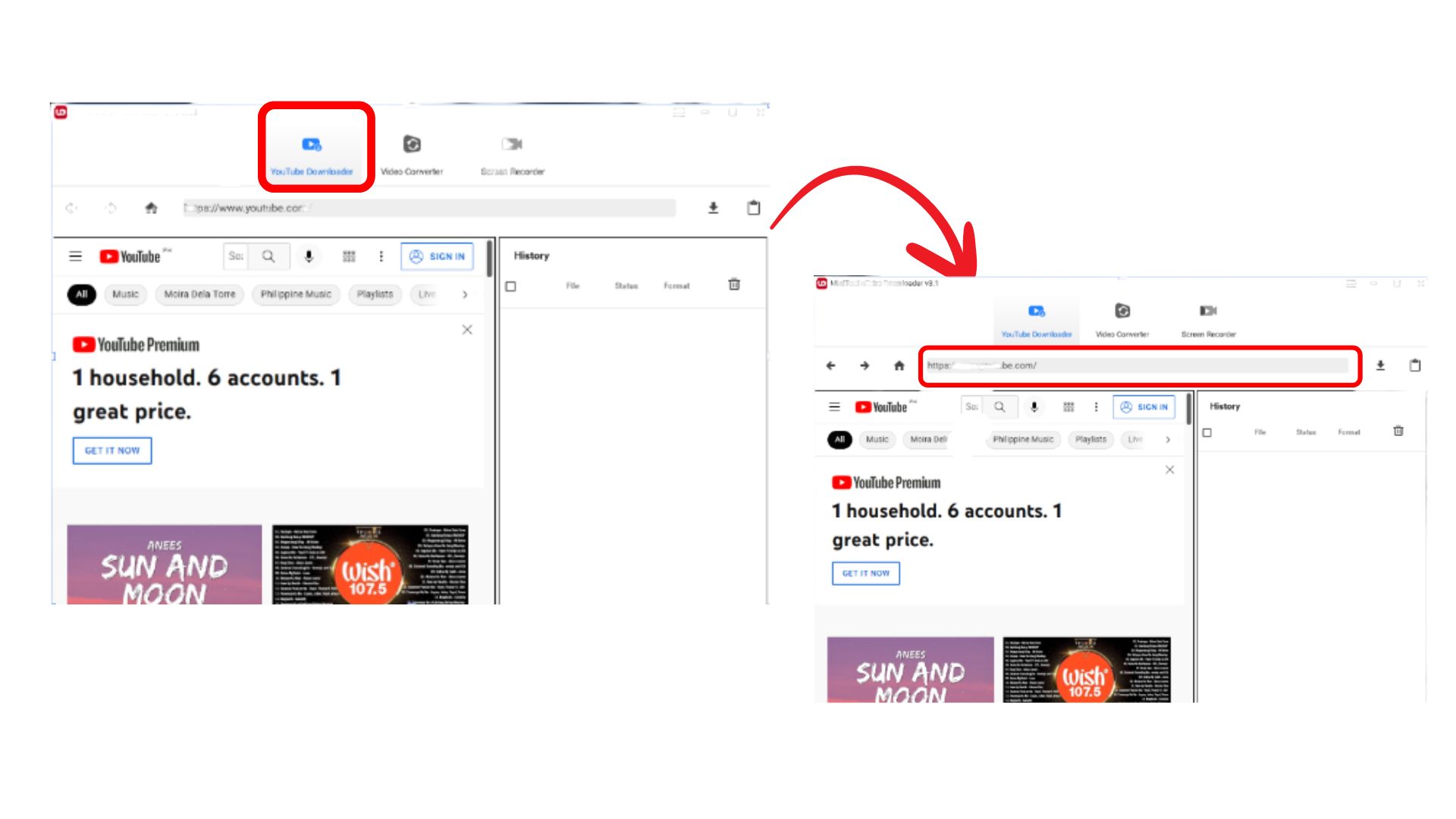 4. Once the desired video appears in the search results, play the video.
5. Click on the Download icon beside the address bar.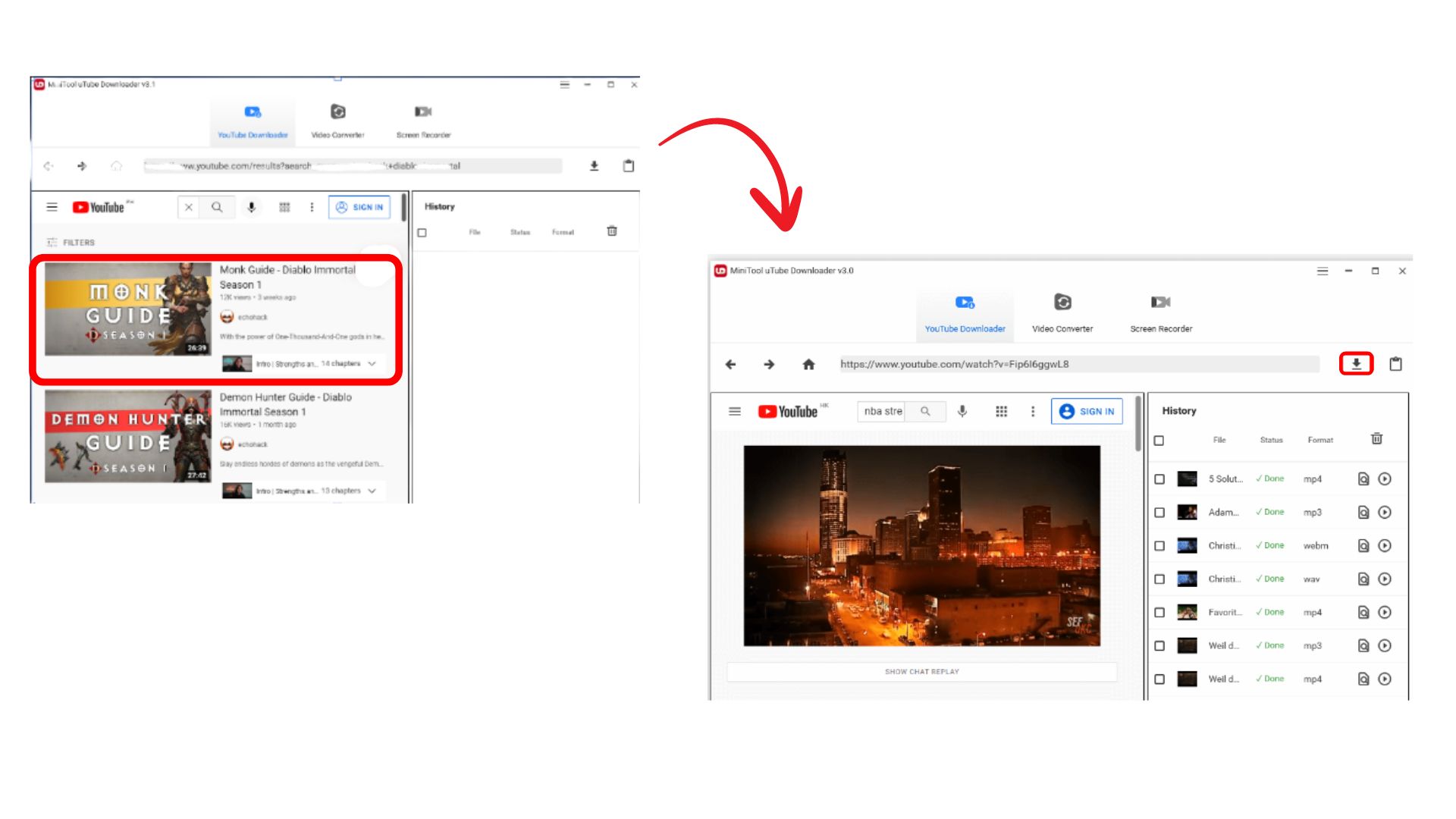 6. A tiny window will pop up displaying available file formats. Select the desired file format in which you wish to save your video and click the download button. The video will then be downloaded in a few minutes.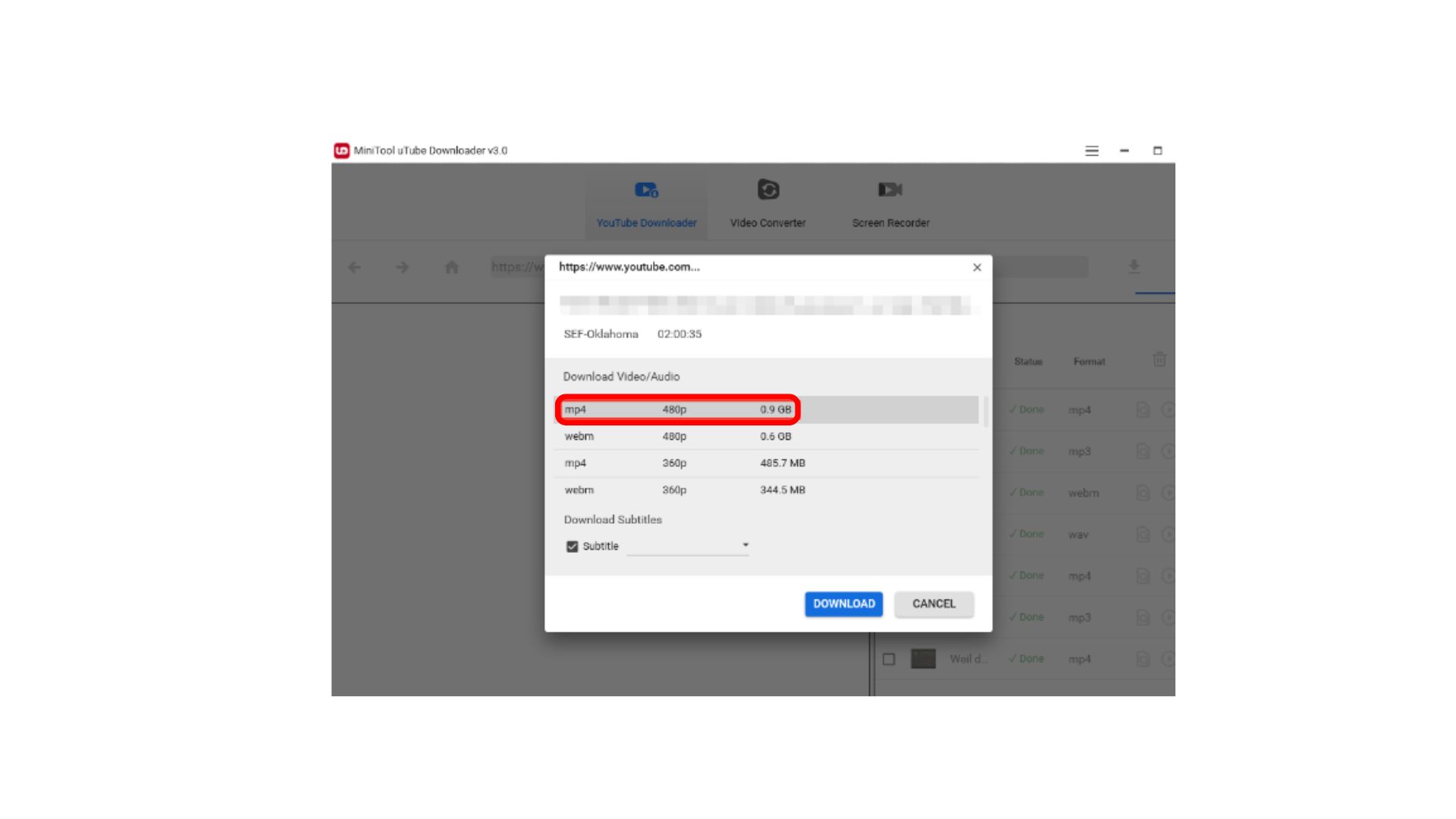 2. ByClick Downloader
It is one of the simplest tools available for saving streams offline on a PC. Follow the steps below to download YouTube live stream videos
1. Download and install the ByClick Downloader on your PC.
2. Open YouTube and click on the live streaming video you wish to download.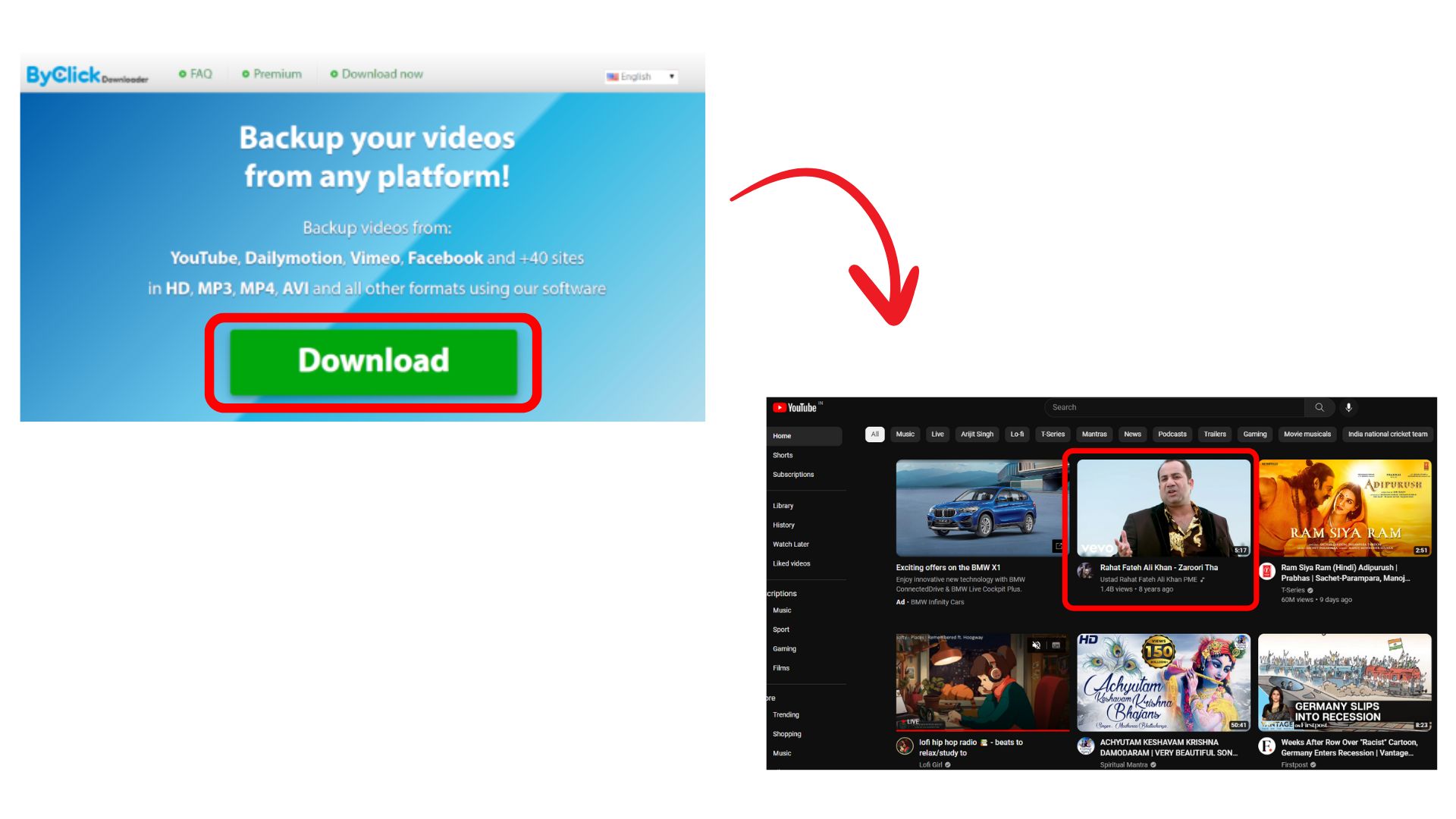 3. A small pop-up box will appear on the bottom right-hand side of your screen, asking you whether you wish to download the streaming video. You can also choose to download an MP3 version of that particular video.
4. Your video gets downloaded with just one click. Upon completion, the video will appear in the selected folder.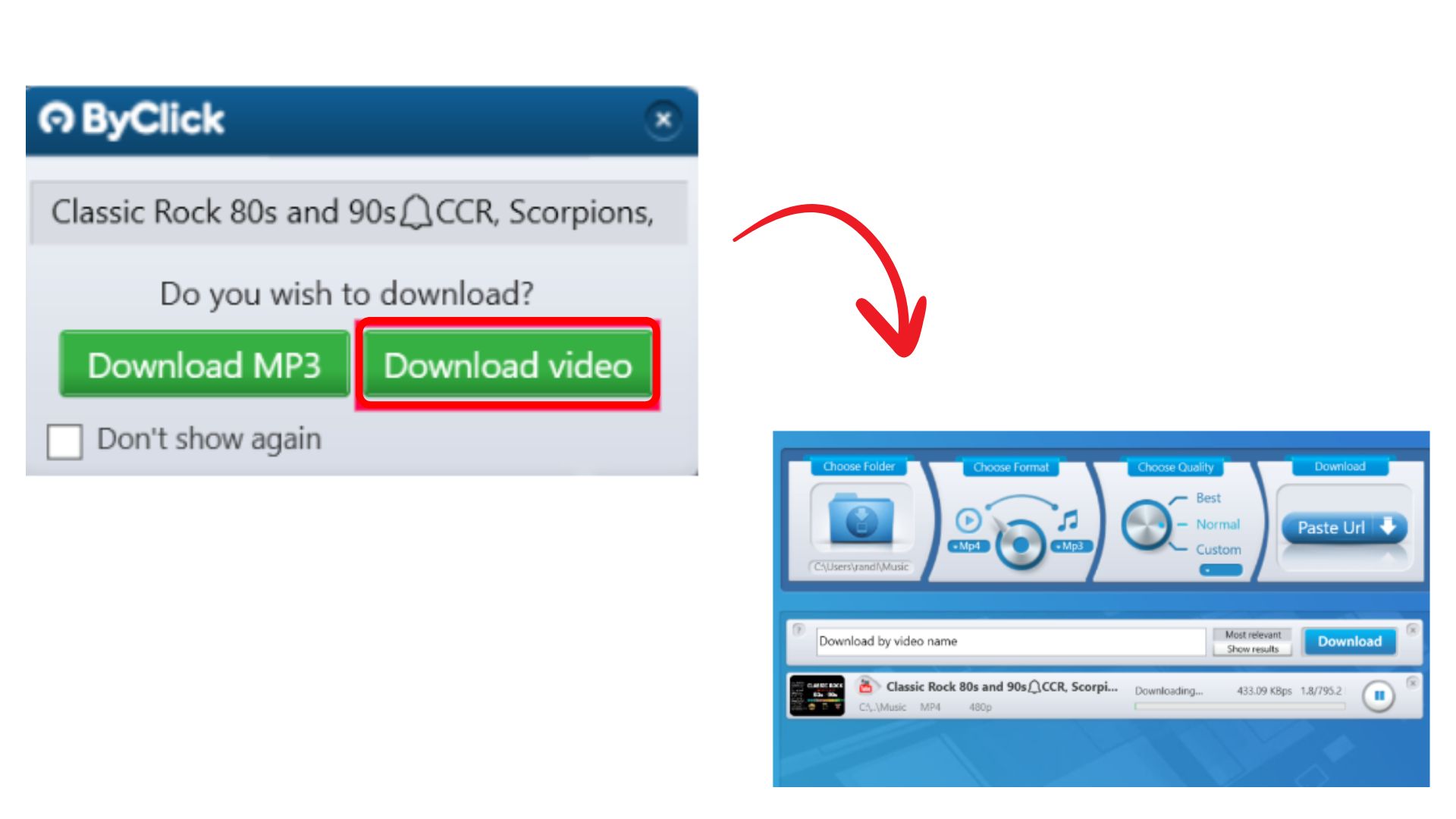 Download YouTube Live Stream Videos On A PC Using An Online YouTube Downloader
You can also save live streaming videos on your desktop using an online YouTube downloader. However, before you use such a tool, make sure to tick the following.
Never click on the pop-up Ads. It may lead to potentially unwanted applications being downloaded automatically to your device.
Never click the 'Allow' icon on suspicious web pages. The online links can redirect you to suspicious sites, and you might frequently receive unpleasant notifications.
You can use Y2Mate, a free tool that allows you to download videos and audio from many popular platforms, including YouTube. Follow the steps below to download the live streaming videos.
1. Open your favorite browser and search for Y2Mate. Open it.
2. Switch to the YouTube tab and copy the link of the live stream video you wish to download.
3. Paste that link into the address bar available on the Y2Mate webpage.
4. Scroll down the page, and you will see various options for downloading the video. Select the format you wish to download your video in and click on the download button.
5. Wait for the site to finish the download. Once done, right-click the file and select open file folder to access the file.
Note that you will come across many Ads during this process. For security reasons, avoid clicking on any of those ads. Even if you close them, they will appear again and again.
Conclusion
When it comes to downloading YouTube live stream videos, it is best to use a desktop app. They are simple, reliable, and secure to use. With ongoing support and consistent app updates, you don't have to worry about hopping from one application to another to save your live stream videos. If you are using an online YouTube downloader, be careful to not click on the ads that pop up. Apart from live stream videos, you can try to download your favorite YT shorts on your device. It's time that you can take the pleasure of watching your favorite live streaming videos offline. Simply download it using a trusted third-party app stated in this article.
Frequently Asked Questions
Q1. Is It Legal To Download YouTube Videos Online?
Yes. It is completely legal to download YouTube videos. However, remember that saving copyrighted content without permission from the respective owner is illegal.
Q2. How To Download YouTube Live Stream Videos Without Any App?
Yes. You can download YouTube videos without using a desktop app. Use an online YouTube downloader to save your favorite live streaming videos.
Q3. Is It Safe To Download Videos From Online YouTube Downloaders?
It is recommended to be careful to not click on any of the tempting ads while using online YouTube downloaders. These links can take you to suspicious sites that may try to steal your data.
Q4. Can I Download Live Streams On Android?
Yes. You can open the browser on your Android device and use the online YouTube downloader to download YouTube live stream videos.