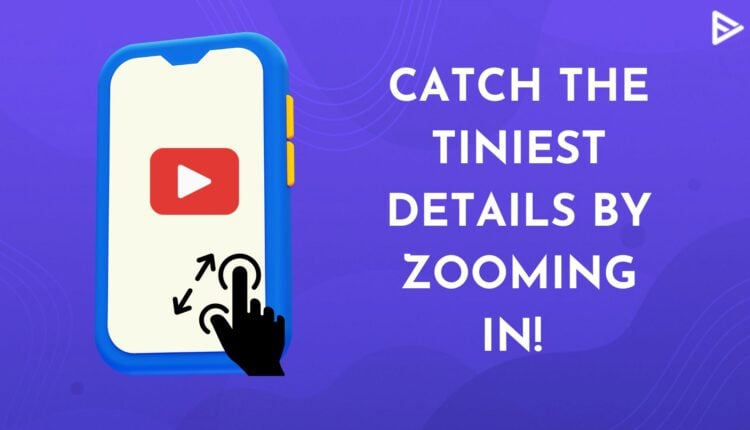 While watching videos on your mobile device, have you ever felt the need to zoom in on a YouTube video? No wonder millions of people watch videos on YT daily from different devices. When watching on a smaller screen, you might feel the need to zoom in to see better. Well, this is an easy fix!
Using this blog, learn to zoom in on a YouTube video in a few easy steps. If you think that zooming is only limited to mobiles, iPads, tablets, or other handy gadgets, then it's not true. By the end of the blog, you'll find various methods to zoom in and out on a PC. So let's make your watch time more immersive.
How To Zoom In On YouTube Video? (Mobile Devices)
Zooming in any YouTube video is an effortless task. The feature of fullscreen is offered by the platform itself. But if you want to pinch and zoom in, you can do that by following these simple steps:
Open the YouTube app.
Play the video and tap on the full-screen mode in the bottom right corner.
Pinch the screen with two fingers to zoom in as much as you like.
You can zoom in to fit the screen or even more.
If you're thinking about how to zoom out YouTube videos, then simply repeat the process in reverse. Pinch out, and that's it. You cannot zoom out to make a video completely small in view.
How Do You Z
oom In On YouTube Video on PC?
You can still zoom in on videos when watching YouTube on a browser from your PC. There are three methods through which you can do that:
Method 1: Using the browser zoom feature
So this method is pretty simple, and you don't have to do any extra steps to zoom in and watch a YouTube video.
Open YouTube.com on your web browser.
Play the video you want to watch.
To zoom in, click on the three dots available in the top right corner of the browser.
You will see the Zoom option, followed by the "–" and "+" signs.
Click on the "+" sign to zoom in on a video.
To zoom out, simply click on the "–" sign.
You can use this same feature using your keyboard and mouse as well. Press and hold the Ctrl key and scroll the mouse wheel to zoom in or zoom out. Even the browser's search bar has "+," "–" options. Just click on the magnifying glass icon.
Method 2: Using a browser extension
If you want better zoom or viewing options, you can always download a separate browser extension that allows you to do so. If you're using a Chrome browser, we suggest you download an extension called "Turn off the lights, " which is free. Remember downloading any extension that has the specific feature of zoom in on a YouTube video will give you more control and a better viewing window.
Method 3: Download the video
Lastly, you can download a video on your Mac, PC, or mobile device and watch it offline however you like. Zoom YouTube video on your phone or PC while playing on any video player you choose. So this way, you can use any specific video player that has a zoom in or zoom out feature in it.
Conclusion
Following these steps, you can easily zoom in on a YouTube video of your choice. For an even enhanced watching experience before zooming in on a YouTube video, you can even turn on the ambient mode on YT. This will make your watching experience more immersive.
Frequently Asked Questions
Q1. What is the short key to zoom in on YouTube?
Press and hold the "ctrl," and "+," "shift" keys to zoom in on a YT video. To zoom out on a YouTube video, press and hold the "ctrl" and "–" "shift" keys.
Q2. How do you zoom in and out on YouTube?
Pinching with two fingers to zoom in and out of a YouTube video is the fastest method. Users can access this feature on mobile devices and even on laptops.
Q3. Why is pinch to zoom not working?
Maybe because of specific settings on your phone or a glitch in your device, this feature is not working. However, if you reboot your phone or change the system control settings, your issue might be fixed.
Q4. How to pinch zoom on a PC?
You can pinch and zoom in on any YouTube videos on laptops using your touchpad. Just like your phone, use your two fingers to zoom in and out.