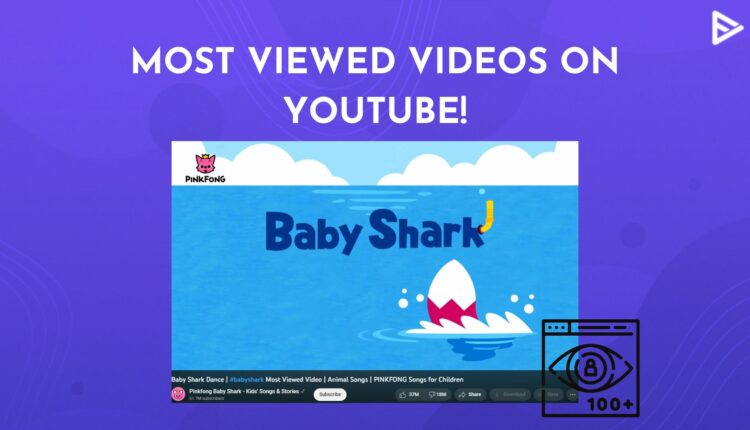 Today YouTube has over 800 million videos on the platform, but what are the most viewed videos on YouTube? Back when YouTube was launched in 2005, nobody ever imagined it would be this big deal only a few years later. But now that it is the most popular streaming platform, the question of what YouTube video has the most views naturally arises.
This article will look at the top 5 most viewed videos on YouTube.
What Is The Most Watched Video On YouTube?
Ever since the kids' music video 'Baby shark' took over the internet, nobody else has yet managed to break its record. The 'Baby shark' video remains the most popular video even in 2022. It currently has over 11 billion views on YouTube.
And how could it not! This song didn't just become the highest viewed video on YouTube because people liked it. It became a trend and a meme. From there, the baby shark sound was used everywhere. You just could find an escape. It was in memes, reels, TikToks, and even on national television.
Top 5 Most Viewed Videos On YouTube
Now that you know what YouTube video has the most views, let's look at the runner-ups! You would be surprised to read that all of these are music videos.
Here are the most viewed videos on YouTube after 'Baby shark':
#2 – Despacito
Again, just like the most viewed video on YouTube, this ranking is pretty obvious. The Spanish hit Despacito by Luis Fonsi feat. Daddy Yankee was everywhere when it first came out. There's even a version featuring Justin Bieber, but the original Spanish version got on top of the chart way too quickly.
Despacito currently stands at 7.9 billion views and therefore is the runner up for the most viewed YouTube video.
#3 – Johny Johny Yes Papa
Kids love listening to nursery rhymes on YouTube. Or it is their busy parents who turn on these songs on repeat for their children to keep them busy. But yes! Johny Johny yes papa is the next most watched video on YouTube.
This video is not that far from Despacito, as it currently has 6.5 billion views on YouTube.
#4 – Shape Of You
Next up is number 4. We have Ed Sheeran taking the number 4 spot being the most viewed videos on YouTube. Not only is it on the list of the most watched YouTube videos, but Shape of You by Ed Sheeran also became Spotify's most streamed song of the 2010s decade.
On YouTube, though, this video has 5.8 billion views in 2022.
#5 – See You Again
See you again by Wiz Khalifa ft. Charlie Puth is a song on the Fast and Furious 7 soundtrack. This music video still remains special even if it is a simple concept music video. Currently, it stands at 5.6 billion views.
2 months after the See you again video was uploaded, it became the most watched YouTube video in 2017, and it remained in that position for a month. As a tribute to the beloved Fast and Furious actor Paul Walker, many fans streamed the music video repeatedly and sent their prayers in the comments section.
This video and song are also what made Charlie Puth famous, and after that, he released a lot of hits.
What Youtube Channel Has The Most Views?
If you were there for the eventful subscriber face-off between T-series and Pewdiepie, you must remember that finally, it was T-series who won that battle, coming on top as the most subscribed YouTube channel. That isn't the only title T-series has.
T-series is also currently the most viewed YouTube channel in 2022, with a total of 205 billion views.
Frequently Asked Questions
Q1. What Is The Most Popular Video On YouTube?
The popular video in terms of views right now is Baby shark by Pinkfong.
Q2. What Type Of YouTube Videos Get Viewed Most?
Music videos have always been the type of videos to get popular quickly and maintain that popularity.
Q3. Who Was The First Female Artist To Receive 1 Billion Views On YouTube?
Katy Perry, with her music video Dark Horse, was the first female artist to reach the 1 billion views mark on YT.
Q4. What Is The Most Viewed YouTube Video In 24 Hours?
Butter by BTS is the YouTube video that reached 108 million views in 24 hours which is the fastest any YouTube has reached so far.
Conclusion
It's not really surprising that music is the genre that tops the charts even on the video-sharing platform. Just because these videos are popular doesn't mean they're liked. There are plenty of videos on YouTube that have a lot of people watching them only to press the dislike button. But now you know what are the most viewed videos on YouTube.
The top 5 videos are:
Baby shark
Despacito
Johny Johny yes papa
Shape of you
See you again