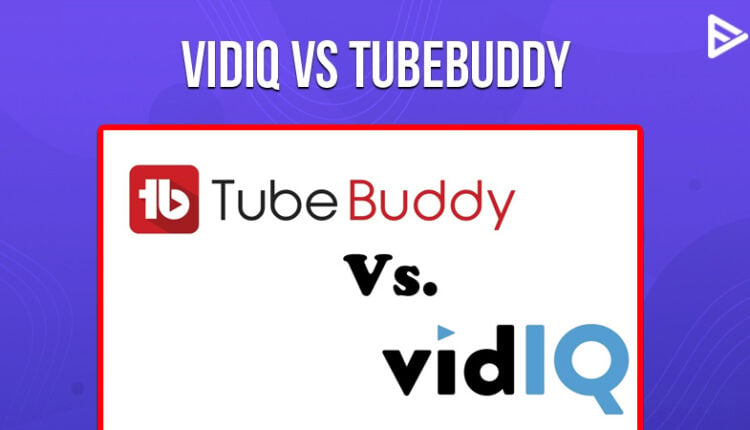 You must have heard about both tools if you are a YouTuber since they help you analyze your YouTube channel. VidIQ vs Tubebuddy is a tough competition. It's challenging to choose one over the other. 
VidIQ vs TubeBuddy is a never-ending competition for YouTube Marketing. Both platforms have paid versions. So, if you invest your money, you need to compare tools and understand which platform will give you maximum benefits at the minimum price. In this blog, we will learn the main features of each tool in detail, compare both platforms, and find the best tool for your YouTube channel analysis.
Which Platform Is Better For YouTube Analysis: VidIQ Or TubeBuddy?
Both platforms have their pros and cons. While VidIQ seems to have detailed insights, TubeBuddy gives you a clear idea of how your video performs. You can use both tools. But if you need more clarity on which tools to use, you can decide based on the following features.
1. Search Bars: VidIQ Vs TubeBuddy
YT has its search bar, but VidIQ and Tubebuddy have their search bars built.
Both platforms provide informative data about YouTube videos. For example, keyword information and score and related search suggestions. In addition, both tools provide detailed and valuable information when upgrading to premium.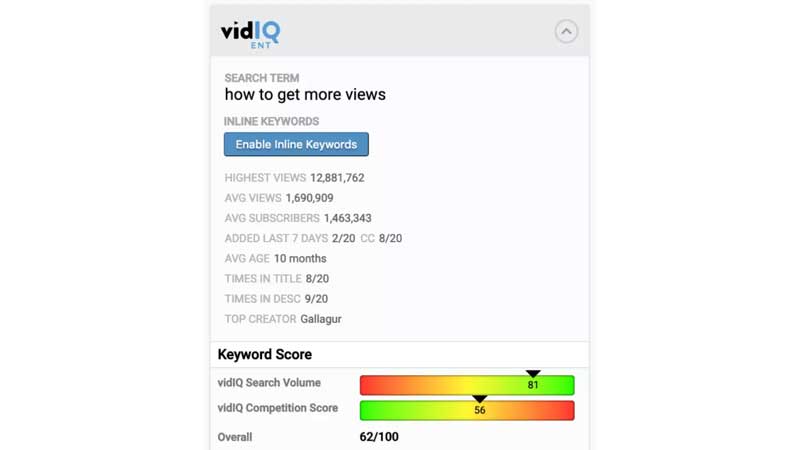 TubeBuddy gives you a clearer idea of how your video will perform in the search results. In addition, VidIQ provides recommendations for SEO-friendly keywords that will help you to get more views on YT videos. Both platforms give you a detailed overview of YouTube, but VidIQ has several more beneficial features. 
Winner for best search bar 
VidIQ is the keyword search bar winner as it provides the additional and related keywords with the main one, unlike TubeBuddy.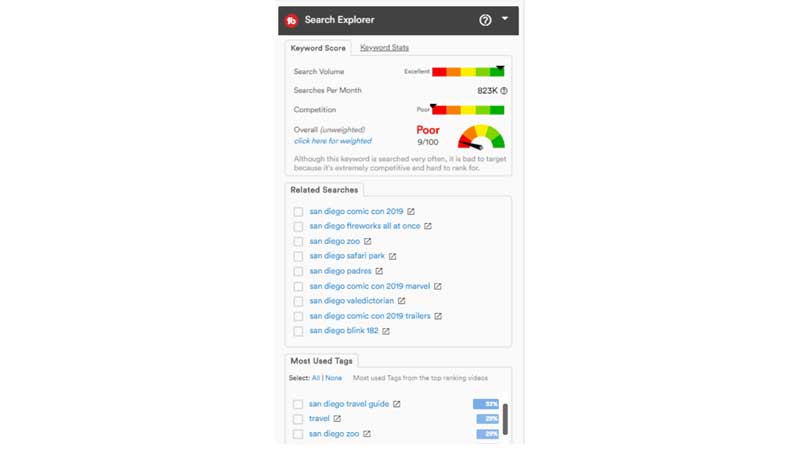 2. VidIQ vs TubeBuddy: YouTube Video Analysis
Both VidIQ and TubeBuddy have excellent video analyses. They provide a detailed analysis of your YouTube videos. Guess what? They give you valuable statistics to improve your performance and help you with your competitors' stats.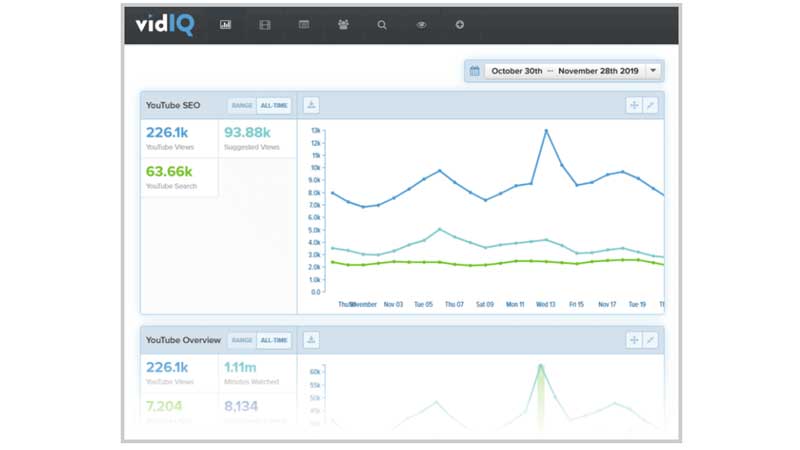 Tubebuddy and VidIQ have the best insights into video performance to offer. While sharing views information, you can see video tags, YouTube channel statistics, and the number of times your video was shared. You will also witness the YouTube rankings, showing how well your video performs compared to your competitors. While TubeBuddy will enable you to copy tags to a tag list, VidIQ renders specific statistics for YouTube videos and your channels. 
Winner for YouTube video analytics
Both tools work effectively for this metric.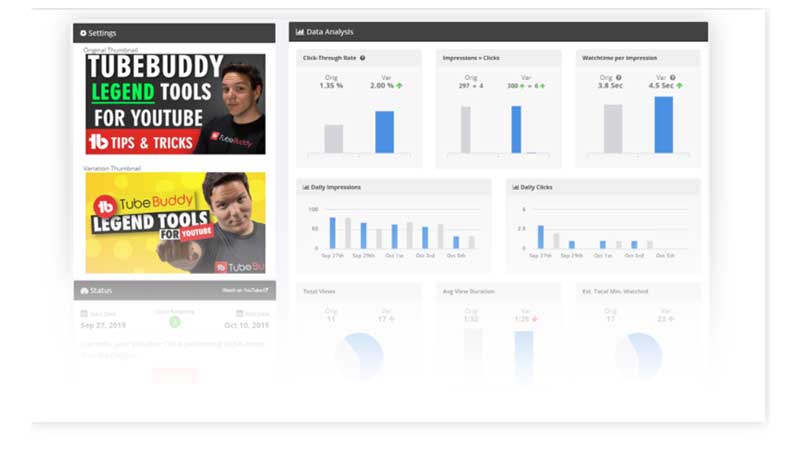 3. View YouTube Channel Statistics
Both VidIQ and Tubebuddy will show you YouTube channel tags. In addition, they have individual unique features that will help you observe your YouTube channel's performance.
VidIQ provides insights such as:
Total number of views YouTube video has received, 

YouTube video ranking, 

Number of Subscribers gained, 

The number of videos uploaded last month.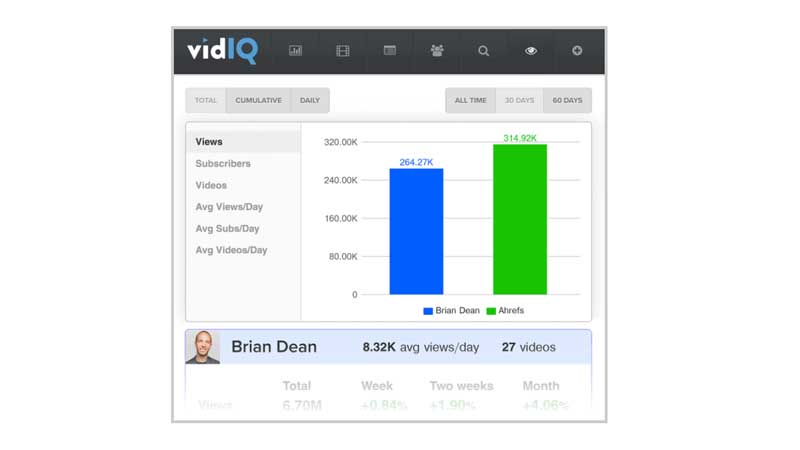 Also, if you type a keyword in the search bar on VidIQ, you will receive a list of the trending videos related to the keyword.
TubeBuddy shows a live subscriber count and lets you see your YouTube channel's performance compared to the competitors.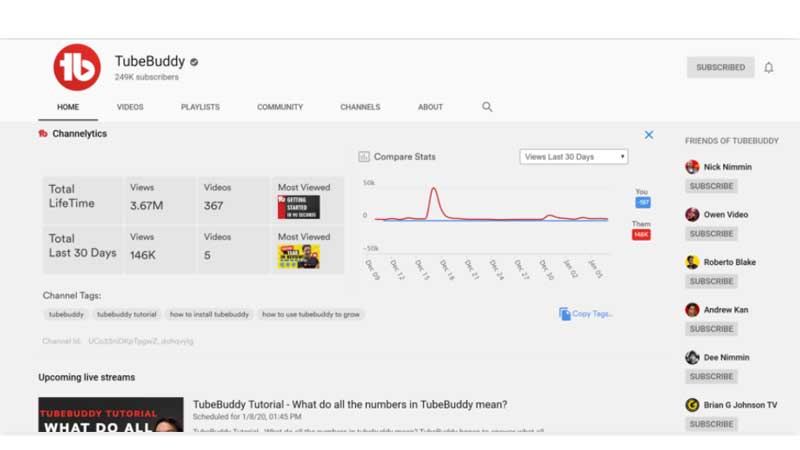 If you use these platforms correctly, these platforms will give you information that will help you grow your YT channel. 
Winner of channel statistics
The winner of channel statistics is Tube Buddy, as it gives insight into competitors and lets you compare your channel with them to estimate growth. Which is unusual in tools like VidIQ.
4.
YouTube Video Upload Feature: VidIQ vs TubeBuddy
Both tools offer suggested tags that you can add to your YouTube tags. Also, they provide a checklist to assist you before you upload your videos.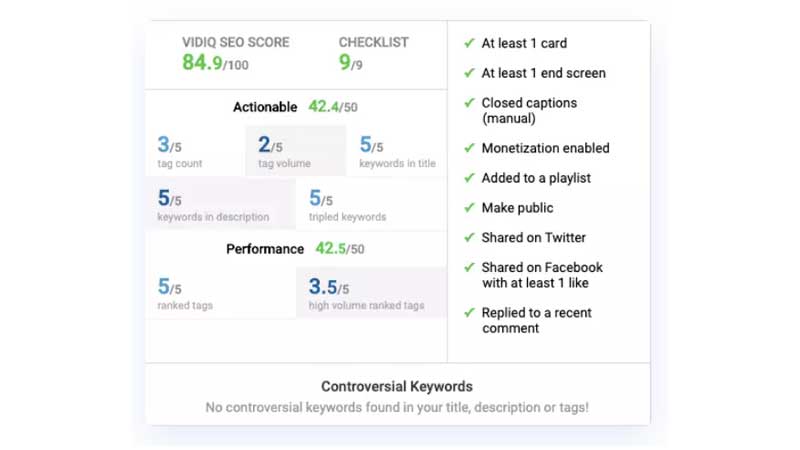 Tubebuddy offers different options and features like a thumbnail generator, end card, etc. that will help you upload your videos on YouTube.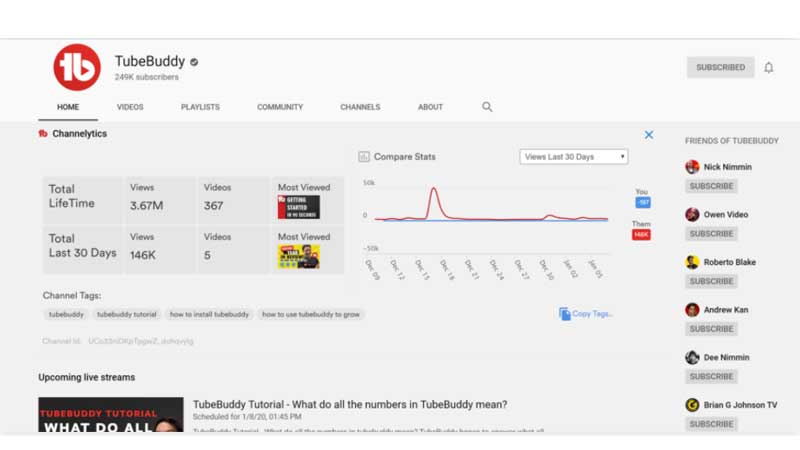 Winner of the YouTube video upload feature
Comparatively, VidIQ has fewer features than Tubebuddy while uploading videos on YouTube. That is also available in VidIQ's paid version.
Here, Tubebuddy has more features than VidIQ when uploading videos on YouTube. 
5. Additional Key Features
VidIQ and Tubebuddy have additional key features that will help you grow your YouTube channel. 
VidIQ allows you to add filters to the comment section. So, if your subscribers have asked you questions, you can directly filter the comments and answer the questions. It also shows you the like/dislike ratio that will help you analyze the views while you apply for monetization on YouTube.
Winner of the additional feature
VidIQ is better when it comes to providing a detailed analysis. 
These are some of the best features to help you grow your YouTube channel. Based on these, you can also decide which is better: VidIQ vs TubeBuddy?
6. Bulk Processing Tools: VidIQ Vs TubeBuddy
Bulk processing tools are essential as the more videos you have, the more time it consumes to manage them. Luckily, TubeBuddy provides bulk updating, copying, end screen, and deleting cards. Through this, you can make changes to your metadata quickly. So, if you want to update a link in all your descriptions, TubeBuddy scans your videos and edits the links.
VidIQ provides bulk tools only for copying, end screens, and editing cards. Hence, TubeBuddy becomes the winner of bulk processing tools. 
7. Productive Tools: VidIQ Vs TubeBuddy
Three main productive tools of Tube Buddy can make your YT life easier. This includes canned responses, scheduled publishing, and a quick links menu. Let's understand each other in detail.
Canned response: This helps create repeat replies to YouTube comments, so you don't have to write the same thing a hundred times.
Scheduled publish: This tool helps you schedule your post to publish at a later date and time.
Quick links Menu: Quick links easily navigate to common areas you go to on YouTube without clicking through multiple screens.
Meanwhile, VidiQ also offers some bulk productive tools like copy cards, end screens, and set-up comment templates to speed up answering comments and downloading metadata in bulk.
Winner of the productive tools
If you see, both tools have different productive tools that can be used to manage your channel. In such a turmoil, you can choose the tools based on the requirements.
8. YouTube SEO Tool: VidIQ Vs TubeBuddy
Knowing how to rank your videos helps you bring the maximum audience to your channel and generate views. But for that, you must have access to keyword optimization tools. Luckily, VidIQ and TubeBuddy both have YouTube SEO tools that optimize your video and let it appear on the SERP whenever the related query is searched. Creators usually opt for the TubeBuddy video SEO Tools as they come in budget.
TubeBuddy facilitates users with multiple SEO tools like keyword and search explorer, channelytics, opportunity finder, and A/B testing. In comparison, VidIQ provides features such as competitor analytics, SEO scores, trend tracking, tracking channel performance, and areas of improvement.
Winner of the SEO tools
Since VidIQ offers more SEO features than TubeBuddy, it makes it the winner of the match.
9. Promotional Tools To Share Your Videos
Promoting your videos works best when it's done at the best time. Identify when your audience is most active, and use this information to publish your videos when you can generate maximum reach. You can share your videos to multiple platforms and track all using analytics to see when your audience is more active.
Why Do YouTubers Need Channel Management Toolkits?
Like other social media accounts, YouTube needs much maintenance and a moderation toolkit. An account with billions of users requires constant attention to avoid missing comments. You might spend lots of time managing your channel and leave with no time to create new content. This is when toolkits become handy for creators. This keeps the active engagement between viewers and your channel so you don't lose subscribers. Remember the canned responses? That plays a significant role in this activity. VidIQ and TubeBuddy are beneficial to social YouTubers but have different qualities.
Main Differences Between VidIQ Vs TubeBuddy
The following are the main differences between these tools.
TubeBuddy is easily accessible as a Chrome extension and Safari browser extension, while the VidIQ extension is available on Chrome extensions.
VidIQ provides basic analytics, whereas TubeBuddy provides more advanced analytics and data for less price.
What Is Better Than TubeBuddy?
VidIQ is a solid second choice after TubeBuddy for YouTube content creators. VidIQ helps you to improve video visibility and engagement for better performance. But VidiQ is more expensive than TubeBuddy.
Conclusion
VidIQ vs TubeBuddy: Which tool is better is the never-ending debate. But we have mentioned aspects to help you choose one for your YouTube channel. If you are looking for an all-in-one solution with easy-to-use features covering everything you need to grow your YT channel, TubeBuddy will be the ideal choice. They are also more affordable than VidIQ.
Frequently Asked Questions
Q1. Is TubeBuddy better than VidIQ?
VidIQ is a winner here as it provides a complete analysis of the YouTube channel compared to Tubebuddy.
Q2. What is the pricing for premium versions of VidIQ and TubeBuddy?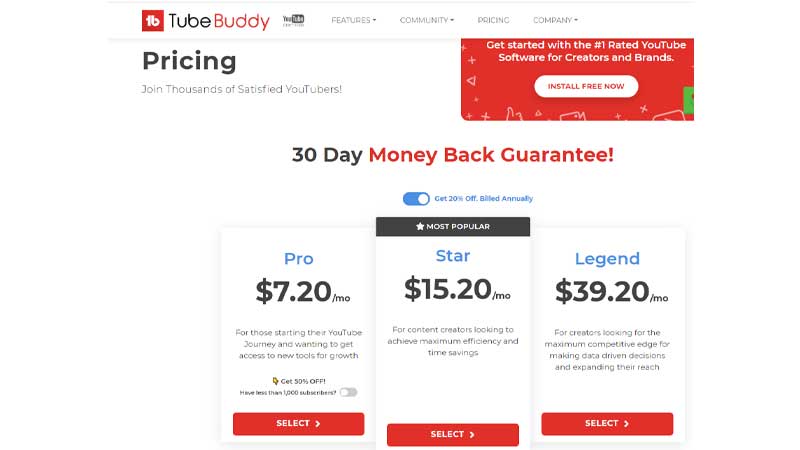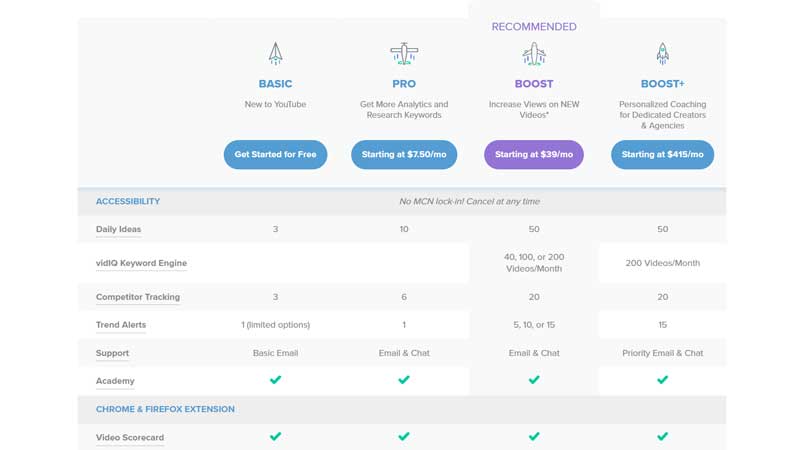 Here's a comparison between VidIQ and TubeBuddy. Choose the right one according to your requirements.
Q3. What is the alternative to VidIQ and TubeBuddy?
Many tools are available online to grow your YouTube channel. Here's a list:
Morningfame
Tubics
Vudini
Socialblade (mostly preferred after VidIQ and TubeBuddy)
Tabular Labs
Q4. Can I use both TubeBuddy and VidIQ?
The competition between TubeBuddy and VidIQ is so high that you may wonder if you can use both platforms. So you can, but it will make your interface cluttered as it has a different way of using the features. Both platforms allow you to adjust the features. TubeBuddy through the account settings and VidIQ through your Chrome extension. Although it's recommended to focus on one of these platforms to bring better results.