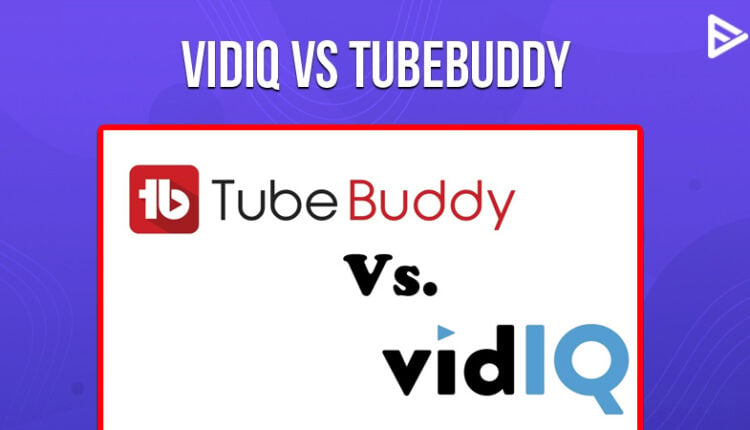 If you are a YouTuber, you must have heard about both tools since they help you analyze your YouTube channel. VidIQ vs Tubebuddy is a tough competition. It's challenging to choose one over the other. Both tools have their pros and cons. As you know, YouTube is a search engine, and if you want to rank your YouTube videos, you need to post SEO-friendly content.
VidIQ vs TubeBuddy is a never-ending competition for YouTube Marketing. Both platforms have paid versions. So if you are going to invest your money, you need to compare tools and understand which platform will give you maximum benefits at the minimum price. In this blog, we will learn the main features of each tool in detail, compare both the platforms and find out the best tool for your YouTube channel analysis.
Which platform is better for YouTube Analysis: VidIQ vs TubeBuddy?
Both platforms have their pros and cons. So let's study each feature in detail:
Search bars
YT has its search bar, but VidIQ and Tubebuddy have their search bars inbuilt.
Both the platforms provide informative data about YouTube videos. For example, keyword information and score, related search suggestions. In addition, however, both tools provide detailed and valuable information when upgrading to premium.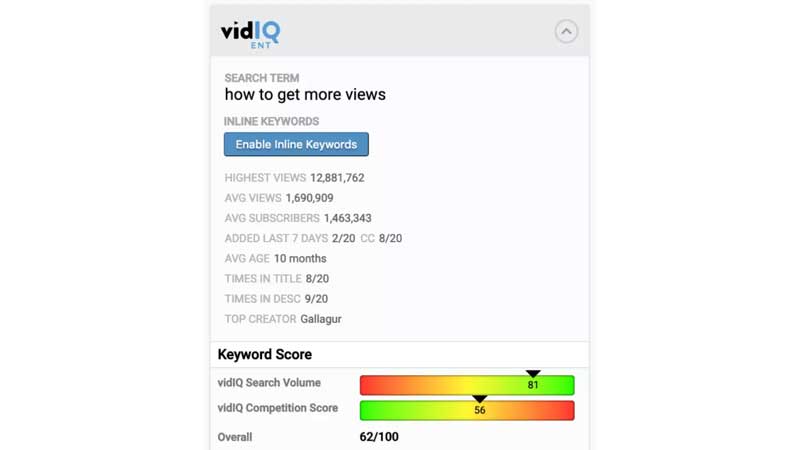 TubeBuddy gives you a clearer idea of how your video will perform in the search results. In addition, VidIQ provides recommendations for SEO-friendly keywords that will help you to get more views on YT videos. Both the platforms give you a detailed overview of YouTube, but VidIQ has several more beneficial features.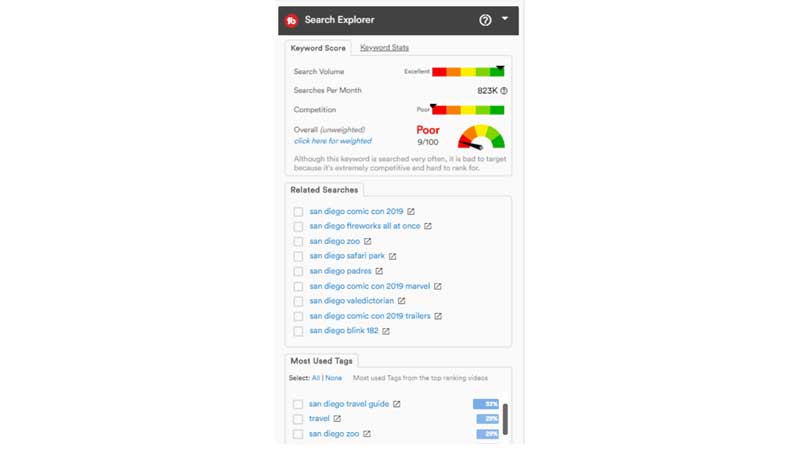 YouTube Video Analysis
Both VidIQ and TubeBuddy have excellent video analyses. They provide a detailed analysis of your YouTube videos. Guess what? They give you some valuable statistics to improve your performance and help you with your competitors' stats.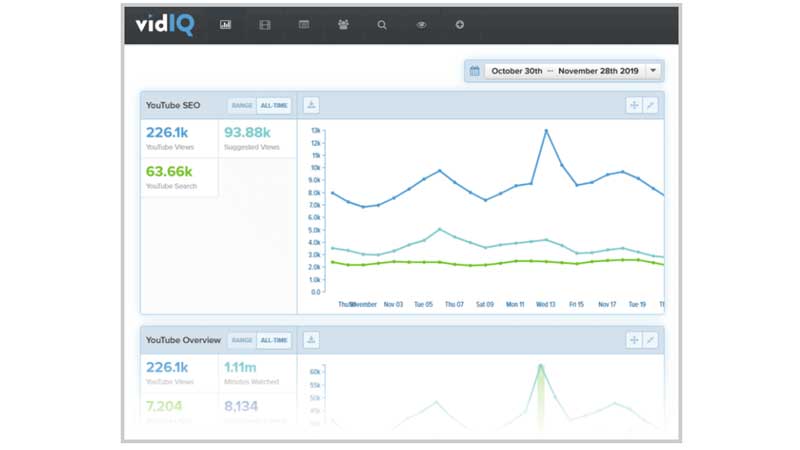 Tubebuddy and VidIQ have the best insights to offer into video performance. While sharing views information, you can see video tags, YouTube channel statistics, and the number of times your video was shared. You will also witness the YouTube rankings, which allows you to see how well your video is performing compared to your competitors. While TubeBuddy will enable you to copy tags to a tag list, VidIQ renders specific statistics for YouTube videos and your channels.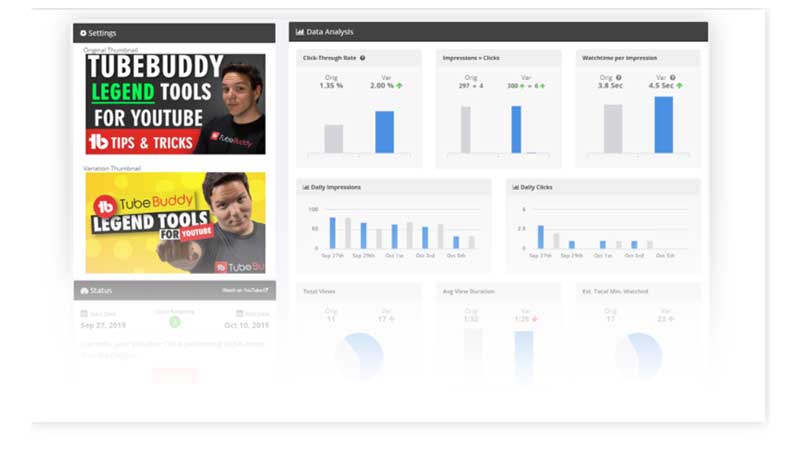 View YouTube channel statistics
Both VidIQ and Tubebuddy will show you YouTube channel tags. In addition, they have unique features individually that will help you observe your YouTube channel's performance.
VidIQ provides insights such as:
Total numbers of views YouTube video has received, 

YouTube video ranking, 

Number of Subscribers gained, 

The number of videos uploaded last month.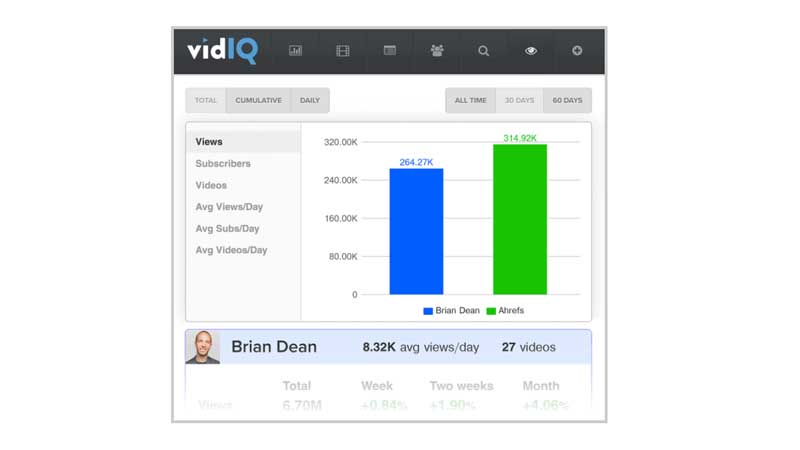 Also, if you type a keyword in the search bar on VidIQ, you will receive a list of the trending videos related to the keyword.
TubeBuddy shows a live subscriber count and allows you to see your YouTube channel's performance compared to the competitors.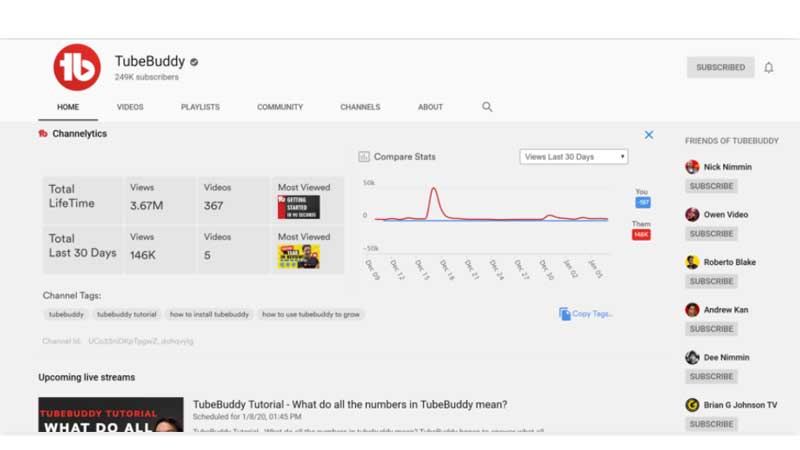 If you use these platforms rightly, these platforms will give you information that will help you grow your YT channel.
YouTube Video upload
Both the tools offer suggested tags that you can add to your YouTube tags. Also, they provide you with a checklist that can assist you before you upload your videos.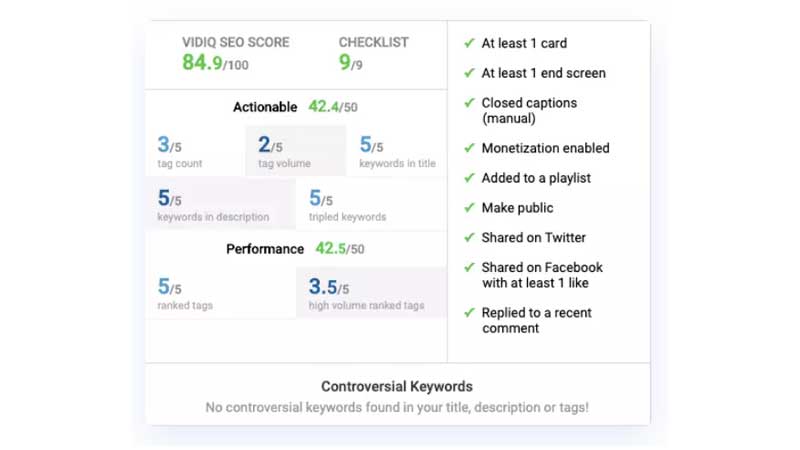 Tubebuddy offers different options features like thumbnail generator, end card, etc. that will help you upload your videos on YouTube.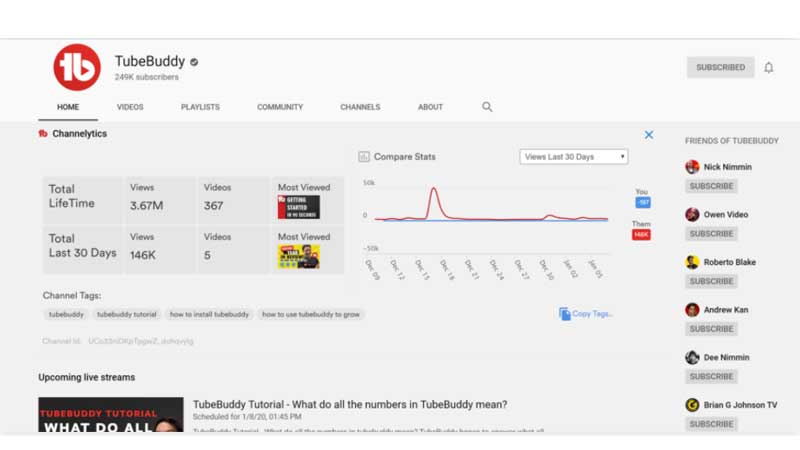 Comparatively, VidIQ has fewer features than Tubebuddy while uploading videos on YouTube. That is also available in VidIQ's paid version.
Here, Tubebuddy has more features as compared to VidIQ while uploading videos on YouTube.
Additional key features
VidIQ and Tubebuddy have additional key features that will help you to grow your YouTube channel. 
VidIQ allows you to add filters to the comment section. So if your subscribers have asked you questions, you can directly filter on the comments and answer the questions. It also shows you the like/dislike ratio that will help you analyze the views while you apply for monetization on YouTube.
VidIQ is better when it comes to providing a detailed analysis.
Frequently asked questions
Is TubeBuddy better than VidIQ?
VidIQ is a winner here as it provides you with a complete analysis for the YouTube channel compared to Tubebuddy.
What is the pricing for premium versions of VidIQ and Tubebuddy?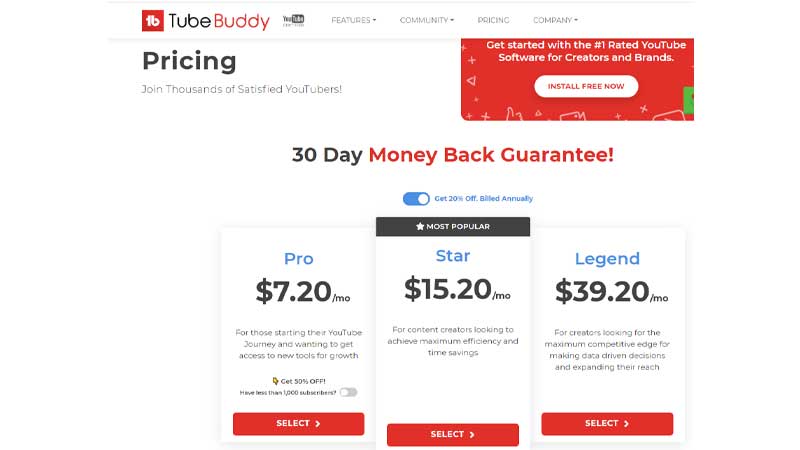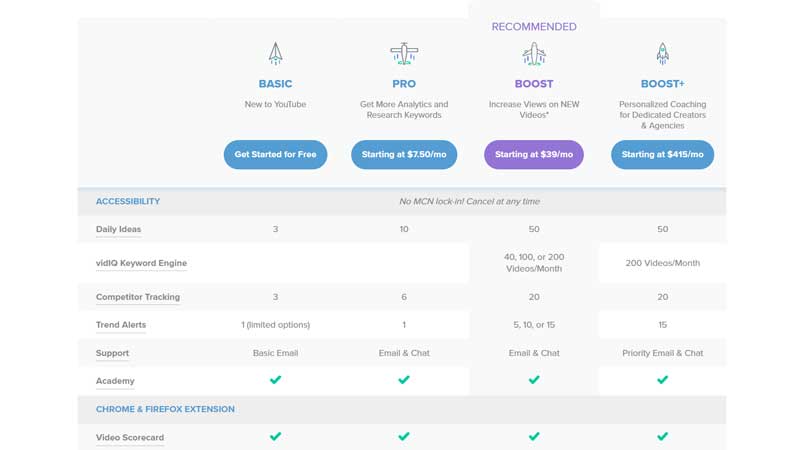 Here's a comparison between VidIQ vs TubeBuddy. Choose the right one according to your requirements. For the latest YouTube updates, Click here.