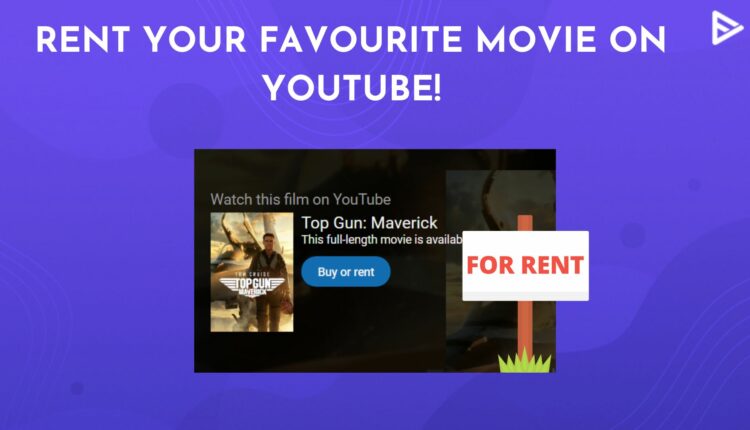 YouTube is more than just a video-sharing platform. Knowing you can rent movies on YouTube and how to rent movies on YouTube are two different things. You don't even need to buy a YouTube premium for it; renting movies to watch on this platform is extremely simple.
In this article, we'll see how to rent movies on YouTube:
How To Rent A Movie On YouTube?
YouTube has a lot of movies on its platform that are available to rent or buy. When you rent movies on YouTube, you pay a smaller price, and you get to watch the movie unlimited amount of time in the period in which you have rented the film.
Here are the steps for anyone wondering how do I rent a movie on YouTube:
First, open YouTube, and in the left sidebar, select Films under the Subscriptions tab.
Select the movie you want to rent and click on the 'Buy or rent' button on the right side of the screen.
Select the price and quality you want to rent the movie in, and select the payment method.
Add your card details and billing address, and click 'Pay now.'
You will get a confirmation email once your payment is made, and then you will have your rented movie with you.
How To Buy A Movie On YouTube?
We all have those movies we love so much that we would watch them repeatedly. Even after years, those movies will make us laugh or comfort us. When you have these kinds of films in your mind, you need to be able to watch them anytime you want. One way to ensure you can always watch your comfort movie is by learning how to buy a movie on YouTube.
Here are the steps on how to purchase movies on YouTube on the YouTube app:
First, open YouTube and tap on Library at the bottom right corner of the screen.
Select 'Your movies' and go to the Browse tab.
Tap on the movie you want to buy, and as the trailer starts playing, you will see a 'Buy or rent' button under it; click on it.
Select the quality and price and you want for this movie and complete the payment.
Once you get the confirmation email, the movie will be available for you to watch in the purchased tab. You can watch your purchased movies anytime you want and on any device.
Frequently Asked Questions
Q1. How To Purchase Movies On YouTube?
Follow these steps to buy movies on YouTube:
Open YouTube
Find the Movies or Films section
Select the movie you want to buy
Buy or rent
Select quality
Make payment
Q2. How Does Renting A Movie On YouTube Work?
Renting a movie on YouTube is a great option when you don't want to spend too much money on the film. If it is a movie you are only planning on watching within the month, then you should rent a movie on YouTube.
The movie you rent gets added to your YouTube movie collection. And then you can start watching it anytime during the 30 days you get. Once you play the movie, you then have 48 hours to finish it.
Q3. How To Get A Refund From YouTube TV?
You can apply for a refund if there is ever an issue with your rented or purchased movie on YouTube. Go to the official YouTube TV refund page and click on 'Request a refund.'
Q4. How To Download Purchased Movies From YouTube To Computer?
You cannot download movies from YouTube to your computer even if you have paid for them. The movies that YouTube offers to viewers are available only to watch online. You cannot access them offline even after you buy them.
Conclusion
Now you know how to rent movies on YouTube. If you only want to watch the film once or twice, it is best to rent it so you're not spending too much on something that won't be useful to you in the long run.
But if you want to own a movie and carry it with you wherever you go for a long time, you can choose to buy movies on YouTube. Whatever you decide, you just need to select the film to buy and rent and then, during the payment, choose whether you want to buy it or rent it.