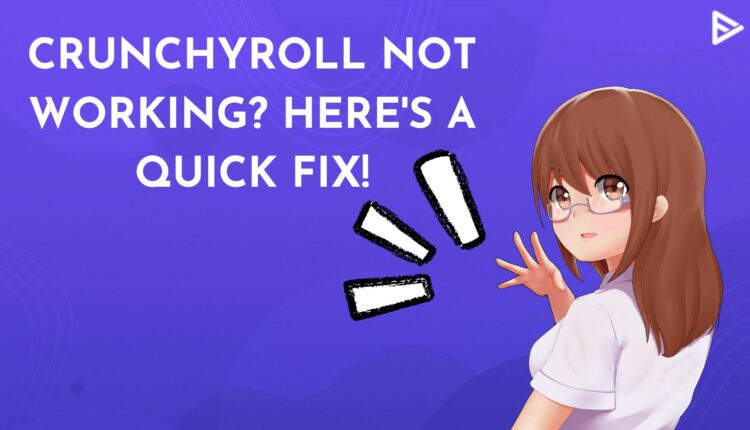 If you're into Anime and East Asian dramas you must be familiar with Crunchyroll. You might even go as far as to say that Crunchyroll is basically your Netflix. So with Crunchyroll not loading, you might develop great FOMO.
While all your friends are enjoying the latest episode of your favorite Anime you're trying to get your app loading. If after everything you tried still Crunchyroll is not loading, then you might need our help.
Here are some ways to fix Crunchyroll not loading:
Top 5 Ways To Fix Crunchyroll Not Loading
This is how to fix Crunchyroll not loading:
Check The Servers
First, you need to make sure the problem is not with the servers. Check your internet connection by running a different app on the device. If your internet is not an issue follow these steps to check the Crunchyroll server:
Go to downdetector.com and in the search bar type Crunchyroll.
Click on Search and you will see if the servers for Crunchyroll are down.
If the problem is with the servers you can't do anything about it the Crunchyroll developers have to fix the issue from their side. If the servers are working fine try the next methods to fix Crunchyroll not loading.
Update Device Software
Whether you're using Crunchyroll on your Android, iPhone, or browser, make sure the device or the browser is updated to its latest version. Even after updating your device or browser if Crunchyroll doesn't work move to the next method.
Update Crunchyroll App
If you're using the Crunchyroll app on your device and your device's playstore or app store isn't set on auto-update your app might be stuck on an older version. Having an older version of the app might slow down your app experience. So try updating your Crunchyroll app to the latest version.
Disable Ad Blockers
For non-premium users, ad blockers might be the most essential addition to the Crunchyroll experience. Sometimes though instead of enhancing the streaming experience ad blockers might leave Crunchyroll completely unplayable. So if you're using any ad blockers go to your browser extensions and disable them.
Disable Antivirus
We know that Crunchyroll is a good website but your antivirus might not. If in case your antivirus software has mistaken Crunchyroll as a shady website you will have to manually disable your antivirus so that Crunchyroll can work as normal. Once you have located and disabled your antivirus restart your device just to be sure.
Conclusion
This should fix your Crunchyroll app or website! Hopefully, this article was helpful and by solving Crunchyroll not loading you are now able to enjoy your Anime or Manga on Crunchyroll without any issues or interruptions.
FAQs
Why Does My Crunchyroll Keep Loading?
Check if you have any pop-up blockers or ad blockers, and disable them.
Why Is Crunchyroll So Slow?
Check your internet speed if Crunchyroll is too slow.
What Other App Is Similar To Crunchyroll?
Funimation is an app where you can watch dubbed animes. Other than that you can also watch anime on YouTube!