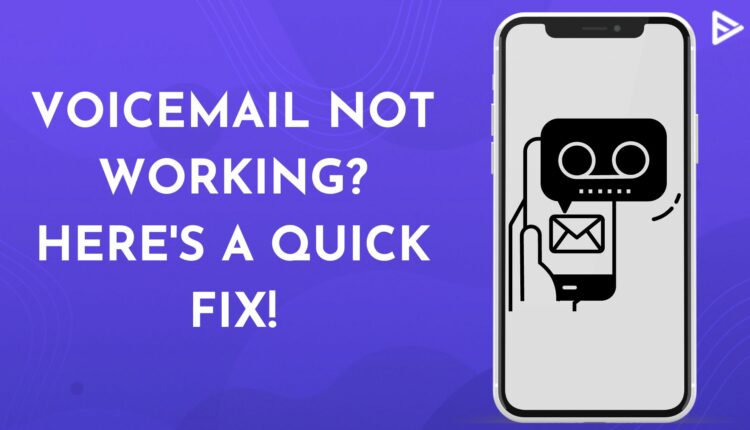 The voicemail feature was introduced so you don't miss out on any important calls. But what will you do with voicemail not working on iPhone? Well first you need to check that you have set up voicemail on your iPhone.
Try these methods to fix your iPhone's voicemail app:
What To Do When Your Voicemail Not Working On iPhone?
To fix your voicemail app on your iPhone try these top 5 hacks:
Turn Off Call Forwarding
If you've turned on your call forwarding that might explain why your voicemail not working on iPhone. Follow these steps to turn off call forwarding:
Open Settings and tap on Phone.
Tap on 'Call forwarding' and switch the toggle off.
Reset Your Cell Service
Follow these steps to reset cell service and fix voicemail not working on iPhone:
Swipe up on the screen to access the control panel.
Tap on 'Airplane mode' and after waiting for a few minutes tap on it again.
Empty Your Voicemail Box
If storage is the problem emptying your voicemail box can help you solve it. Follow these steps to empty your voicemail box:
Open the Phone app and tap Voicemail.
Swipe left on the voicemails you want to delete.
Turn On WiFi Calling
If the cellular data connection is the problem it can be easily solved by switching to WiFi calling. Here's how to turn on WiFi calling on your device:
Open Settings and go to Cellular.
Tap on 'WiFi calling' and then tap on 'WiFi calling on this iPhone'.
On the pop-up that appears tap Enable.
Now whenever you're connected to a WiFi your voicemails will get downloaded easily. And you will be able to access them at your convenience. So no more issues with voicemail not working on iPhone.
Update Your Carrier Settings
Updating your carrier settings might solve more than just your voicemail issue. If you were having connectivity issues even those can be resolved by updating your carrier settings. This is how you update your carrier settings manually:
Open Settings and tap on General.
Go to About to view carrier settings. If you see an Update button tap on it.
If you don't see an update button and just see the carrier information then that means that your carrier settings are up to date.
Conclusion
If you miss a phone call you at least have your voicemails to fall back on. But what if your voicemail stopped working? If your issue was voicemail not working on iPhone now you know how to solve it!
Try the above-mentioned fixes and get your voicemail to work again. Dont miss out on any more voice messages.
FAQs
Why Is Visual Voicemail Unavailable On My Iphone?
There could be many reasons why visual voicemail is unavailable on your iPhone:
Issues with your carrier network
You haven't inserted your SIM card properly
Your iOS version is outdated
Can I Get My Deleted Voicemail Back?
Yes. Access deleted voicemails from the Voicemail app.